For fighter info, see Zero Suit Samus (SSBB), Zero Suit Samus (SSBWU/3DS), and Zero Suit Samus (SSBU).
Zero Suit Samus (ゼロスーツサムス, Zero Sūtsu Samusu), is Samus Aran while sporting her Zero Suit rather than her Power Suit. The name is taken from Metroid: Zero Mission, the first game to feature her blue, form-fitting suit.
Character Description
Samus is covered completely from neck to toe in a form fitting blue suit with a pink sensory array on her back. Her long blonde hair is tied back into a ponytail with a red band. Although quicker and more agile without her suit, she is also less heavily armed, resorting to her small emergency pistol, which uses to defend herself. In Super Smash Bros. for Nintendo 3DS / Wii U, she is shown with jet boots, which are similar to black and green high-heels.
Zero Suit Samus first appeared in Metroid: Zero Mission, a remake of the original Metroid for Game Boy Advance. Following the "normal finale" following Samus' defeat of Mother Brain, Samus escapes the base on Planet Zebes. A cutscene immediately follows which shows her shedding her Power Suit in order to fly her original Gunship. However, Space Pirate ships shoot her down back onto Zebes. Stranded and without her Power Suit, Samus must infiltrate a nearby Space Pirate compound and sneak her way into an area where an ancient Chozo test will allow the Power Suit to rematerialize onto her.
Zero Suit Samus makes another playable appearance during the timed escape sequence at the end of Metroid: Other M, escaping with Adam Malkovich's helmet.
A reflection of Samus in her helmet can be seen in her "Congratulations!" screen. Also, when Samus is shot by a Ray Gun or hit by Pikachu's Thunder Jolt, a faint outline of her suitless can be seen.
Though Zero Suit Samus did not appear in the game, there is a special trophy only accessible by Action Replay (or other hacks) called Samus Unmasked, which shows Samus with her helmet in her hand.
Trophy Info (Unused)
It's said that the orphaned Samus Aran was raised by the few survivors of the Chozo race. They armed her with a Power Suit and taught her the ways of advanced combat; even burdened with her heavy suit, Samus is as graceful as a butterfly. In the Metroid series, it was standard that Samus would remove her helmet and armor if you cleared the game fast enough.
As a playable character
Zero Suit Samus is a newcomer in Super Smash Bros. Brawl. Her playstyle has been described by many as being similar to Sheik, in that she possesses many quick and acrobatic moves and transforms from another character. Equipped with a paralyzing laser gun that has the ability to transform into a plasma whip, Zero Suit Samus retains Samus' Tether Recovery capabilities. Her appearance is based on her design from Metroid: Zero Mission.
Trophy Info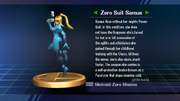 Zero Suit Samus
Samus Aran without her mighty Power Suit. In this condition, she does not have the firepower she's famed for but is in full possession of the agility and athleticism she gained through her childhood training with the Chozo. Without the armor, she's also much, much faster. The weapon she carries is a self-protection device known as a Paralyzer that stops enemies cold.
As a playable character
Zero Suit Samus returns as a playable character in Super Smash Bros. for Nintendo 3DS/Wii U, though this time she is now a standalone character and can no longer transform into Samus under any circumstances. As a result, she has a new Final Smash, Gunship, in which she jumps into her Gunship and fires laser blasts at her opponents. Her design has been updated to reflect her appearance in Metroid: Other M while retaining some general aesthetic elements from Metroid: Zero Mission. Additionally, she now wears a pair of Jet Boots, which gives her the ability to perform multiple new kicking attacks along with replacing her up special move with Boost Kick, in which she uses the jet boots to boost herself into the air while kicking.
Trophies
Samus is far from helpless when her Power Suit is deactivated. Sure, she loses a lot of the movesand weapons she had access to before, but her Jet Boots pick up the slack! She also has the Paralyzer, a versatile weapon that can shock her rivals or change into a Plasma Whip to grab edges and enemies.

(GBA) Metroid: Zero Mission (02/2004)
(Wii) Metroid: Other M (08/2010)
Zero Suit Samus's up special Boost Kick involves a series of

fast kicks that end with a swift, sideways-launching one. A perfectly executed attack will hit eight times! Her down special Flip Jump can bury a grounded fighter in the dirt. She can kick midflip by pressing the special button.

(GBA) Metroid: Zero Mission (02/2004)
(Wii) Metroid: Other M (08/2010)
As a playable character
Zero Suit Samus returns as a playable character in Super Smash Bros. Ultimate.
Trivia
Zero Suit Samus, alongside King Dedede and Pit, are the only characters to have different Final Smashes per game.
She is one of the character who have different voice actor in the original and smash bros. Jessica Martin voice acting her in Metroid series, but in smash bros, Alésia Glidewell voice acting her. The other character is King Dedede.
References