I first heard of this over at Fantendo, but after I googled it, I found the following photo on Nintendo of America's Twitter page.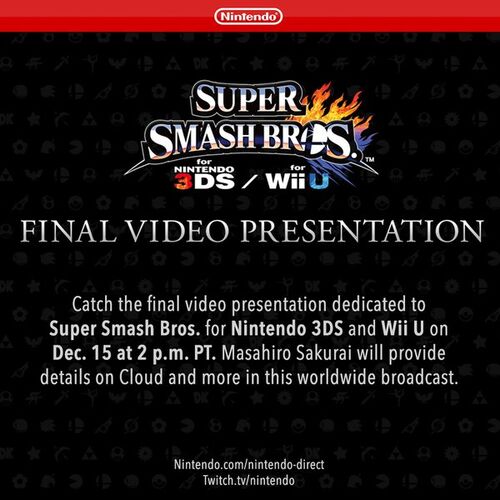 Well, I don't have much more to say other than that this game has definitely had a good long run, and I feel like this will end with a big bang. According to ShinyQuagsire, two more characters and stages will be added on to the roster along with Cloud. I am very sad to see this wonderful game come to a close, but I am also very excited to see the final details on December 15th. Save the date; it's 6 days from now! I really believe that this is the best game in the series (Melee an almost tie), so, as I said above, I am very depressed by its closing. ;0; It will still be full of surprises, I'm sure!
What do you think we will see in the presentation to end this wonderful game? New characters? New stages? New modes? Are you excited for some more in-depth details of Cloud? Are you excited by anything else? Am I asking too many questions? Tell me in the comments below!
Community content is available under
CC-BY-SA
unless otherwise noted.