Introduction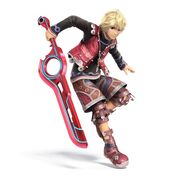 So... you found my page, eh? Well, let me introduce myself then. I'm XenoRalph and, as you can already tell, I love the character Shulk and the games he appears in (Xenoblade Chronicles and Sm4sh). Don't get me wrong, I still love a plethora of video game characters, but Shulk stands out the most. Fanboy-ing aside, I play video games everyday and I love to eat.
It's now summer vacation, so I should be more active on the wiki more.
Here's my friend code: [2981-8624-5620]. Put your friend code on my message wall so I can be your friend. Accept it if you dare!
Also, follow me on Miiverse: Ralph. I will follow back!
Anyways, I hope you're really feeling it!
( ͡° ͜ʖ ͡°)
"If at first you succeed, don't try it again because you might fail." ~XenoRalph
Games I Play
I only have a 2DS, so here is what I play on it:
Super Smash Bros. for 3DS (of course)
Mario Kart 7
The Legend of Zelda: Tri Force Heroes
Project X Zone 2: Brave New World
Cube Creator
Virtual Console Games
Various Free-2-Play Pokemon Games
Various Pay-2-Play Games
DS Games or DSiWare Games
Demos
My Mains Throughout the Games
Note: Didn't play 64 or Melee. :(
Brawl:
Mario
Yoshi
Kirby
Lucas
Meta Knight
(Although, I don't play Brawl anymore.)
3DS/Wii U:
True Mains:
Shulk
Mario
Kirby
Jigglypuff
Cloud
Toon Link
I have mastered these characters to MY limit. These guys are usually for competitive play.
Second-In-Command Mains:
Luigi
Peach
Yoshi
Ganondorf
Samus
Marth
Ike
Little Mac
Falco
Pikachu
Lucario
Villager
Dr. Mario
Lucina
Mega Man
Mewtwo
Lucas
Roy
I may not play these characters as I would with my True Mains, but these guys and gals are still fun to play with and are become TMs (not Pokemon Technical Machines) as well.
Off-the-Wall Characters:
Bowser
Rosalina and Luma
Link
Zelda
Sheik
Zero Suit Samus
Pit
Palutena
Robin
Meta Knight
Fox
Charizard
Greninja
Captain Falcon
PAC- MAN
Ryu
All 3 Mii Fighters
Like the SIC Mains, but less experienced. However, I will play and learn them.
Rare-But-Never Characters:
Bowser Jr.
Mr. Game and Watch
Donkey Kong
Diddy Kong
King Dedede
Ness
W.F.T.
Dark Pit
Sonic
I rarely play these characters, but I will continue to do so. I will not ignore these characters.
Neva-Gonna-Evah-Get-Used-To Characters:
I do not like to play these characters AT ALL. 'Nuff said. (Doesn't mean that I will never use these guys. I just don't like to use them)
Xeno's Character Rankings
I ranked these characters based on my experiences with them, play time, and me being able to use the character well. For now, I ranked the characters with numbers. Hopefully, I will post a blog with my reasons.
PLEASE NOTE: I do not hate the lower-ranked characters. I just do not like using them that much in Sm4sh. This list can also change due to playing-time, DLC, patches, etc.
Now in construction due to play-time and the addition of Cloud, Corrin and Bayonetta into Smash.
Community content is available under
CC-BY-SA
unless otherwise noted.