This is Smash fan NinTylo (which means my real name is Tyler, and I put part of my name in the very middle of Nintendo). I'm a person for anime and a lot video gaming in general.
Most of my page is gonna be a W.I.P. based on more of Ultimate's DLC having yet to be fully released.
My Opinions on Smash
Favorite Character (My Main): Yoshi
Despised Character (My Worst Match-Up; I'd NEVER main): Isabelle
Favorite Stage: Spiral Mountain
Despised Stage: The Great Cave Offensive
Favorite Couple: Mario/Peach & Link/Zelda
Despised Couple: Any pairing with a Pokemon
Favorite Game: Ultimate
Despised Game: N/A
Most Overrated Character: Joker
Most Underrated Character: Inkling
Favorite Item: Smash Ball
Despised Item: Mr. Saturn
Favorite Poke Ball: Solgaleo
Despised Poke Ball: Goldeen
Favorite Assist Trophy: Rathalos
Despised Assist Trophy: Nintendog
Favorite Mode: Stage Builder (post-Brawl)
Despised Mode: Camera Mode (Melee)
Favorite Boss: Rathalos
Despised Boss: Dracula (Classic Mode)
Favorite Villain: Master Hand/Crazy Hand
Despised Villain: Dracula
Favorite Song: Pollyanna (I Believe in You)
Despised Song: N/A
Favorite Final Smash: The Mighty Jinjonator (Banjo & Kazooie)
Despised Final Smash: Peach Blossom/Daisy Blossom (Peach/Daisy)
Favorite Solo Event: King of the Yoshis (Wii U)
Despised Solo Event: King of the Mountain (Melee)
Favorite Co-Op Event: Robots vs. Dragons (Wii U)
Despised Co-Op Event: Poisonous Plant (Wii U)
Favorite Classic Mode Route (SSBU): Jurassic Journey (Yoshi)
Despised Classic Mode Route (SSBU): The Teamwork of Courage (Toon Link)
Favorite & Least Favorite Fighters
Excellent Fighters (#1-#35)
Whilst there are a couple of issues, their movesets, final smashes, and playability are first rate.
Good Fighters (#36-#51)
Problems with these fighters are more prominent, but their overall presence is still enjoyable.
Okay Fighters (#52-#65)
This applies to fighters who aren't anything new to the franchise and overall just don't fit in well with even the good ones. On the other hand, specific traits of them are generally fine and serviceable. There can also be fighters with a good moveset of neutral and/or special attacks attached to an otherwise bad final smash or vice versa.
Combining all three of his Pokemon together, Pokemon Trainer is placed between Meta Knight and Robin.
Bad Figthers (#66-#72)
These fighters are affected by sub-par aspects that hurt their enjoyable factor. There is some redeeming value to these fighters, but their cons overshadow their pros at times.
Terrible Fighters (#73-77)
There is little to no redeeming value in these fighters and they may as well have weak movesets with difficult playability.
Atrocious Fighters (#78-80)
Nothing about these fighters is redeemable and they go above and beyond in lacking quality that terrible fighters do.
My Custom Classic Mode: NinTylo Mains
My adversaries (if Classic Mode was customizable like Stage Builder) consist of my Top Five Mains. The Mii Fighters represent me and my favorite costumes. The penultimate battle is against a giant Yoshi, who's been my main since Melee (much less 64). The boss of my route is Rathalos based on my love of dragons no matter the type (besides wyverns).
Pollyanna (I Believe in You) accompanies the credits if completing my route.
My Classic Mode Scores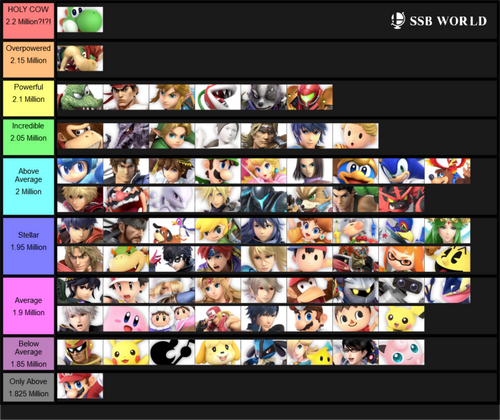 These are my current scores as of November 27, 2019. Bold marks my main, favorite route, and highest score, while Italics mark my Worst Match-Up, despised route, and lowest score.
Rank
Fighter #
Favorable Rank
Character
Classic Mode Title
Score
1
05
1
Yoshi
Jurassic Journey
2,202,770
2
14
6
Bowser
The Red One. Every Red One!
2,179,100
3
67
2
King K. Rool
Super Heavyweight Class
2,164,410
4
21
43
Marth
A Kingdom of Dragons
2,152,010
5
60
67
Ryu
Seeking a Challenge
2,128,380
6
03
16
Link
A Quest to Seal the Darkness
2,127,100
7
70
28
Piranha Plant
New Bloom
2,119,530
8
44
5
Wolf
Reunited Roster
2,114,790
9
04
30
Samus
Another Planet, Another Bounty
2,114,050
10
65
4
Ridley
It Can't Be! Space Pirates!
2,082,470
11
66.5
61.5
Richter (Echo)
Smash Echoes
2,080,010
12
02
12
Donkey Kong
Journey to New Donk City
2,071,350
13
22
21
Young Link
Hyrule Smash!
2,062,260
14
47
60
Wii Fit Trainer
Aerobic Smash
2,060,030
15
66
61
Simon
Smash-vania
2,059,630
16
37
26
Lucas
Magic, Sacred Powers, and PSI!
2,051,910
17
09
13
Luigi
Luigi's Nightmares
2,043,700
18
46
17
Mega Man
Variable Weapon System: Online!
2,042,820
19
28
53
Pit
Fight for the Goddess!
2,037,770
20
13
50
Peach
No Damsel in Distress
2,029,530
21
72
51
Hero
A History of Heroism
2,029,010
22
20
40
Falco
Soar Above the Darkness
2,023,940
23
39
23
King Dedede
Royal Rumble
2,021,090
24
38
44
Sonic
At the Speed of Sound
2,019,540
25
73
3
Banjo & Kazooie
Perfect Partners
2,019,220
26
57
36
Shulk
Witness the Monado's Power
2,015,360
27
30
14
Wario
I'm-a Gonna Win!
2,014,570
28
24
9
Mewtwo
Psychic Control
2,013,610
29
61
18
Cloud
A Ride? Not Interested.
2,012,770
30
04.5
30.5
Dark Samus (Echo)
The Great Poison Given Form
2,011,430
31
07
39
Fox
Spacebourn Smash
2,010,060
32
49
32
Little Mac
Friendly Sparring
2,007,640
33
69
33
Incineroar
Burning Pro Wrestling Spirit!
2,004,970
34
59
63
Duck Hunt
Duck, Dog, Zapper
1,996,110
35
32
20
Ike
The Black-Clad Warriors
1,995,090
36
31
55
Snake
Weapons and Equipment OSP
1,994,730
37
43
65
Toon Link
The Teamwork of Courage
1,990,940
38
21.5
43.5
Lucina (Echo)
A Path of Heroes
1,985,270
39
13.5
50.5
Daisy (Echo)
Sarasaland Represent!
1,975,360
40
40
69
Olimar
Planetary Explorer
1,967,930
41
54
47
Palutena
A Little Divine Intervention
1,963,310
42
60.5
67.5
Ken (Echo)
Red-Hot Rivalry
1,962,640
43
58
38
Bowser Jr.
Mama Peach, Where Are You?
1,958,590
44
71
66
Joker
Shadows
1,955,630
45
25
29
Roy
A Journey of Swords
1,955,150
46
29
56
Zero Suit Samus
Grapplers! Whips! Claws!
1,953,620
47
10
27
Ness
Home to Onett!
1,953,170
48
55
24
Pac-Man
Ageless Classic
1,952,240
49
23
7
Ganondorf
Enroaching Darkness
1,951,950
50
64
11
Inkling
An Inkredible Journey
1,951,140
51
42
37
R.O.B.
Unreadable Expressions
1,951,030
52
28.5
53.5
Dark Pit (Echo)
Created Warriors
1,948,530
53
33-35
8
Pokémon Trainer
The Future Champion
1,945,530
54
16
45
Sheik
Masquerade
1,944,420
55
17
42
Zelda
Wisdom Prevails
1,944,400
56
62
25
Corrin
Between White and Black
1,942,120
57
36
52
Diddy Kong
Hey, Little Buddy!
1,936,540
58
27
48
Meta Knight
Two Sides of the Same Coin
1,931,120
59
50
22
Greninja
Your Turn, Greninja!
1,927,410
60
56
49
Robin
Thunder and Flames
1,925,820
61
06
41
Kirby
Gourmet Clash
1,919,400
62
15
58
Ice Climbers
Duos for Days
1,908,950
63
74
46
Terry
The King of Smash
1,908,210
64
25.5
29.5
Chrom (Echo)
Fight as One
1,904,350
65
18
35
Dr. Mario
Colorful Treatment Plan
1,903,450
66
45
62
Villager
Mistake to Underestimate
1,902,840
67
19
68
Pichu
Lightweight Fracas
1,902,570
68
11
15
Captain Falcon
Up Close and Personal
1,896,460
69
08
34
Pikachu
I Choose You!
1,896,370
70
26
64
Mr. Game & Watch
A Long Legacy
1,894,190
71
68
70
Isabelle
Best in Show
1,892,070
72
41
59
Lucario
Counter Encounters
1,885,010
73
48
31
Rosalina & Luma
One Star after Another
1,865,600
74
63
54
Bayonetta
The Requiem of Fallen Wings
1,865,310
75
12
57
Jigglypuff
All Original, All 64!
1,853,600
76
01
10
Mario
Let's-a Go!
1,828,950
Total High Score (All Fighters): 151,215,780
Best & Worst Classic Mode Routes
Notes
I've only chosen one character per universe for both categories.
Top Ten Best
Top Ten Worst
Trivial Theories/Statements
If I had a dollar for everyone who's highest Classic Mode scores comes from Yoshi (my main), I'd be filthy stinkin' rich.
I'd say it's possible to get a no damage run in King K. Rool's Classic Mode route with all six of his opponents and the boss when scoring 9.9 without a TAS. (Assuming you're really lucky)

My highest score coming from every opponent before the boss came from King K. Rool.

If you combine Piranha Plant's scorability with Rathalos and how high I could seriously score with King K. Rool and his playable opponents, then it adds up to a higher Classic Mode score than Yoshi.

Had I not taken damage on Galleom with King K. Rool, I likely would've scored higher than Bowser. (The same can also be said for Link and his boss, Ganon)

Not to mention, if K. Rool had Rathalos for a boss instead of Galleom, I would've scored higher than Yoshi on the flipside. (Assuming he can score just as high on Rathalos as anyone but Duck Hunt and Hero can)

It's pretty much a guarantee that your lowest score in Classic Mode will come from either Mario or Jigglypuff.

Ironically, Mario fights the most opponents in general (with a total of 23), yet is my lowest scoring character.

Likely due to how low of a score from Giga Bowser offers for a unique boss.

Conversely, Mario's green, egg-spinning companion ironically scores the highest.

Not to mention, Yoshi remains my main since Melee. (Much less 64)

Try thinking of my Classic Mode score tier list as a Grade Point Average rating system for something like middle school (or even high school) as an example:

Making it only barely above 1.825 Million rate, Mario would not only need a Special Ed class or two, but also a little summer school if he doesn't wanna get held back a grade.
Those in the 1.85 Million territory (like Bayonetta and Rosalina) would only barely reach their passable potential with the help of a Special Ed class or two.
Those in the 1.9 Million rate (like Diddy Kong and Dark Pit) would be the completely average school student to just keep going with the flow of moving up a grade after every summer.
Those in the 1.95 (like Roy and Snake) would see their fates as being better than average enough to seal their fates at moving along with the flow of their graduation classes by each individual year.
Those in the 2 Million rate (like Banjo & Kazooie and Luigi) would have the strong GPA of up to at least 3.25.
Those in the 2.05 Million rate (like Marth and Ridley) would make the perfect 4.0 GPA and would have the average potential to go to a greater college than those with a lower GPA.
At the 2.1 Million rate, Ryu and Wolf for example could each skip a grade.
In the 2.15 Million rate, Bowser would be able to skip three grades along with being accepted in the greatest college there is. (And had I not taken damage from their bosses, King K. Rool and Link could be in the same rate by now)
Yoshi what with his 2.2 Million rate would be able to go to college immediately like his intelligence could be akin to Matilda Wormwood.

Yoshi has my favorite Classic Mode route based on not only his boss, but also the theme of his route being themed around my favorite class of the Animal Kingdom: Reptiles.

Conversely, Ryu, Hero, and Terry are a three-way tie for the worst route I've ever had the displeasure of completing, because it's all about stamina, and for that matter, their routes are all about screwing you over.

I've gotten perfects on every boss at 9.0 difficulty or higher (minus Dracula via his second form at least), but I'd say the only character you're likely gonna get a perfect on against Master Hand and Crazy Hand is Greninja. (Cause I have yet to master both hands)
My favorite pages TBA (Cause I'm not sure)
Community content is available under
CC-BY-SA
unless otherwise noted.