Hi, I'm OMEGAxHIRO, or just Hiro.
I've been playing Smash since Super Smash Bros. for the N64.
Since then, my main has been Captain Falcon.
'FAAAAALCOOOON... PUUUUUUUNCH!!!!!!!'
I'll be around here alot, in between Brawl and other things, such as life. xD
I know alot when it comes to Smash so feel free to ask if you have any questions.
I hope to be of much service to everyone.
(Currently striving to become the best Captain Falcon in NY. xO)
Random Crap--
Owns Melee and Brawl
Has played the original, though
Thinks that Lucario could easily pwn Mewtwo
Plays Ike and Marth Doubles, calling the union 'The Firing Squad'.
Rules To Smash By (Just a few things to remember if we happen to Brawl sometime.)--
I prefer to play Stamina matches, for some odd reason. I don't mind playing anything else, though, so feel free to ask for your prefered Match Type.
I mostly Brawl on the BattleField stage. I will, however, augment this to fit your preferences, also.
I practice against your Main and Secondary beforehand, usually set to six, then eight, and finally nine.
I've Brawled against all the Main and Secondaries of the Users I know on here, just as CPUs, that way I can grasp how the Character plays against Falcon. As most know, Cap'n is SEVERELY toned down in Brawl, so I have to prepare exponentially, that way, I'm ready for how he'll move and react against the fighter of your choice.
I prefer to have all Items except a Smash Ball turned OFF, that way it's completely fair.
I use my one of my favorite combos often, maybe even a few times per brawl, though it's not to a spamming degree (The 'Falcon Combo'.)
Falcon Combo
The Falcon Combo, as coined by yours truly (I call it the Falcon F**k, but I found that name to not be Wiki appropiate xD) is a quick combination of Captain Falcons' Side-B, Then Up-B, Followed by Down-B. However, this chain is VERY risky, as if the Up-B grab doesn't hit, you'll fall right to the ground, allowing the opponent time to counteract. In simpler terms, the Falcon Combo / Falcon F**k is Falcons' dashing uppercut (Side-B), his Recovery special (Up-B -- That upwards spinning jump that executes an explosive grab should it hit an opponent), and finally, a Falcon Kick (Down-B). Note that the Recovery Move is singular should it miss an opponent. (You'll flash white and be unable to move until you hit the ground. All Smashers know that every Recovery Special functions this way, so nothing new, except that if, say, Marios' Coin Jump recovery were to hit, he'd still just fall back down after hitting the opponent. Falcons' allows another move to be made afterwards, which is where the Falcon Kick comes in. If you slam Down on the Control Stick, you'll fall faster, which, once again, everyone knows. If you hit the ground before your opponent, a Falcon Punch, B, can be made, though there is a 10-1 chance you'll miss. For that reason, I hardly use the Falcon Punch to finish off a good Falcon Combo / Falcon F**k.)
| | |
| --- | --- |
| | This user would love for the Smasher Tapion to 'Show him his moves'! A competition for the title of Falcon Master, anyone? xD |
The Best Swordsman?
(Poll ends Christmas Eve, 5:00pm Eastern Standard Time)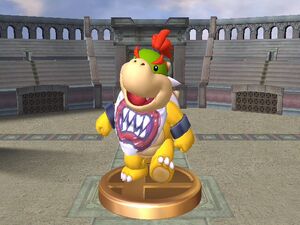 Smash Custom - Bowser Jr.
Entrance- Junior is dropped off by his father in the Koopa Clown Car, who then flies away, leaving his son to fight (And hopefully defeat) the opponent.
Basic Attack- A simple claw swipe, then another, then another, and finally a tail attack. 2%, 3%, 6%, 9%
Up-Tilt- A jumping claw swipe. 7%
Forward-Tilt- A small headbutt. 6%
Down-Tilt- A crouching claw attack, three swipes, third will knock opponent forward and down. 3%, 7%, 12%
Forward Smash- A small blast of fire. (Much like Bowsers' Neutral B, although instead of a move that lasts, this is more akin to a PK Fire, though it operates much like Ness', as it has the potential to chain hits.) One hit: 5%, Two: 7%, Three: 11%, Four: 13%, Five: 14%, Six: 16%
Down Smash- An angered jump-stomp. Can hit up to three times and works like DKs' Down-B Ground Slap, though it cannot be used in an 'infinite' fashion. 4%, 6%, 12% and Knockback.
Up-B- (Recovery Move)- Bowser Jr. sucks himself into his shell, faces downward and shoots flame out, jetting himself up first, then hovering for at least two seconds. Jet upwards: 10%, Flame (The flame he's spitting to hover along): 7%.
Recovering (Getting up)- Spins around, then hops to his feet. Spin: 4%, Hop: 3%.
Up-Taunt- Points to the opponent and laughs.
Forward-Taunt- Tries to spit fire, yet just burps up smoke.
Down-Taunt- Motions for the opponent to 'Come and get some'.
Standard-Special- Jr. breathes fire, which functions exactly like Bowser or Charizards', though the reach is shorter and the damage is less. Can last for three seconds, usually hitting up to 10 times. Max hit is twelve. One: 2%, Two: 4%, Three: 6%, Four: 8%, Five: 10%, Six: 12%, Seven: 14%, Eight: 16%, Nine: 18%, Ten: 20%, Eleven: 22%, Twelve: 24%.
Down-Special- Kicks the opponent in the shins, who then falls forward. 9%.
Side-Special- Spits out two fireballs in the direction Bowser Jr. is facing. One: 10%, Two: 17%.
Final Smash- Giga-Bowser?!: The Koopa Kings' Kid hops into a giant version of his father, who you can then control. You may kick (Which will cover most small-sized arenas), Grab (Then throw the opponent down), Stomp (Which will PitFall all opponents caught by the stomp), Fire Bullet Bills (Which home-in on the nearest opponent, dealing damage equivalent to a Bob-Omb explosion), and breath tremendous amounts of fire. Kick: 17%, Grab/Throw: 23, Stomp: 26, Bullet Bills: 20 (Can be chained), FireStorm: 30-35. Compare these numbers to Captain Falcons' Final Smash, The Blue Falcon, which does 20-30% of Damage. A downward punch may also be executed with the commands for a Down-Smash, which does 25 damage and PitFalls all opponents caught. A shockwave does ten damage afterwards-- You still aren't safe after dodging the punch! (This can easily be avoided by jumping, though.) The kick has tremendous knockback, the throw may KO opponents with its bounce effect, the Bullet Bills will send enemies back just like a Bob-Omb, the FireStorm may cause a bounce or two if the opponents' Damage Percentage is over 30-40, and the punch, obviously, will almost always bounce an opponent (After they are released from the PitFall, unless you had attacked before that, they'll be shot upwards a small bit. Kicking PitFall opponents can be extremely satisfying, as it'll usually result in a KO, or at least do MAJOR damage.
Alternate Outfits- (COMING SOON, although Shadow Mario will be a seperate character which I'll cover later, not an alternate costume. This is mostly because the fact that Bowser Jr. and Shadow Mario are not even anatomically similar. His tail attacks would be impossible as Shadow Mario has no tail, his claw attacks since the aforementioned doppleganger has no claws, and FireBreath would be somewhat akward coming from a Mario lookalike, real thing or not.)
Home Stage- Delfino Plaza (Or Mt. Corina, a stage of my design. Delfino is, however, S. Marios' Home Stage.)
Community content is available under
CC-BY-SA
unless otherwise noted.