Template:Smasherbeta Welcome Smashers to my page.
Achievements
Completed Subspace Emissary twice (on two-player with by buddy Toon)
Captured five bosses single-handedly
Completed Classic and All-Star on Intense with Samus, Luigi and Marth.
Am one of the five administrators of the Smash Arena.
Featured Articles
No. 1: User:Gutripper/FA/Staryu
No. 2: User:Gutripper/FA/Critical Hit
Tier
Smash Arena
'Nuff said.
Respected Users
The users here who I respect. The best have reasons.
Toon Ganondorf - My good friend. Saved my life. Thank you.
Miles - An adept user who is mature far beyond his years, a competent sysop and a true friend.
MarioGalaxy - A true friend who is always willing to talk.
Semicolon - One of the only sysops who has similar views to me regarding content.
Silverdragon/FyreNWater - I respect women in power.
Squallinoa 08 - Introduced me to, and let me have influence in the Smash Arena.
Alice
Y642
Shadowcrest
Y64246Y
Defiant Elements
Fried Beef
Unknown the Hedgehog
Cloned Pickle
Sky
Pikamander
Moveset
I have decided to make my own character. Based on the idea of Pichu, behold my new character...Riolu!
Riolu
Weight: Light
A into A combo: Punches, punches with other fist, short blast of Aura
Forward Tilt: Weaker version of Force Palm
Up Tilt: Thrusts hand up and blue energy shrouds around it
Down Tilt: Low kick
Forward Smash: Same as Forward Tilt
Up Smash: Similar to Captain Falcon's, only four kicks and shorter range
Down Smash: Same as down tilt only more powerful
Neutral Air: Strikes out on all sides with all four limbs
Forward Air: Headbutt
Backward Air: Reverse kick
Up Air: Punch up
Down Air: Kick down

Neutral Special: Aura Sphere: Unlike Lucario's, who charges, Riolu throws a small Aura Sphere.
Forward Special: Brick Break: Solid punch forward. If he catches an opponent, he delivers a powerful blow
Up Special: High Jump Kick: Leaps up. Any one who comes in contact with him during his ascent is launched. If he hits part of a stage before an opponent, he suffers 15% damage.
Down Special: Blaze Kick: Same as Falcon Kick
Final Smash: Drain Punch: Riolu becomes very quick. His fist glows green. During this period, anyone who Riolu's punch suffers from a flower head. Drain Punch becomes his B move until the period ends.

Up Taunt: Uses Bulk Up
Side Taunt: Appears to use Mind Reader
Down Taunt: Meditates

Kirby Hat Design: Riolu's head

Default Colour: Blue-Black
Red: Red-Black
Blue: Default
Green: Teal-Black
Extra: Gold-Black (coloured Riolu)
I love Samus. Unbelievably one of the best fighters in the game.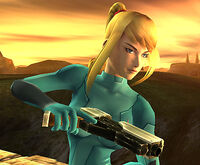 User Boxes
Community content is available under
CC-BY-SA
unless otherwise noted.