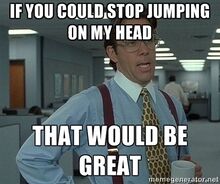 Hello everyone! I'm a huge fan of Super Smash Bros, and i've been playing it ever since I can remember. Melee is one of my all time favorite games, and I am loving Smash 4 so far! I am also a huge fan of many other franchises, including but not limited to Mario, Zelda, Mega Man, Sonic, Final Fantasy, Fire Emblem, Kid Icarus, Pokemon, and Metroid.
Usually I do more on the blogs than I do with the editing, but I still contribute, right?
My Mains: 64: Mario Melee: Dr. Mario, Captain Falcon, Sheik Brawl: Mario, Falco Smash 4: Dark Pit, Robin, Marth, Lucina, Mario, Pac-Man, Captain Falcon, Falco, Sheik
My favorite pages
Add links to your favorite pages on the wiki here!
Favorite page #2
Favorite page #3
Community content is available under
CC-BY-SA
unless otherwise noted.