Up Smash Attack, (commonly abbreviated as "U-Smash" and "Up smash"), is a Smash Attack performed by any character by tapping the control stick upward and pressing A, or (in versus mode) by pressing up on the C-stick. The up smash can be charged by holding down the A button for up to two seconds in conjunction with the C-stick, resulting in higher damage and knockback. If the enemy has heavy damage, it can be easy for the player to Star KO or Screen KO them using these moves.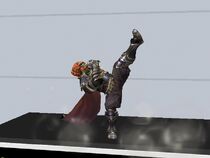 Notable Up Smash Attacks include
Gallery
See also
Community content is available under
CC-BY-SA
unless otherwise noted.