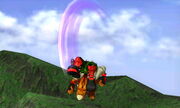 The
up aerial
(abbreviated as "uair", "UAir", or "AUA") is an
aerial attack
that is performed in midair by pressing the
A Button
, and tilting the control stick upwards. It also gains a moderate boost in height if the character's attack is a backflip used just before the apex of the jump but the user loses their second jump. Its official term varies between titles, where it is known as a "Up Midair Attack" in
Super Smash Bros. Melee
, and a "Up Air Attack" in
Brawl
. Many up aerials are circle kicks, which have large range, good priority and very slightly disjointed hitboxes. They can also send the opponent in diverse directions. A lot of up aerials can be used for Juggling.
List of Up aerials in Brawl
Community content is available under
CC-BY-SA
unless otherwise noted.