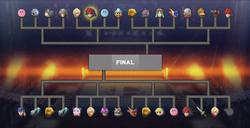 For the mode in Melee and Brawl, see Tournament Mode.
Tourney Mode is a downloadable mode in Super Smash Bros. for Wii U. Unlike Tournament Mode, this is solely online. It was available to download for free with Patch Update 1.1.0 on July 31, 2015. Due to Miiverse being discontinued on November 2017, this mode is no longer available.
Overview
Group Tourneys
Group tourneys are created by players who specify the conditions themselves; these tourneys can be restricted by the creators. Creators can restrict a tourney to people in their country, their friends, or people who know the password.
The player can join up to four tourneys; they will end when the conditions are met or time runs out (although the time limit can be made incredibly long). There are tourneys where the player competes for the most points and those where the player must win as many matches as they can. The size of a tourney can range from 2 to 100 people.
Regular Tourneys
There are also regular tourneys which are run by the game. They happen on a regular basis, and anyone can spectate and view replays of them. Sudden Death is removed, and in a tie the more active player will win. Several types of tourneys are available, setting conditions such as difficulty level, the match type, the presence of certain items, and whether customizations are allowed or not.
Mii Fighters
Mii Fighters are playable in Tourney Mode, even with people you don't know (Unlike "With Anyone" online mode), even with customizations not allowed.