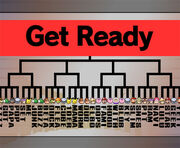 This article is about the game mode. For information on competitive tournaments, see Tournaments.
Tournament Mode is a feature in Super Smash Bros. Melee and is set returns in Super Smash Bros. Brawl which features three modes:
Tournament
In the tournament mode, players battle against each other in turns. Several options can be chosen for tournaments, including:
The number of competitors in a tournament (ranging from 4-64 in two or four player tournaments and 6-27 in three player tournaments)
The number of computers and humans in a tournament
How many players fight in each tournament match
How stages are selected
The CPU level of computer players (Levels 1-9 as well as a random option)
Individual custom rules for matches
Loser out
This mode is also played in turns, but unlike Tournament, where the game ends when a final winner is proclaimed, this lasts forever (or at least until the player decides to stop playing). The loser of each match "drops out" and has to wait until it is his or her turn again.
Winner out
This mode is exactly the same as the aforementioned loser out mode, except that the winner of each match drops out instead of the loser.