Tortimer Island (コトブキランド, Tortimer Island? Kotobuki Land in Japan) is a stage appearing in Super Smash Bros. for Nintendo 3DS and returning in Super Smash Bros. Ultimate that is based on Animal Crossing: New Leaf. It was confirmed on March 7th, 2014. Its layout is assigned at random each time the stage is played on.
Design
In Tortimer Island, the island itself is the arena. It appears to be a single platform surrounded by water, although the layout of the stage is assigned at random every time it is used. It is possible for a pool of water to appear in the middle of the island. The shop can be seen in the background and Leila and Tortimer appear as background characters by the shop. Kapp'n also appears as a background character on the dock, which is now located on the side of the island.
There is a shark that appears occasionally in the water. It will function as a stage hazard, jumping out of the water and biting those who draw near.
Origin
Tortimer Island first appeared in Animal Crossing: New Leaf. To access the island, the player pays Kapp'n to drive him/her to the island with his motorboat. When the player lands on the island, the player starts inside the shop where rare items can be purchased. Kapp'n's family, Grams, Leilani, and Leila, work in the shop. Tortimer himself greets the player on his/her first visit, but Kapp'n appears in his place afterwards. The shop itself is located on the north edge of the island and is connected to the dock. The rest of the island consists of trees that grow fruits that can not be found anywhere else, flowers, bushes, and a beach that goes all around the island.
The island in New Leaf does not have a different layout each time a game is started, although the island may have a different appearance on another save file of the game. However, a pool of water will never appear on the ground of the island, as it can in Super Smash Bros. 4.
Songs
Tortimer Island Medley
Kapp'n's Song
Trophy Description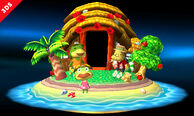 Tortimer Island
Take a ride on Kapp'n's boat to reach this tropical island, home to fish, insects, and fruit you can't find anywhere else. Tortimer's tours are also available here. Eat the fruit on this stage to reduce our damage, but keep an eye out for the occasional bomb in the mix too!
Tortimer
A former mayor who is living out his retirement on a tropical island. He's not a hermit, though, and absolutely loves spending time with anyone who goes to visit his tropical paradise. Everyone could learn from his generous spirit. And that aloha shirt looks great!
Kapp'n
This turtle ferries you out to the tropical island. In the past he's been seen driving a taxi and a bus, and now he's the captain of a little boat. Or maybe he just wanted to sing his songs-- it's only right to be sailing while singing sea shanties, after all!
Leilani
If you've had your fill of tropical-island adventures, Kapp'n's wife, Leilani, can arrange your trip home. She'll also happily sign you up for island tours. Her green skin isn't typical for tropical islanders, and that red hibiscus in her hair really suits her.
Grams
The eldest turtle on the tropical island, Grams runs the souvenir counter. She'll trade you island-themed goods in exchange for the medals you earned during tours. Among the things she sells are flower-patterned muumuus, but Leila thinks they look best on Grams.
Gallery
Community content is available under
CC-BY-SA
unless otherwise noted.