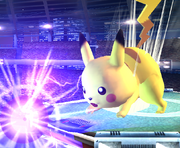 Thunder Jolt is Pikachu and Pichu's Neutral B move. Thunder Jolt is fairly unique for a projectile attack in that it hugs the ground it travels on, bouncing up and down as it moves forward (often over obstacles). When used in the air, a ball of electricity is launched that falls diagonally until it hits a solid object, where it assumes the normal arc form.
Like its other specials, Thunder Jolt damages Pichu upon use, inflicting 1% damage each time.
While ball-shaped, this attack does slightly more damage.
This move is also good for spamming heavy characters and fast falling ones like Ike and Fox.
Gallery
Community content is available under
CC-BY-SA
unless otherwise noted.