The Legend of Zelda (ゼルダの伝説, Zeruda no Densetsu) is the first game in The Legend of Zelda series designed by Shigeru Miyamoto and published by Nintendo in 1986.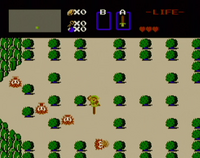 Link, the hero of the game and the entire series, is a playable character for all three Super Smash Bros. titles. Also, Zelda, who was also in this game, became a playable character in both Super Smash Bros. Melee and Super Smash Bros. Brawl. In addition, the enemies Octorok and Like Like first appeared in this game. The game is also available as a playable masterpiece in Brawl.
All three Super Smash Bros. titles also feature the overworld theme of this game. Super Smash Bros. Brawl features the overworld theme and a song that mixes the title screen theme and the theme used in the dungeons.
Community content is available under
CC-BY-SA
unless otherwise noted.