Incomplete Photos
There should be some sort of project involving the Congratulation pictures. Also, I believe there is a Bowser Jr. Congratulations picture somewhere around this wiki, so I believe a Wii U/3DS section should be included. 🔲ಠ_ಠ Why does it... matter to you...? Puny little... humans... ಠ_ಠ🔳 (talk) 18:10, September 17, 2014 (UTC)
Found it: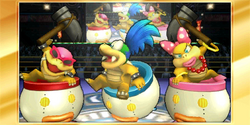 🔲ಠ_ಠ Why does it... matter to you...? Puny little... humans... ಠ_ಠ🔳 (talk) 21:30, September 17, 2014 (UTC)
Wii U Pic
I saw Yoshi, Mario, Bowser Jr. and Pac-Man have difference version on the Wii U version on YouTube.
Can somebody get those please?
Community content is available under
CC-BY-SA
unless otherwise noted.