Takamaru is a character from the Japan-only Famicon Disk System game, The Mysterious Murasame Castle. The game is avaiable overseas as a Virtual Console game on the 3DS, still in Japanese.
Takamaru appears as a Sticker in Super Smash Bros Brawl. This sticker adds 11 damage to attacks for any character that uses it.
Takamaru appears as an Assist Trophy where he uses his signature Multidirectional Pinwheel Knife Rook Attack and also does several slashes against the opponents. Masahiro Sakurai has stated that Takamaru was at one point considered as a playable character, but was cut because Sakurai thought he wasn't as well-known as other Nintendo characters.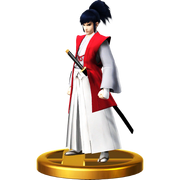 The main character of The Mysterious Murasame Castle. In this game, he dashes and jumps straight to the nearest opponent and shows off his swift sword skills. If he's got a bit of distance, he uses his special ninja techniques, based on the rook and the bishop in Japanese chess, to send projectiles spinning through the air.
3DS - The Mysterious Murasame Castle (08/2014)
Gallery
Community content is available under
CC-BY-SA
unless otherwise noted.