Super Smash Bros. Brawl (大乱闘スマッシュブラザーズX, Dairantō Sumasshu Burazāzu Ekkusu?, lit. "Great Melee Smash Brothers X"), often shortened to SSBB or Brawl, is the third installment in the Super Smash Bros. series published by Nintendo. Like the other games in the series, it features a diverse roster of characters from Nintendo and its second parties to fight in various kinds of matches. However, Brawl is the first Super Smash Bros. game to feature third-party characters. Most of the game's music is made up of arranged versions of pieces that originated in previously released Nintendo video games; though some play exactly as they did in their original games, others are arranged by one of 36 renowned video game composers.
As with its predecessors, Super Smash Bros. Brawl is a departure from traditional fighting games, notably in its simplified move commands and its emphasis on ring-outs over knockouts. Brawl includes a deeper single player mode than its predecessors, known as The Subspace Emissary, this mode is a side-scroller featuring the playable characters and a unique storyline. The storyline of this mode involves characters surviving under the weight of their own histories. Brawl supports multiplayer battles with up to four combatants - and is the first game in its franchise to support online battles through Nintendo Wi-Fi Connection.
Intro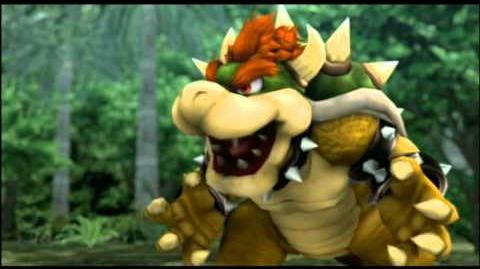 Characters
Main article: Character The cast of characters includes various returning characters from Melee as well as a variety of newcomers to the game. Some returning characters have been updated or refined since their last appearance - in terms of appearance, fighting capabilities, or both. For example, Link and Fox McCloud have taken on new designs from more recent titles, while Samus Aran has gained the ability to change into a new form, Zero Suit Samus, by using her Final Smash.
Some previously represented series have had one or more of their other characters added to Brawl. Diddy Kong (from the Donkey Kong series) and Ike (from the Fire Emblem series) make their first appearance in the Smash Bros. series, preceded by Donkey Kong and Marth, respectively.
Other newcomers are the first to represent their series: characters like Pit, representing the Kid Icarus series, which has not been seen in a videogame since the 1991 Game Boy game Kid Icarus: Of Myths and Monsters; Wario, an occasional antagonist of Mario's from Nintendo's highly successful WarioWare and Wario Land series; Captain Olimar from the Pikmin series; Solid Snake, the main protagonist of the Metal Gear franchise, who is the first third-party character to appear in a Super Smash Bros. game and Sonic the Hedgehog from Sonic the Hedgehog, the second third-party character.
Playable Characters
NEWCOMERS
VETERANS
Community content is available under
CC-BY-SA
unless otherwise noted.