Welcome to Smashpedia, the definitive Super Smash Bros. site on Fandom.
---
Welcome to Smashpedia! Here you can add info about the franchise known as Super Smash Bros. We currently have 3,001 pages here so make sure to hop in and edit if you're 13 or older. We also have a Discord server; if you want to join follow the link provided.
Distant Planet is a stage in Super Smash Bros. Brawl representing the Pikmin series. As such, it is the home stage of Olimar and his Pikmin. Set on the otherwise unnamed Pikmin home planet, the stage consists of a slanted hill on the left and a series of vines and leaves in the center. The plant-based platforms are slightly bouncy. Occasionally, a Bulborb will walk up on the right side of the stage, and landing on its head or in its mouth will likely result in a self-destruct as it drags the character beyond the blast line. Rainstorms will also occur, causing a rush of water down the hill. (more...)
---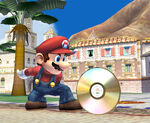 My Music is an option in Super Smash Bros. Brawl that allows you choose a song from a particular franchise for any stage and adjust the likeliness that song will appear in that stage when you do battle in it. This feature appears in the Options sub-menu. read more...
---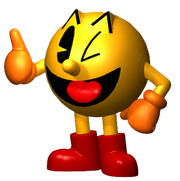 Pac-Man
(パックマン,
Pakkuman
) is Namco Bandai's mascot and the protagonist of the Pac-Man series of games. Pac-Man is one of the most recognizable video game characters in the world, and he is the 3rd third-party character announced in Super Smash Bros. for Nintendo 3DS / Wii U. Pac-Man is also the 4th third party character announced to join the Super Smash Bros. series after Solid Snake, Sonic and Mega Man.
---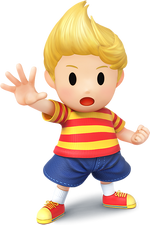 Lucas
is a
downloadable character
in
Super Smash Bros. for Nintendo 3DS and Wii U.
He was confirmed as a surprise announcement during Nintendo Direct on April 1st. He will be available for download on June 14th, 2015.
On January 16th, 2020, Masahiro Sakurai announced that Byleth, the stage Garreg Mach Monastery, three new Mii costumes, and the Mega Man X and MegaMan.EXE costumes from Smash 4 will be coming in the Version 7.0.0 update coming on January 28th, 2020!
English · Japanese · Español · Deutsch · French · Request a wiki in another language
Super Smash Bros. Ultimate
The Ultimate Celebration of Gaming
If you want to add any info that isn't already on a page here is an easy way to get started.
3,001 articles.
30,791 files uploaded.
64 active users this month.
If you need help you should speak to one of our admins who can help you in no time with setting up an account, creating a page, blog, or discussion post. They can also help with banning people, fixing edits, deleting pages, or correcting anything.
If you're brand new make some edits to your user page to tell them what you like and who you are.
If you want to read the rules of the wiki check out our Policy page.
If you need to delete a page just add it to the Candidates for Deletion using the appropriate tag for an admin to remove.
March 4, 2021

Pyra and Mythra are released for Super Smash Bros. Ultimate alongside the stage Cloud Sea of Alrest, new music from Xenoblade Chronicles 2, and new Mii Fighter costumes.
February 17, 2021

Pyra and Mythra are revealed to be joining Super Smash Bros. Ultimate as the fourth characters in Fighters Pass Volume 2 during the Nintendo Direct.
...That Villager can Pocket the stars from Yoshi Bomb and Super Dedede Jump?
...That Mewtwo has no Custom Moves, although they were planned to be in the game?
...That characters were originally going to have four Custom Moves?
...That the design for Mr. Game and Watch is actually 3-dimensional?
...That Greninja's Down Taunt does 1% of damage and a bit of knockback when opponents are next to him?
...That the coins on the Golden Plains are two dimensional?
...On one stage you can be KO'd by touching Danger Zones when you're above 100% damage?
Dead by Daylight is a Horror game with two sides on it: you can either be a Killer or a Survivor. My personal favourite is being a killer, there are …
2Wicked
•
I told you not to press this btw dont scroll down
Hey I told you not to scroll down there is nothing here

Grrr
HAHAHA GET TROLLED THERE WAS NOTHING HERE …
See more >
Community content is available under
CC-BY-SA
unless otherwise noted.