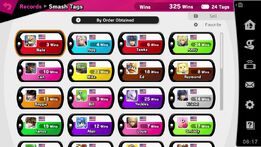 A Smash Tag is a player's profile introduced in Super Smash Bros. Ultimate. Smash Tags are customizable collectible items that play a role at the end of online battles. After these battles, you'll be able to take the tags of those you place higher than, but get yours taken by those that placed higher than you.
Smash Tags you took from others are showcased in your Records in the Vault. There, it's possible to view the players' tags, their icon, color, state flag, and your wins against them. Smash Tags you've obtained can be sold for coins or be marked as favorite.
While viewing your earned Smash Tags, tags owned by friends on your Nintendo Switch icon will have a red border. Favorite tags have a yellow star ribbon on them. You cannot sell favorite Smash tags.