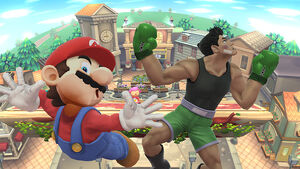 Screen KO is a term regarding a special type of KO in the Super Smash Bros games after the original. Instead of a character being Star KO'd off the top blast line and flying away from the stage, the character appears to fly at the screen blocking a part of view, and hit the screen before falling down and being KO'd.
In Coin mode, Coins appear on the screen, surrounding the character being KO'd. Once paused, the coins disappear.
In Melee, there is a bonus for getting KO'd this way: Foresight.
There is a fair bit of controversy surrounding the idea that, since the choice of Star KO and Screen KO is random, two players may end up being KO'd at different times even though they hit the top blast line at the same time. If both players are on their last stock, this can determine the match.
While the Screen KO was not in Super Smash Bros. per se, there was an equivalent: sometimes top-KO'd characters would fall down between the stage and the camera. Depending on the camera angle, this may not be seen. Also, the distance from the camera is chosen randomly - sometimes the doomed character appears to be falling normally, while at other times he's just a quick flash of color down the screen.
In Super Smash Bros. for Nintendo 3DS / Wii U, the screen KO makes a triumphant return, this time the character freezes on the screen for a second, and the time between the screen-freeze and the actual KO has been increased, most likely to make it as long as a Star KO. Also, whether you get Screen KO'd is not random, but rather it is determined by where in the sky you were. More than 1 character can be Screen KO'd at the same time.
Trivia
In Mario & Luigi: Superstar Saga, a similar Screen KO took place; near the end of the game, Bowser flew out of his castle and hit the "screen", cracking it and sliding off the glass.
If a character is Screen KO'd on a large stage in SSBB (for example, 75m or New Pork City), then a player can pause and zoom out the camera and see the character hitting the screen right before they are KO'd. This will not work on smaller stages, however.
In Brawl, characters do not yell out as loud as they did in Melee when they hit the screen. A majority of the characters are barely heard when they hit the screen in Brawl.

Gallery
Super Smash Bros.
Melee
Brawl
Wii U/3DS