Saki Amamiya (サキ・アマミヤ, Saki Amamiya?) is a character from the game Sin and Punishment: Successor of the Earth. His main weapon of attack is the Dolphin Gun, a gun / beam-sword hybrid which he uses to slash and shoot with. He makes his appearance as an Assist Trophy due to strong demand from Japanese gamers. This is similar to Marth's Dancing Blade.
Originally a Japan-only N64 title (though with English voice acting and Japanese subtitles), Sin and Punishment is now available on the Wii's Virtual Console in America.
Trophy Description
A member of a rescue group that hunts aliens known as Ruffians that prey on mankind. He's killed by Ruffians, but the advance scout Achi resuscitates him, and he gains remarkable physical prowess and becomes the hunt leader. During a battle, he transforms into a Ruffian, and his companion Airan helps him recover. He's optimistic and copes well with danger.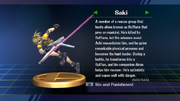 In Super Smash Bros. for Wii U and 3DS
Saki returns as an Assist Trophy, only this time he can be defeated. In addition, his collectable trophy is a Challenge reward, obtained by clearing All-Star Mode on hard difficulty with every playable character

The main character of Sin and Punishment, he is often mistaken for a girl because of his...interesting...hairstyle. Resurrected by the blood of Achi, he has gained superhuman powers. When summoned, he'll target the closest opponents and unleash his powerful gunsword.


Sin and Punishment's hero is often mistaken for a girl due to his...well, his girly features. When he was revived by Achi's blood, he gained superhuman fighting skills. In this game, he'll slash and shoot at the nearest target with the Dolphin Gun, a gun/beam-sword
Sin and Punishment (10/2007)
Gallery