Saki Amamiya (サキ・アマミヤ) is the protagonist of the Nintendo 64 game Sin and Punishment.
He joined Super Smash Bros. Brawl as a summonable Assist Trophy, and returns as such for Super Smash Bros. for Nintendo 3DS and Wii U. A Mii Fighter Costume modeled after him is also available in Super Smash Bros. Ultimate.
Character Description
Saki Amamiya is a member of a collective known as the Savior Group, a rebel organization dedicated to tearing down the government-backed peacekeeping corp called the Armed Volunteers, originally created to protect the Japanese people from mutated genetically-engineered creatures known as Ruffians. The group is led by a mysterious woman named Achi, and Saki is accompanyed by his friend Airan Jo. One day, during a mission to steal a transport vehicle from the Volunteers, a series of Ruffians ambush the group as does also an assault from Volunteer member Kachua. During the confusion, Saki and Kachua are knocked into a rising tide of blood running through Tokyo, causing them to turn into Ruffians. The two fight each other, resulting in Kachua's defeat and death. Achi teleports herself, Airan and Saki to an Armed Volunteers' ship in the Pacific Ocean, where they overhear leader Brad's plans to strike back against Saki. She and Airan confront the Volunteers and kill the Ruffians they own, with Achi revealing that Brad has been creating Ruffians with his blood.
After Brad and the Volunteers are eventually defeated, Achi instructs Airan to shoot Saki to knock him out, as she must enter his heart to see into his memories and dreams to regain his humanity; however, Airan cannot bring herself to do it. Achi then sends her into a dreamlike state where she finds herself in New York City 10 years into the future and meets her future son Isa. She also witnesses a Ruffian Saki rampaging through the city; after a brief fight, she shoots Saki, and suddenly wakes up to discover she has just done the same to the real Saki.
Achi reveals to Airan that she is not from Earth and is the true instigator behind the human/Ruffian conflict, intending to use it as a training ground for potential candidates to serve a war against extraterrestrial entities, and that both Saki and Brad could've been her ultimate warriors to lead an army. She forces Airan into Saki's chest, causing him to wake up and quickly teleport away. In a beach in Hokido, Saki and Airan manage to separate, with the former returning into his human form again. Achi has unfortunately followed them and kidnaps Airan, where Saki chases in pursuit and eventually confronts his former leader. Saki rescues Airan, but witness Achi transforming into a brand new Earth and begins an assault on the original Earth. Saki and Airan join together once more to transform Saki into a full Ruffian and battle Achi together.
After an intense battle, the duo eventually defeat Achi, dissolving the new Earth and send her adrift into space. Saki and Airan return to Japan, now left in absolute ruin. The two decide to keep on fighting and take on the remaining Ruffians together. Sometime later, Saki and Airan marry and welcome a son into the world named Isa Jo, the protagonist of the sequel Sin & Punishment: Star Successor.
Saki appears as a summonable Assist Trophy. He will quickly run and jump around the stage and attack opponents by either shooting straight ahead or slashing with his Dolphin Gun; the shots have little knockback and can combo into each other, while the slashes can potentially KO fighters at high percents.

Trophy Description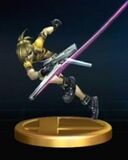 A member of a rescue group that hunts aliens known as Ruffians that prey on mankind. He's killed by Ruffians, but the advance scout Achi resuscitates him, and he gains remarkable physical prowess and becomes the hunt leader. During a battle, he transforms into a Ruffian, and his companion Airan helps him recover. He's optimistic and copes well with danger.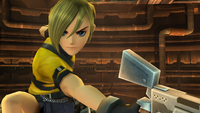 Saki resumes his role as an Assist Trophy, though can now be defeated.

Trophy Description

NTSC
The main character of Sin and Punishment, he is often mistaken for a girl because of his...interesting...hairstyle. Resurrected by the blood of Achi, he has gained superhuman powers. When summoned, he'll target the closest opponents and unleash his powerful gunsword.
PAL

Sin and Punishment's hero is often mistaken for a girl due to his...well, his girly features. When he was revived by Achi's blood, he gained superhuman fighting skills. In this game, he'll slash and shoot at the nearest target with the Dolphin Gun, a gun/beam-sword
Wii - Sin and Punishment (10/2007)
A costume for the Mii Gunner modeled after Saki is available in the base game. It must be acquired separately in the Shop; the wig is available for 450G, while the outfit is 650G. The gun it uses is the Dolphin Gun. It is a specialized weapon used by Saki that allows him to fire energy bullets as well as convert that energy into a blade.
A Spirit of Saki is available in the base game. It is a Primary Attack Spirit under the Ace class. His Spirit Battle uses a Mii Gunner wearing the Saki costume, with increased ranged weapon attack power as to mimic the rail shooting aspect of Sin & Punishment. The stage is the Battlefield Form of Moray Towers, which is meant to resemble the Earth 2's Japan, and the song that plays is "Opening Stage" - presumably as both Splatoon and Mega Man X also take place in dystopian futures with little to no humanity left.
| No. | Spirit | Artwork Origin | Type | Rating | Effect | Slots |
| --- | --- | --- | --- | --- | --- | --- |
| 1164 | | Sin and Punishment | | ★★★ | N/A | 2 |
Trivia
According to Masahiro Sakurai, Saki's inclusion as an Assist Trophy was due to a large request by Japanese players to have him join Smash.
Saki's Trophy description in Super Smash Bros. for Wii U lists Sin and Punishment as having debuted on the Wii; this may be because the game was never released outside of Japan (with the exception of a port to the Chinese iQue system in 2004) until 2007 for the Wii's Virtual Console, where it gained a cult following by Western audiences.