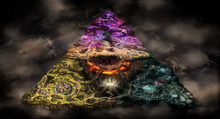 Unlocks
Spirits
The Spirits found here are highly varied, though most relate to the Zelda series' theme of courage, wisdom and power.
The Imprisoned
Navarre
Calamity Ganon
Frey & Freya
Kaitlin & Katie
Mr. L
Katrina
Wood Man
Tiny Kong
Rex
Saria
Matthew
Malon
Magical Vacation Protagonists
DonBe & Hikari
Dunban
Impa
Zael
Uxie, Mesprit, & Azelf
Landia
Jakob
Hilda
Tethu
Chozo Statue
Urbosa
Tac
Camus
Mega Mewtwo Y
Mecha-Fiora
Akira
T-Rex
Dark Emperor
Fortitudo
Elena
Vaati
Boss
The boss of this sub-world is Ganon. In order to reveal his location, the player must defeat Young Link, Zelda, and Ganondorf. Sonic and Cloud must be defeated as well since they block the access to the Master Sword which reveals the Triforce of Power section.
Captured Fighters
While most of the fighters in this sub-world are accessed normally, Mii Brawler will only appear when the clock is set to 4:40.
Trivia