Ribbon Girl (リボンガール) is one of the playable fighters in the Nintendo Switch game ARMS.
A Mii Fighter Costume modeled after her was made available as a part of the base game for Super Smash Bros. Ultimate.
Character description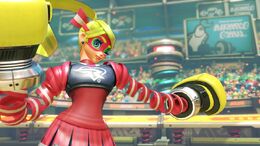 Ribbon Girl is a 17-year old pop star signed to Ribbonics Records. Her hobbies are listed as singing and meeting fans. Her official stats include being 5' 6" (169 centimetres) tall and having "no comment" about her weight; its also shown that her impeccable singing is only outclassed by her dancing. In her ending after winning the Grand Prix, she holds a concert in her home stage, Ribbon Ring. Several other characters also are big fans of her, namely Mechanica and the game's commentator Biff; conversely, the game's antagonist, Dr. Coyle, does not think very highly of her and states that she should be focusing on her ARMS abilities instead of her singing. Ribbon Girl can also be considered as the second de facto mascot of ARMS, as she was revealed first alongside Spring Man at the game's first announcement.
Ribbon Girl is one of the select few people in this universe to be born with a gene the causes ARMS, where a person's arms (or other body parts, in the case of Twintelle's hair) to transform into long stretchy material - for Ribbon Girl, her arms fittingly become pink ribbons. To regain full control of their arms and prevent it from coming loose and untangled, these select few need to wear custom-made masks created by the scientists at ARMS Labs. For some, they use their newfound abilities to compete in the ARMS League, each for various reasons; however, for Ribbon Girl its never been explicitly revealed as to why she joined the tournament in the first place, but can be surmised that its to help promote her music.
Like with the rest of cast, Ribbon Girl has some abilities that only she can perform. She is a fighter that excels in aerial combat, as she has the ability to midair jump 4 times, airdash twice, and fast-fall. She is also one of the lightest characters in the cast, allowing her to evade oncoming ARMS easier due to her quickness and high agility.
Also like the rest of the cast, Ribbon Girl can equip all kinds of ARMS. However, she has a default set of ARMS at the start, which are:
Sparky - a medium-weight Electric-type ARM that resembles a boxing glove with hidden taser-like mechanisms on the inside
Popper - a lightweight Wind-type ARM that resembles a party popper. It can fire two projectiles simultaneously in a spiral-like trajectory.
Slapamander - a medium-weight Fire-type ARM that can whip at opponents with its giant oven mitt-shaped end.
A costume for the Mii Brawler modeled after Ribbon Girl is available in the base game and must be acquired separately in the Shop; the mask is available for 450G, while the outfit is 1200G.
A Spirit of Ribbon Girl is available in the base game. It is a Primary Grab Spirit under the Advanced class. It can initially be acquired only through summoning with the Spirit Cores of Elite Beat Divas and ChuChu.
However, if the Min Min Challenger Pack has been purchased, it will now have its own Spirit Battle exclusive to the DLC Spirit Board. Her Spirit Battle uses a Mii Brawler wearing the Ribbon Girl costume, with an extra midair jump. The stage is the Battlefield Form of Spring Stadium and the song that plays is fittingly her home stage's theme, "Ribbon Ring".
| No. | Spirit | Artwork Origin | Type | Rating | Effect | Slots |
| --- | --- | --- | --- | --- | --- | --- |
| 1288 | | ARMS | | ★★ | Fist Attack ↑ | 2 |
Aesthetic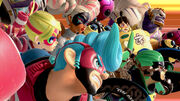 Ribbon Girl appears alongside Spring Man, Ninjara, Twintelle, Mechanica, and Master Mummy to assist Min Min to perform her Final Smash, ARMS Rush.
Ribbon Girl also makes a cameo in the background of the Spring Stadium stage, with a graphic of her periodically appearing on the jumbotron by the audience stands alongside the rest of the ARMS cast.
Other
Ribbon Girl makes a cameo in Min Min's reveal trailer; in it, she is the one who knocks out Spring Man after he grabs the Smash invitation but is unable to grab it after its swiftly taken by Ninjara.
Trivia
There is an alternate version of the original "ARMS Grand Prix Official Theme Song" where Ribbon Girl is the one singing. Those vocals were later sampled for Min Min's victory fanfare, itself an excerpt of the Grand Prix theme.
Ribbon Girl and Ninjara are the first summon-exclusive Spirits to gain a Spirit Battle in a later update.