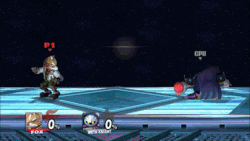 For the move shared by the Star Fox characters, see Reflector.
Reflection is the process of using a particular special move to deflect incoming projectiles. The projectile then becomes property of the reflector's user and is often redirected to hit the original attacker, though some moves such as Thunder are not redirected when reflected. Most reflectors increase the damage done by projectiles, while some also increase their speed. Projectiles can be reflected from any direction.
It is possible for a single projectile to be reflected multiple times, such as back and forth between two characters' reflectors, but if a projectile becomes too strong it will overcome a reflector.
In Super Smash Bros. Ultimate, all reflecting moves will have a shining hexagon visual effect while deflecting projectiles, similar to Reflector.
Moves with reflecting abilities
* In Melee, Confusion simply reverses projectiles without changing their owner.
** In Ultimate, Oil Panic absorbs energy-based projectiles and reflects non-energy based ones.
In Super Smash Bros. and Super Smash Bros. Melee, if a projectile is too strong for a reflector, the reflector breaks and puts its user into the same state as if their shield broke. In Super Smash Bros. Brawl and Super Smash Bros. for Nintendo 3DS and Wii U, the overpowered projectile simply ignores the reflector and hits its user anyway. In the case of Ness's and Lucas's forward smashes, should the overpowered projectile collide with the move's hitbox without striking the user, they will undergo a proportionally-substantial amount of lag due to being out prioritized.
Reflectors are generally very useful moves that can be vital, as they help prevent projectile camping and spamming. As such, characters with reliable reflectors tend to have better matchups against characters that rely upon projectiles, such as Samus, than those who lack a reliable reflector.
In addition to the above, the Villager in Super Smash Bros. for Nintendo 3DS and Wii U is able to grab projectiles and items and store them for later use via Pocket. While not strictly a reflector, retrieved projectiles gain a 1.9x damage multiplier generally associated with reflectors.
List of Reflectable projectiles