For the Super Smash Bros. version, see Race to the Finish (SSB).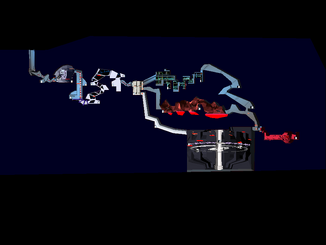 Race to the Finish
(

つきすすめ

Tsukisusume!

?

, "Keep Going On!")
is a
bonus game
in the
Classic Mode
of
Super Smash Bros. Melee
. It is a timed dash to the end of a labyrinthine corridor with many doors along the way. Touching one of these doors will end the game and give you coins based on how far you got into the area. The area is fairly linear, with no hazards until near the end, where there is a three way fork in the corridor with each way presenting a different hazard: the top way having spiked walls, the middle having lava, and the bottom having a bottom
blast line
and a sparse amount of platforms to get across. Each leads to a short final stretch with a single floating spiked block floating just before the final door. It can be played in VS. Mode through various cheat devices such as the
Action Replay
; only Player 1 can touch a door, which forces the match to end.
Time
Each character is allotted a different amount of time to finish, the faster characters such as Fox having
less time, and slower characters like Bowser more time. The "speed" of a character here is based on a combination of dash speed, falling speed, and air speed.
Community content is available under
CC-BY-SA
unless otherwise noted.