For fighter info, see R.O.B. (SSBB).
R.O.B. (short for Robotic Operating Buddy), also called the Famicom Robot in Japan, was an accessory for the Nintendo Entertainment System (NES), intended to disguise it as a toy, rather than a video game, due to toy stores' avoidance of video games after the Video Game Crash of 1983.
Character Description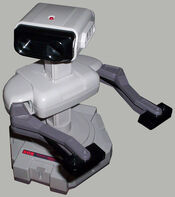 R.O.B. was originally advertised as a toy in order to get toy stores to continue to sell video games. R.O.B. was compatible with two games, Gyromite and Stack-Up, and although the player didn't necessarily need R.O.B. to play the games, it still remained a key figure in Nintendo's attempt to keep the video games industry alive.
Although R.O.B.'s time has passed, his legacy lives on, as he was named the fifth in GameSpy's top twenty five smartest moves in gaming history. R.O.B. appears as a playable character in Mario Kart DS. A treasure in the Pikmin 2 game was "Remembered Old Buddy", being R.O.B.'s head and having the initials R-O-B. In Kirby's Dreamland 3, there is a stage where Kirby must complete puzzles in various rooms to collect pieces of R.O.B. for Professor Hector, R.O.B.'s creator in Gyromite, so that R.O.B. can be rebuilt. Robotic-cranes designed in R.O.B.'s image can be seen in the F-Zero GX course "Port Town Aero Dive", which can also be seen in the Brawl stage of the same name. Also, R.O.B.'s legacy is also paid homage to in the Star Fox series where the Star Fox team's robotic helper, ROB 64, was named after R.O.B.
Main article: R.O.B. (SSBB)
R.O.B. is a playable character in Super Smash Bros. Brawl. There are also many R.O.B. enemies in the Subspace Emissary and he also appears when the Ancient Minister's clothes burned off.
Trophy Info
R.O.B. sporting his Famicom colors. R.O.B. debuted in Japan as Robot in 1985 as an add-on for the Famicom. He could be combined with a "gyro set," etc. for two types of play. The player controlled Professor Hector, the TV emitted light, and R.O.B. responded to the light by moving. At the time, it was epoch-making game play. Recently, R.O.B. appeared in Mario Kart DS.
The R.O.B. Squad is the general term referring to the army and race of R.O.B. enemies in The Subspace Emissary. Although having no real canon of their own outside of the Smash Brothers series, the story of Subspace Emissary suggests that the race of R.O.B. robots called the floating island named the Isle of Ancients their home, and was subsequently taken over by Tabuu in preparation for his invasion into the Smash Bros. world.
The R.O.B. Sentry is a melee-based common enemy variant of the R.O.B. Squad and has the default (Japanese R.O.B.) color scheme of R.O.B. with red arms and a white body. They are found throughout all the stages located on the floating Isle of Ancients. Their attacks are only limited to a single swipe with their arm not unlike R.O.B.'s standing neutral attack. When near the player, R.O.B. Sentries can jump to reach the same height as the player or to mix up its pattern. If knocked off a ledge, they do not recover. Otherwise, they generally stay mobile on the ground.
Trophy Description:
A robot with a two-armed shot. This R.O.B. uses the booster on its base to propel its jumps. Often used in the Subspace Army bomb factory in defense or labor roles, the R.O.B. Sentry also works as a detonator. Its emotional capacity is unknown, but it has utter trust in the Ancient Minister and obeys him unwaveringly. This production model has been made in great numbers.
The R.O.B. Launcher is a missile-firing common enemy variant of the R.O.B. Squad and is identified with its military green color scheme. A similar color scheme is available for the player-controlled R.O.B. character, but the R.O.B. Launcher is different in three areas: it has a blue cord on its back instead of black, brown coloration on certain parts, and has only one "eye." It is found only in stages located on the Isle of Ancients and its only attack is to launch a missile similar to Snake's side special remote missile (although much slower) that homes in on the player. R.O.B. Launchers are stationary, and do not move unless knocked astray by the player. Much like the R.O.B. Sentry, it does not attempt to recover when knocked off a ledge.
Trophy Description:
An upgraded R.O.B. model with a missile-launcher head that bolsters firepower. The standard coloring has also been refinished with a green and brown military motif, stylishly accented with a blue cord connecting the arm sections and base. This R.O.B. does not use its arms--attacks are limited to the missiles fired from its head.
The R.O.B. Blaster is a laser-firing common enemy variant of the R.O.B. Squad and has the white and gray (American R.O.B.) color scheme. Again, it is found in all levels located on the Isle of Ancients like its counterparts. Its only attack is to shoot a short, blue, double laser beam directed at the player. As the trophy description suggests, there are two versions to the R.O.B. Blasters: one that stays stationary and fires (like R.O.B. Launchers) and one that is mobile. The mobile ones are typically the fastest model out of all the R.O.B. Squad variants, as it constantly uses its boosters for movement and generally stay airborne at all times. While they do not directly attempt to recover from edges, they will inadvertently recover from pitfalls when chasing the player by using its hovering.
Trophy Description:
A R.O.B. model boasting robo-beam-blasting eye lenses suited for long-range combat. There are two types--one acts like a stationary gun, sitting in place and lining up targets, and the other is mobile. Actually, the R.O.B. Sentry also features beam-firing capabilities, but because the roles of the R.O.B. Squad are so well defined, there's no conflict between the ranks.