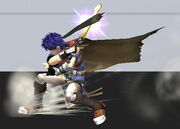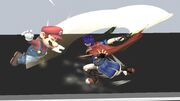 The Quick Draw is Ike's side special move that was confirmed at the Smash Bros. DOJO!!.
When used, Ike lunges forward a short distance across the stage and slashes at any enemy which is within range of the dash. The move can be executed very quickly, making it one of Ike's fastest moves. It can be charged by holding B to increase the distance Ike dashes across the stage, and the damage and knockback of the slash relative to the amount of time spent charging. The charge stance can be held indefinitely. If the move does not connect, it has very low ending lag, giving Ike a chance to follow up with a different attack. His Up-tilt, Neutral A combo, and his grab are decent follow-up options. This move can also be used while off the stage to give Ike a significant horizontal recovery. If used on a stage, it should be noted that the move stops at the edges, preventing one from, possibly, preforming suicide. It can also be used to counter an opponent's dashing attack or special-in several cases when Quick Draw clashes with a similar special, Quick Draw wins (such as against Meta Knight's Drill Rush) or results in a draw (such as against Sonic's Spin Dash). If used in mid-air, Ike falls into helpless once the move either ends its run or it hits something damagable (such as opponents, Pikmin, stage elements, etc). This makes it easy for edge-guarders to intercept, and it also makes it impossible for Ike to use both Quick Draw and Aether in the same recovery, making his overall recovery extremely predictable.
Quick Draw is integral to the Ike Charge Tackle technique; when executed aerially from an altitude slightly higher than the stage platform he is to land on, it makes Ike slide a decent distance. During this slide, Ike can execute any number of attacks. Aether, a neutral combo, or a smash are all great choices to use.
Ike can be killed if he uses this move into King Dedede's Inhale. By using Inhale next to a ledge, Ike will Quickdraw into King Dedede, attacking him, but the inhale effect will cause him to keep going, causing him to fall helpless off the ledge.
Ike can also be killed if he uses this move into Snake's Remote Missile. If using Quickdraw as a recovery, Snake can launch a Remote Missile at him, forcing Ike to attack it. Unlike most projectiles which will damage him, allowing him to use another recovery move, the remote missile cannot be destroyed, so Ike's recovery will stop and he will fall helpless to his death.
Quick Draw is a perfect counter to Angel Ring. The length of Ike's blade is longer than than the range of Pit's spinning bow.
Trivia
In Path of Radiance, when Ike, or any unpromoted unmounted melee class, happens to use a finishing critical attack, he/she takes up his/her weapon before charging through the enemy at high speed in a similar animation to the one used by Ike in Brawl.
Gallery