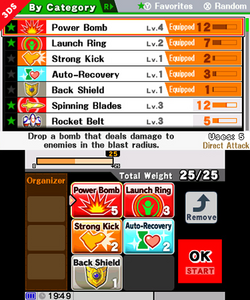 Powers (持ち込みアイテム Mochikomi Aitemu, lit. "Brought Item") are a custom feature from Super Smash Bros. for Nintendo 3DS that characters can equip and use in Smash Run.
Powers have levels that determines the number of times they can be used and their effectiveness. Powers also have "weight", which determine how many powers a character can equip. The lower a character's speed attribute, the more weight they can carry.
A maximum of six powers can be carried at once. Powers are activated using the Nintendo 3DS touchscreen. Powers can only be used during the first phase of Smash Run; they cannot be used in the Final Battle.
Initially, only a few powers are available. New powers can be acquired in Smash Run from opening treasure chests and by defeating enemies. They appear as yellow bags with a question mark on the front.
Trophy
In Smash Run, you'll sometimes see a yellow bag emblazoned with a question mark. Enemies occasionally drop them when defeated, or you can pick them up in treasure chests. Inside you'll find custom goodies, but you'll have to wait until the end of the run to find out what you've picked up!
List of Powers
Power
Effect
Level differences
Power Bomb
Drop a bomb that deals damage to enemies in the blast radius.

Lv. 1: Weight 4, 2 uses
Lv. 2: Weight 7, 3 uses
Lv. 3: Weight 10, 4 uses
Lv. 4: Weight 12, 5 uses

Heavenly Light
Call down a pillar of light that damages nearby enemies.

Lv. 1: Weight 2, 2 uses
Lv. 2: Weight 3, 3 uses
Lv. 3: Weight 4, 4 uses
Lv. 4: Weight 5, 5 uses

Meteor Shower
Call down meteors in front of you.

Lv. 1: Weight 7, 2 uses
Lv. 2: Weight 10, 3 uses
Lv. 3: Weight 13, 4 uses
Lv. 4: Weight 16, 5 uses

Horizon Beam
Fire a giant laser beam straight ahead.

Lv. 1: Weight 5, 2 uses
Lv. 2: Weight 9, 3 uses
Lv. 3: Weight 12, 4 uses
Lv. 4: Weight 15, 5 uses

Launch Ring
Create a ring of light that launches enemies.

Lv. 1: Weight 4, 1 use
Lv. 2: Weight 7, 2 uses
Lv. 3: Weight 10, 3 uses
Lv. 4: Weight 12, 4 uses

Shocking Taunt
Taunt to fire lightning in the direction pressed on the +Control Pad.

Lv. 1: Weight 4, 2 uses
Lv. 2: Weight 6, 2 uses
Lv. 3: Weight 9, 3 uses
Lv. 4: Weight 11, 3 uses

Homing Missiles
Fire two homing missiles at enemies.

Lv. 1: Weight 7, 6 uses
Lv. 2: Weight 10, 8 uses
Lv. 3: Weight 13, 10 uses
Lv. 4: Weight 17, 13 uses

Dual Cyclone
Generate two cyclones, one on each side of you, that ensnare enemies.

Lv. 1: Weight 6, 2 uses
Lv. 2: Weight 8, 2 uses
Lv. 3: Weight 11, 3 uses
Lv. 4: Weight 13, 3 uses

Spinning Blades
Summon swords that spin around you, harming nearby enemies.

Lv. 1: Weight 5, 2 uses
Lv. 2: Weight 8, 2 uses
Lv. 3: Weight 12, 3 uses
Lv. 4: Weight 15, 3 uses

Devil's Pact
Temporarily boosts your stats and increases your damage to 300.

Lv. 1: Weight 2, 1 use
Lv. 2: Weight 4, 1 use
Lv. 3: Weight 6, 1 use
Lv. 4: Weight 8, 1 use

Smash Extend
Allows you to charge a smash attack longer, increasing its power.

Lv. 1: Weight 3, 1 use
Lv. 2: Weight 5, 2 uses
Lv. 3: Weight 7, 3 uses
Lv. 4: Weight 9, 4 uses

Homing Foe
Increases the chance that a launched opponent will collide with another enemy.

Lv. 1: Weight 3, 3 uses
Lv. 2: Weight 4, 3 uses
Lv. 3: Weight 6, 4 uses
Lv. 4: Weight 7, 4 uses

Payback
Converts damage you take into a one-time boost to your next attack.

Lv. 1: Weight 2, 1 use
Lv. 2: Weight 4, 2 uses
Lv. 3: Weight 6, 3 uses
Lv. 4: Weight 8, 4 uses

Rage
The more damage you've taken, the stronger you'll be.

Lv. 1: Weight 3, 1 use
Lv. 2: Weight 5, 2 uses
Lv. 3: Weight 6, 2 uses
Lv. 4: Weight 8, 3 uses

Strong Punch
Increases the power of arm-based attacks, such as punches.

Lv. 1: Weight 2, 2 uses
Lv. 2: Weight 3, 2 uses
Lv. 3: Weight 5, 3 uses
Lv. 4: Weight 7, 4 uses

Strong Kick
Increases the power of leg-based attacks, such as kicks.

Lv. 1: Weight 2, 2 uses
Lv. 2: Weight 3, 2 uses
Lv. 3: Weight 5, 3 uses
Lv. 4: Weight 7, 4 uses

Strong Head
Increases the power of head-based attacks, such as headbutts.

Lv. 1: Weight 2, 2 uses
Lv. 2: Weight 3, 2 uses
Lv. 3: Weight 5, 3 uses
Lv. 4: Weight 7, 4 uses

Strong Body
Increases the power of torso-based attacks, such as tackles.

Lv. 1: Weight 2, 2 uses
Lv. 2: Weight 3, 2 uses
Lv. 3: Weight 5, 3 uses
Lv. 4: Weight 7, 4 uses

Strong Throw
Increases the distance and strength of throws.

Lv. 1: Weight 2, 2 uses
Lv. 2: Weight 3, 2 uses
Lv. 3: Weight 5, 3 uses
Lv. 4: Weight 7, 4 uses

Reflector
Deflects incoming projectiles for a time.

Lv. 1: Weight 3, 1 use
Lv. 2: Weight 5, 2 uses
Lv. 3: Weight 8, 3 uses
Lv. 4: Weight 10, 4 uses

Super Armor
Prevents you from flinching when you take damage.

Lv. 1: Weight 4, 1 use
Lv. 2: Weight 7, 2 uses
Lv. 3: Weight 10, 3 uses
Lv. 4: Weight 13, 4 uses

Brief Invincibility
Prevents you from taking damage, just for a moment.

Lv. 1: Weight 3, 2 uses
Lv. 2: Weight 4, 3 uses
Lv. 3: Weight 5, 4 uses
Lv. 4: Weight 6, 5 uses

Evershield
Prevents your shield from decreasing in size.

Lv. 1: Weight 2, 1 use
Lv. 2: Weight 3, 2 uses
Lv. 3: Weight 4, 3 uses
Lv. 4: Weight 5, 4 uses

Health Recovery
Heals damage you have taken.

Lv. 1: Weight 3, 3 uses
Lv. 2: Weight 5, 3 uses
Lv. 3: Weight 7, 3 uses
Lv. 4: Weight 9, 3 uses

Auto-Recovery
Automatically heals damage bit by bit.

Lv. 1: Weight 3, 2 uses
Lv. 2: Weight 5, 2 uses
Lv. 3: Weight 7, 2 uses
Lv. 4: Weight 9, 2 uses

Healing Shield
Shield against enemy attacks to heal yourself.

Lv. 1: Weight 3, 2 uses
Lv. 2: Weight 4, 2 uses
Lv. 3: Weight 6, 3 uses
Lv. 4: Weight 7, 3 uses

Warp
Instantly transports you to a random location.

Lv. 1: Weight 4, 1 use
Lv. 2: Weight 6, 2 uses
Lv. 3: Weight 8, 3 uses
Lv. 4: Weight 10, 4 uses

Extra Jump
Increases the number of times in a row you can jump in midair.

Lv. 1: Weight 3, 1 use
Lv. 2: Weight 5, 2 uses
Lv. 3: Weight 8, 2 uses
Lv. 4: Weight 10, 3 uses

High Jump
Increases the height of your jumps.

Lv. 1: Weight 3, 1 use
Lv. 2: Weight 5, 2 uses
Lv. 3: Weight 8, 3 uses
Lv. 4: Weight 10, 3 uses

Instant Drop
Lets you perform a fast, downward attack by pressing down while airborne.

Lv. 1: Weight 3, 2 uses
Lv. 2: Weight 5, 2 uses
Lv. 3: Weight 7, 2 uses
Lv. 4: Weight 9, 2 uses

Shinespark
Increases your running speed. When you start to shine, you can also deliver a body blow.

Lv. 1: Weight 5, 2 uses
Lv. 2: Weight 7, 2 uses
Lv. 3: Weight 9, 2 uses
Lv. 4: Weight 11, 2 uses

Beam Sword
Equips you with a beam sword.

Lv. 1: Weight 3, 1 use
Lv. 2: Weight 5, 2 uses
Lv. 3: Weight 7, 3 uses
Lv. 4: Weight 9, 4 uses

Ray Gun
Equips you with a ray gun.

Lv. 1: Weight 2, 1 use
Lv. 2: Weight 4, 2 uses
Lv. 3: Weight 6, 3 uses
Lv. 4: Weight 8, 4 uses

Bob-omb
Equips you with a Bob-omb.

Lv. 1: Weight 2, 1 use
Lv. 2: Weight 3, 2 uses
Lv. 3: Weight 4, 3 uses
Lv. 4: Weight 5, 4 uses

Back Shield
Equips you with a Back Shield.

Lv. 1: Weight 1, 1 use
Lv. 2: Weight 2, 2 uses
Lv. 3: Weight 3, 3 uses
Lv. 4: Weight 4, 4 uses

Super Leaf
Equips you with a Super Leaf.

Lv. 1: Weight 2, 1 use
Lv. 2: Weight 3, 2 uses
Lv. 3: Weight 4, 3 uses
Lv. 4: Weight 5, 4 uses

Rocket Belt
Equips you with a Rocket Belt.

Lv. 1: Weight 3, 1 use
Lv. 2: Weight 5, 2 uses
Lv. 3: Weight 7, 3 uses
Lv. 4: Weight 9, 4 uses

Hammer
Equips you with a Hammer.

Lv. 1: Weight 4, 1 use
Lv. 2: Weight 6, 2 uses
Lv. 3: Weight 8, 3 uses
Lv. 4: Weight 10, 4 uses

Smart Bomb
Equips you with a smart bomb.

Lv. 1: Weight 4, 1 use
Lv. 2: Weight 6, 2 uses
Lv. 3: Weight 8, 3 uses
Lv. 4: Weight 10, 4 uses

Ore Club
Equips you with an Ore Club.

Lv. 1: Weight 8, 1 use
Lv. 2: Weight 11, 2 uses
Lv. 3: Weight 14, 3 uses
Lv. 4: Weight 17, 4 uses

Super Scope
Equips you with a Super Scope.

Lv. 1: Weight 4, 1 use
Lv. 2: Weight 6, 2 uses
Lv. 3: Weight 8, 3 uses
Lv. 4: Weight 10, 4 uses

Boomerang
Equips you with a Boomerang.

Lv. 1: Weight 2, 1 use
Lv. 2: Weight 3, 2 uses
Lv. 3: Weight 4, 3 uses
Lv. 4: Weight 5, 4 uses

Shuffle
Randomly reassigns the power of your stats.

Lv. 1: Weight 3, 1 use
Lv. 2: Weight 5, 2 uses
Lv. 3: Weight 7, 3 uses
Lv. 4: Weight 9, 4 uses

Random
Triggers the effect of a random Power.

Lv. 1: Weight 3, 1 use
Lv. 2: Weight 5, 2 uses
Lv. 3: Weight 7, 3 uses
Lv. 4: Weight 9, 4 uses