This article is about the stage in Brawl. For the stage in Super Smash Bros. for Nintendo 3DS, see PictoChat 2.
PictoChat (ピクトチャット, Pikutochatto?) is a Super Smash Bros. Brawl stage based on the software for the Nintendo DS of the same name. In the beginning, the stage consists of a flat, blank stage. As the match continues, pictures are drawn in. Some have different effects, like a face that blows wind at the players, rails with a moving minecart, a giant Piranha Plant and much more.
The only static platform is a "now entering" notification. Although the lower end of the main platform can sometimes be seen, it is impossible to go under and around it.
Oddly enough, for a stage that appears technical and futuristic, the crates and barrels appear in the present form instead of the stainless steel form, and although this takes place in a game system, the characters are still 3-D, unlike Flat Zone 2, where characters are 2-D.
Drawings
There are a total of 27 drawings that can be sketched on PictoChat. They appear in a cycle, meaning that the same drawing cannot reappear until every other sketch has featured. However, the cycle itself is randomly decided at the start of each match. The stage balances the time in which a drawing is on and off; it spends approximately 13.33 seconds with a sketch and the same amount of time without one. As a general rule, bold lines can be stepped on while faint lines stay in the background. The sketches are as follows:
Tournament legality
This stage is currently banned in tournaments, because of some unpredictable and overly powerful transformations (Such as Piranha Plant, Spears, and Gusty Gus) that can significantly affect gameplay.
Origin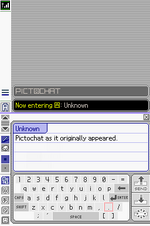 This stage is based on the communication system that is built into the Nintendo DS, known as PictoChat. One can either type or draw a message to his/her friend with their stylus. Originally, it was only accessible from the handheld's main menu and just supported local connections. However, some games, such as 42 All-Time Classics, have integrated PictoChat into the interface with online connectivity.
The stage itself in Brawl is on top of a bar that is located on the top screen of the DS (even though the one writing the message draws on the bottom screen) and tells the user who is joining their chat room. Initially, there were four chat rooms (A, B, C, D) that could each hold up to 16 people. In Brawl, the bar displays the names of the characters in the fight, as if they were joining the room, though it is always shown as room [A].
Gallery
Glitches
As well as being the home of the Earthquake Glitch, PictoChat also has some glitches involving a few Assist Trophy summons.
Trivia
External links