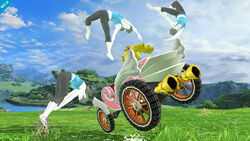 Photo Studio is a new feature in Super Smash Bros. for Nintendo Wii U. In Photo Studio, the players can use their trophies to create certain situations, it's possible to set up the size and position of the Trophies and the background.
Features
Only a maximum of 4 Trophies can be displayed at once and only Trophies the player has obtained can be displayed.
Each Trophies' Size, Rotation, and Position can be modified.
There are 4 different background scene options and a blur option that blurs the background.
Trophy Stands can be turned on/off by tapping the Trophy Stand icon. Turning it off removes the Trophy Stand allow one to take pictures of Trophies without their Stands.
There is also an option that controls whether or not Trophies produce shadows.
Gallery
Community content is available under
CC-BY-SA
unless otherwise noted.