PK Starstorm (PKスターストーム, PK Starstorm) is Ness and Lucas's Final Smash.
Overview
In both games, the user raises their hand into the air and shout "PK Starstorm!" as meteors rain from the sky passing through the stage. While they had a general sound of a meteor shower in Brawl, in 3DS/Wii U the sound for PK Starstorm from the original Earthbound plays.
Super Smash Bros. Brawl
PK Starstorm differs between the two characters: Lucas's version summons yellow meteors that fall in a group inward, dealing 14% damage and horizontal knockback, while Ness's version summons blue meteors that fall individually in a fan-like pattern, dealing 20% damage and vertical knockback. These differences make Lucas's PK Starstorm effective on small stages or those with close side blast lines, and Ness's on large stages or those with low upper blast lines.
Because of its randomness, it can be difficult to consistently rack up damage as the meteors may not affect all opponents; however, its randomness does make it a difficult Final Smash to predict. Should one meteor hit an opponent, it is highly likely that they will be chained into other meteors, which can lead to heavy damage and eventual KO. After initiating, Ness and Lucas can move, which allows them to knock opponents into the meteors to make it easier to land KOs.
Super Smash Bros. for Nintendo 3DS and Wii U
Ness's and Lucas's PK Starstorm now functions identically in a different manner. Similarly to Ness's PK Starstorm, blue meteors will fall, but they will fall in a group similar to Lucas'. PK Starstorm now functions like Aura Storm, as the meteors will fall quickly, the direction can be controlled, and the attack knocks opponents horizontally, making it possible for Ness/Lucas to knock opponents toward the blast lines. The changes in PK Starstorm does allow it to have a more consistent damage output, but now creates blind spots, making it an easy Final Smash to avoid, especially if the opponent goes above the upper blast lines. Ness and Lucas cannot move during the duration of PK Starstorm.
Super Smash Bros. Ultimate
PK Starstorm returns as Ness and Lucas' Final Smashes in Super Smash Bros. Ultimate, and this time Ness will be helped with Paula and Poo, while Lucas receives assistance from Kumatora and Boney.
Trophy Descriptions
Super Smash Bros. Brawl
Ness
Ness as he calls down a host of damage-dealing stars in his Final Smash. Everyone on the screen must dodge like crazy to avoid getting hurt, but that's no easy task. This attack first appeared in EarthBound, but it was Poo, not Ness, who wielded it. Perhaps Poo taught Ness the secret of the attack for use in Super Smash Bros. Brawl.
Lucas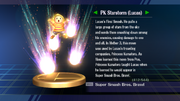 Lucas' Final Smash. He pulls a large group of stars from the sky and sends them smashing down among his enemies, causing damage to one and all. In MOTHER3, this move was used by Lucas' traveling companion, Princess Kumatora. As Ness learned this move from Poo, Princess Kumatora taught PK Starstorm to Lucas when he learned he would appear in Super Smash Bros. Brawl.
Super Smash Bros. for Nintendo 3DS/Wii U
Ness
In EarthBound, this PSI ability belonged to Poo, the Crown Prince of Dalaam and one of Ness's friends. Ness must have learned it especially for Smash Bros.! The attack makes a shower of meteors fall onto the stage, damaging any foes it hits. While the attack's in progress, Ness is invincible and can adjust the meteors' trajectory.
Lucas
You can adjust the direction of the shooting stars in this attack! Rain stars down on multiple fighters at once, or be mean and pick on a single fighter. The choice is yours! If a star connects, it will deal ongoing fire damage, making it hard for opponents to return to the stage.
Origin
This move has its origins in the game EarthBound (MOTHER2 in Japan), being a very powerful attack that affects all enemies on the screen. In this game, it is used by a character named Poo (one of Ness's partners). It also appears in MOTHER3, being used by Kumatora (one of Lucas's partners in said game). However, like most of both Lucas's and Ness's attacks in the Super Smash Bros. series, they do not learn this attack in their respective games. Interestingly, in their Final Smash Trophies, it is hinted that Poo and Kumatora taught this attack to Ness and Lucas respectively to use in Brawl.
Trivia
Final Smash
Introduced in Brawl
Introduced in 3DS/Wii U
Introduced in Ultimate