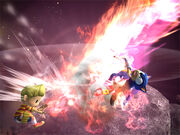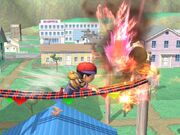 PK Fire (called PSI Fire in the English version of Earthbound) is a special move that can be performed by both Ness and Lucas. It's a projectile attack that fires a bolt that travels in a straight line until it hits an enemy or destructible portion of a stage. If it does not hit either of the aforementioned objects within a few feet, then it disappears. PK Fire differs between the two characters that use it.
Ness
In all games of the Smash series, Ness' PK Fire explodes into a pillar of fire that hits an enemy multiple times, which can lead to potential combos while the enemy is stunned. Ness can also fire his PK Fire diagonally downwards if he uses this attack in the air and if the attack hits an airborne target, the pillar of fire falls downwards.
Lucas
Lucas' PK Fire always travels horizontally. When the bolt hits an opponent, it hits once, and deals fair knockback to the enemy. (Enough to KO during a Sudden Death) When Lucas' PK Fire and a double jump are executed at the same time, Lucas gains a huge vertical boost.
Origin
In Earthbound, the attack is actually not learned by Ness (something Paula's Trophy in Melee explains). It is described as a wave of fire shot from the fingers and is capable of damaging rows of enemies.
Trivia
In Melee, Ness had a deep voice when he activated PK Fire. In Brawl, he had a voice like Lucas for it.
Community content is available under
CC-BY-SA
unless otherwise noted.