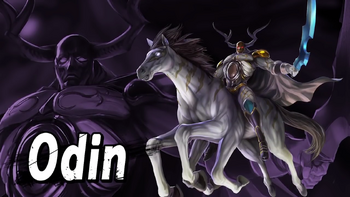 Odin (オーディン, Ōdain) is a recurring summon in the Final Fantasy series. He appears as a stage hazard in Super Smash Bros. for Nintendo 3DS and Wii U for the Midgar stage.
In Super Smash Bros. for Nintendo 3DS and Wii U
Like the other four summons, Odin has a chance of appearing when a player gets a Summon Materia, and appears in his Final Fantasy VII incarnation.
Once summoned, the stage darkens and Odin appears, mounted on his eight-legged stallion, Sleipnir. After that, he will attack with his sword Zantetsuken, which deals 100% damage to anyone it hits (including the summoner) and, in most of the cases, causes an OHKO to anyone it hits. Before making the cut, a vertical blue beam will appear, showing where the cut will occur and giving players the chance to escape. The stage will then split in half, with the two halves moving apart. The stage will later reform, and anyone caught between the halves will instantly be crushed and KOed.
Origin
Odin was introduced in Final Fantasy III, where he attacks with his sword, Zantetsuken, that has a chance to cause instant death. In some games, enemies immune to instant death receive heavy non-elemental damage instead. His sword name roughly translates "Iron-Slashing Sword".
In Final Fantasy VII, Odin's Summon Materia is found within the ShinRa Mansion in Nibelheim after defeating the secret boss Lost Number. This makes Odin one of the few optional but reattainable Summon Materias in the game. Odin's Zantetsuken attack, translated as "Steel Bladed Sword", only activates if his target has low enough HP to trigger it, otherwise using Gunge Lance (a mistranslation of "Gungnir") instead.
Óðinn (Odin) (pronounced OH-thin) is the leader of the Æsir in Norse Mythology and he is the god of wisdom, poetry, war and death. Odin is attributed with the discovery of Runes. He, along with his two brothers, Vili and Vé, is credited with the creation of the realm of mankind, Miðgarðr (Midgard), and for mankind itself. He is the employer of the female warriors known as Valkyries (who control the fate of battles and collect the dead from the battleground), and he reigns over the hall of Valhöll (Valhalla), the Norse equivalent of heaven (only those who fought bravely and died in combat were eligible to enter).
Óðinn sacrificed his left eye to drink from Mimir's Well of Wisdom to gain knowledge of past, present, and future. His eight legged horse, Sleipnir, and his magical dwarven spear Gungnir have also been depicted. At Ragnarök (the end of the gods) Óðinn shall rally the dead warriors to fight on the side of the gods. Óðinn fathered Þór (Thor), the god of lightning, and many others.
See also
External Links
Final Fantasy Wiki's article on Odin
Community content is available under
CC-BY-SA
unless otherwise noted.