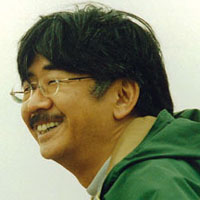 Nobuo Uematsu (植松 伸夫, Uematsu Nobuo?, born March 21, 1959) is a Japanese composer of video game music, and one of the most well-known, prolific, and versatile in the field.
Before leaving Square Enix to found his own company, Smile Please, he composed music for many Square Enix games, including much of the Final Fantasy series. Since then he has continued to compose music for Square Enix. Uematsu's music spans many styles, often combining motives and melodies of classical and romantic (especially opera music, and even more specifically that of Georges Bizet) period with contemporary textures and vertical harmonies (such as those of his Japanese contemporary Tōru Takemitsu). Among his favorite harmonies are those of quartal nature (three or more perfect fourths), a technique also employed by Paul Hindemith, among others. Nobuo Uematsu's music for the Final Fantasy series has become some of the most celebrated video game music ever. In particular, his song "Eyes On Me" from Final Fantasy VIII, performed by Asian pop star Faye Wong, became the first song from a video game to win "Best Song" honors at the Japan Gold Disk Awards.
Uematsu wrote the main theme of Super Smash Bros. Brawl. Though he was only hired to write this one song, he states that "If Sakurai asks me I'll do anything!"[1]
References
Community content is available under
CC-BY-SA
unless otherwise noted.