Ninjara (ニンジャラ) is one of the playable characters from the Nintendo Switch game ARMS.
A Mii Fighter Costume modeled after him was made available as DLC for Super Smash Bros. Ultimate.
Origin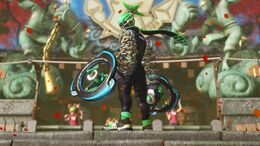 Ninjara is a 21-year old student who attends Rasen Ninjutsu University. His hobbies are listed as hiding and reading. His official stats include being 5' 10" (179 centimetres) tall and weighing 150 pounds (68 kg); its also shown that he excels at Ninjutsu but does not do much talking (or is possibly terrible at socializing). In his ending after winning the Grand Prix, he resumes his studies at Rasen, meditating atop a bamboo shoot.
Ninjara is one of the select few people in this universe to be born with a gene the causes ARMS, where a person's arms (or other body parts, in the case of Twintelle's hair) to transform into long stretchy material - for Ninjara, his arms become chains. To regain full control of their arms and prevent it from coming loose and untangled, these select few need to wear custom-made masks created by the scientists at ARMS Labs. For some, they use their newfound abilities to compete in the ARMS League, each for various reasons - for Ninjara, he enters not only to represent Rasen, but to also have his victory serve as his senior project.
Like with the rest of cast, Ninjara has some abilities that only he can perform. He harnesses his Ninjutsu skills in battle; specifically, he is able to vanish in his air dodging and air dashing, and teleport in another place. He can also teleport when blocking on the ground, allowing him to avoid oncoming attacks without receiving chip damage.
Also like the rest of the cast, Ninjara can equip all kinds of ARMS. However, he has a default set of ARMS at the start, which are:
Chakram - a medium-weight Stun-type ARM that fires a projectile in a boomerang-like trajectory
Buff - a medium-wight Null-type ARM that resembles a boxing glove and can home in on opponents. It will increase in size when fully charged.
Triblast - a lightweight Explosion-type ARM that fires three missile-like projectiles for a multi-hit attack.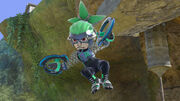 A costume for the Mii Brawler modeled after Ninjara was made available as a part of the Round 6 batch of DLC costumes. The "fists" are replaced with Chakrams.
A Spirit of Ninjara is available in the base game. It is a Support Spirit under the Advanced class. It can initially be acquired only through summoning with the Spirit Cores of Shinobu and Shadow Man.
However, if the Min Min Challenger Pack has been purchased, it will now have its own Spirit Battle exclusive to the DLC Spirit Board. His Spirit Battle uses Greninja in a green palette swap, a reference to both being ninjas. Greninja will have increased speed and the only items that will spawn are Boomerangs. The stage is Suzaku Castle and the song that plays is fittingly his home stage's theme, "Ninja College".
If the Ninjara costume has been purchased, the opponent will instead be a Mii Brawler wearing the costume.
| No. | Spirit | Artwork Origin | Type | Rating | Effect | Cost |
| --- | --- | --- | --- | --- | --- | --- |
| 1291 | | ARMS | | ★★ | Move Speed ↑ | 1 |
Aesthetic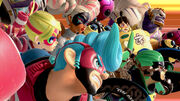 Ninjara appears alongside Spring Man, Ribbon Girl, Twintelle, Mechanica, and Master Mummy to assist Min Min in performing her Final Smash, ARMS Rush.
Ninjara also makes a cameo in the background of the Spring Stadium stage, with a graphic of him periodically appearing on the jumbotron by the audience stands alongside the rest of the ARMS cast.
Other
Ninjara makes a cameo in Min Min's reveal trailer; in it, he manages to nab the Smash invitation away from Ribbon Girl, but is quickly taken out by a barrage of ARMS from the rest of the cast.
Trivia