Standard Air Attack (abbreviated as "nair," "Nair," "ANA", "Neutral Aerial", and Neutral Air Attack) is an aerial attack that is performed in midair by pressing the A Button, and no direction on the control stick. Its official term varies between titles, where it is known as a "Standard Midair Attack" in Super Smash Bros. Melee, and a "Standard Air Attack" in Brawl. Most characters' neutral aerials are fast, high-range moves useful for bettering other air attacks. Many neutral aerials are also sex kicks. With T-Sticking, one is able to do neutral aerials without losing any horizontal momentum. Most Neutral Air Attacks have no landing lag if the player lands whilst the attack is still being performed.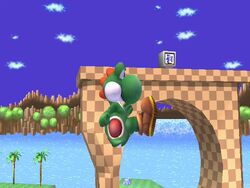 Community content is available under
CC-BY-SA
unless otherwise noted.