The Metroid is a species of extraterrestrial creature from the Metroid universe. Metroids are parasitic life forms that suck the life out of other living things to sustain themselves. This makes them a constant target for Samus Aran's arch enemies, the Space Pirates. Samus eventually puts them into extinction, which causes their prey, the X-Parasites, to come back from suppression and attack Samus, forcing her toward a Metroid vaccination in Metroid Fusion.
The Metroid itself appears in Melee, but only as a collectible trophy.
The Metroid features as a collectible trophy, unlocked as one of the 100+ trophies that can be collected randomly during normal play, such as in the Trophy Lottery and throughout the various Single-player Regular Matches. It reads as follows:
Description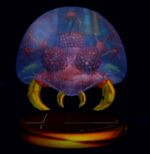 Metroid
A parasitic life form that can absorb all types of energy, Metroids have strong resistance to most conventional weaponry. To defeat them, Samus Aran had to freeze them with Ice Beam shots and then blast them with missiles. Mochtroids, which look like Metroids, are weaker, with fewer internal nuclei. (Metroid 08/89).
When a Metroid is released, it will latch onto a character's head, slightly immobilize them, and sap their health. It can be shaken off by moving about rapidly (or with a simple air dodge), upon which it may seek another victim. It moves in a rather inertial way (like Super Sonic and Volt Tackle), floating about the stage lazily. It can also pass through walls. The Metroid does damage much like a faster version of the flower effect, except that it makes characters flinch - this makes it very difficult to accomplish anything while being sucked, and it causes CPU opponents to use their Up Special Move repeatedly while attempting to recover. After it has latched (or attempted to latch) onto a character three times it will disappear.
Trophy Description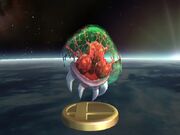 A bioengineered life-form found on planet SR388. Metroids attach to organisms and drain life energy. The Galactic Federation commissions Samus to eliminate them, but Space Pirates try to harness their power. One of the few ways Samus can kill Metroids is by shooting them with the Ice Beam and then shattering them with missiles. The Metroid's cry is chilling and indescribable.
Metroid (1987)
Metroid II: Return of Samus (1991)
The Metroid returns for Super Smash Bros. for Nintendo 3DS/Wii U as an assist trophy and enemy in Smash Run.
Trophy Description
First discovered on planet SR388, this floating life-form grows by absorbing the energy around it. It is incredibly durable but extremely weak to cold. In Smash Bros, a Metroid will grab a rival by the head and drain energy. If you get grabbed, shake it off by pressing left and right.
Metroid returns for Super Smash Bros. Ultimate and retains its position as an Assist Trophy. It also appears as a Support Spirit.
Spirit Data
| Spirit | Artwork Origin | Rating | Cost | Effect |
| --- | --- | --- | --- | --- |
| Metroid | | Ace | 2 | KOs Heal Damage |
Trivia
The Metroid is one of a few assist trophies to become an enemy in Smash run as well.
The trophy in Melee has a hidden image on the inside of the Metroid's "shell." To view this, view the trophy in the gallery and press A to see the close-up of the trophy. Manipulate the camera so that the player is facing straight up out of the Metroid's shell (the camera should be roughly around the top nucleus). The player should be able to make out an image of a Ceres Space Station lab room (where the infant was kept) from Super Metroid. If the player can't see it, try rotating the camera left or right, or press the Start button to change the background pattern. The texture used can be seen here.
In Brawl, hacking the game will allow you to look at the full texture for the Metroid. If carefully inspected, it's possible to see an image of Mr. Saturn inside one of the nuclei.
External links