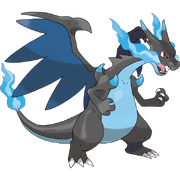 For Lucario's Final Smash, see Mega Evolution (Lucario).
Mega Evolution (メガシンカ, Mega Shinka?) is Charizard's Final Smash in Super Smash Bros. 3DS/Wii U.
Overview
When it activates, Charizard Mega Evolves into its X Mega Evolution. Charizard can now fly freely through the air and breathe fireballs by pressing the A button, much like Super Dragon. Unlike Super Dragon, the fireballs have a longer hitstun period. Also, by tilting the control stick in a direction while pressing A, Charizard will execute screw attacks which do a lot of damage.
Trivia
When Mega Charizard X shoots a fireball, it explodes into a flame that branches in 5 different directions; this is otherwise known as the Pokémon attack Fire Blast.
While Mega Charizard X, the form Charizard takes during Mega Evolution, does not make a playable return in Super Smash Bros. Ultimate (as Charizard now instead participates in the Pokémon Trainer's Triple Finish again), it does reappear as a spirit.
Final Smash
Introduced in Brawl
Introduced in 3DS/Wii U
Introduced in Ultimate