☻§▌-▌♣C6◙1♦♣☻☻☻☺☺2L52,2p▬4•♦s5p►àⁿ╪1♦213÷æ4♣╣2♦52A4☺/52♦1♣4☺♣87♦1♣8§♦5◘77ë845◘5/◘5414745◘/•7♣8♦25♠b♣9•8;☻I42◘♣6○☻♣2A◘○8◘☻6○6♣8♠7-6○U♠848♠◘7♣1↨26☻:5•◘7◘7••♦615☻♣♣21♥65♣45↓♠5J♣2º525854ⁿ☻2♣4W4♣48☻42554♣B547258÷▌22☺41♦¦â™¥â˜º221♦☻§▌-▌♣C6◙1♦♣☻☻☻☺☺2L52,2p▬4•♦s5p►àⁿ╪1♦213÷æ4♣╣2♦52A4☺/52♦1♣4☺♣87♦1♣8§♦5◘77ë845◘5/◘5414745◘/•7♣8♦25♠b♣9•8;☻I42◘♣6○☻♣2A◘○8◘☻6○6♣8♠7-6○U♠848♠◘7♣1↨26☻:5•◘7◘7••♦615☻♣♣21♥65♣45↓♠5J♣2º525854ⁿ☻2♣4W4♣48☻42554♣B547258÷▌22☺41♦¦â™¥â˜º221♦☻§▌-▌♣C6◙1♦♣☻☻☻☺☺2L52,2p▬4•♦s5p►àⁿ╪1♦213÷æ4♣╣2♦52A4☺/52♦1♣4☺♣87♦1♣8§♦5◘77ë845◘5/◘5414745◘/•7♣8♦25♠b♣9•8;☻I42◘♣6○☻♣2A◘○8◘☻6○6♣8♠7-6○U♠848♠◘7♣1↨26☻:5•◘7◘7••♦615☻♣♣21♥65♣45↓♠5J♣2º525854ⁿ☻2♣4W4♣48☻42554♣B547258÷▌22☺41♦¦â™¥â˜º221♦☻§▌-▌♣C6◙1♦♣☻☻☻☺☺2L52,2p▬4•♦s5p►àⁿ╪1♦213÷æ4♣╣2♦52A4☺/52♦1♣4☺♣87♦1♣8§♦5◘77ë845◘5/◘5414745◘/•7♣8♦25♠b♣9•8;☻I42◘♣6○☻♣2A◘○8◘☻6○6♣8♠7-6○U♠848♠◘7♣1↨26☻:5•◘7◘7••♦615☻♣♣21♥65♣45↓♠5J♣2º525854ⁿ☻2♣4W4♣48☻42554♣B547258÷▌22☺41♦¦â™¥â˜º221♦☻§▌-▌♣C6◙1♦♣☻☻☻☺☺2L52,2p▬4•♦s5p►àⁿ╪1♦213÷æ4♣╣2♦52A4☺/52♦1♣4☺♣87♦1♣8§♦5◘77ë845◘5/◘5414745◘/•7♣8♦25♠b♣9•8;☻I42◘♣6○☻♣2A◘○8◘☻6○6♣8♠7-6○U♠848♠◘7♣1↨26☻:5•◘7◘7••♦615☻♣♣21♥65♣45↓♠5J♣2º525854ⁿ☻2♣4W4♣48☻42554♣B547258÷▌22☺41♦¦â™¥â˜º221♦☻§▌-▌♣C6◙1♦♣☻☻☻☺☺2L52,2p▬4•♦s5p►àⁿ╪1♦213÷æ4♣╣2♦52A4☺/52♦1♣4☺♣87♦1♣8§♦5◘77ë845◘5/◘5414745◘/•7♣8♦25♠b♣9•8;☻I42◘♣6○☻♣2A◘○8◘☻6○6♣8♠7-6○U♠848♠◘7♣1↨26☻:5•◘7◘7••♦615☻♣♣21♥65♣45↓♠5J♣2º525854ⁿ☻2♣4W4♣48☻42554♣B547258÷▌22☺41♦¦â™¥â˜º221♦☻§▌-▌♣C6◙1♦♣☻☻☻☺☺2L52,2p▬4•♦s5p►àⁿ╪1♦213÷æ4♣╣2♦52A4☺/52♦1♣4☺♣87♦1♣8§♦5◘77ë845◘5/◘5414745◘/•7♣8♦25♠b♣9•8;☻I42◘♣6○☻♣2A◘○8◘☻6○6♣8♠7-6○U♠848♠◘7♣1↨26☻:5•◘7◘7••♦615☻♣♣21♥65♣45↓♠5J♣2º525854ⁿ☻2♣4W4♣48☻42554♣B547258÷▌22☺41♦¦â™¥â˜º221♦☻§▌-▌♣C6◙1♦♣☻☻☻☺☺2L52,2p▬4•♦s5p►àⁿ╪1♦213÷æ4♣╣2♦52A4☺/52♦1♣4☺♣87♦1♣8§♦5◘77ë845◘5/◘5414745◘/•7♣8♦25♠b♣9•8;☻I42◘♣6○☻♣2A◘○8◘☻6○6♣8♠7-6○U♠848♠◘7♣1↨26☻:5•◘7◘7••♦615☻♣♣21♥65♣45↓♠5J♣2º525854ⁿ☻2♣4W4♣48☻42554♣B547258÷▌22☺41♦¦â™¥â˜º221♦☻§▌-▌♣C6◙1♦♣☻☻☻☺☺2L52,2p▬4•♦s5p►àⁿ╪1♦213÷æ4♣╣2♦52A4☺/52♦1♣4☺♣87♦1♣8§♦5◘77ë845◘5/◘5414745◘/•7♣8♦25♠b♣9•8;☻I42◘♣6○☻♣2A◘○8◘☻6○6♣8♠7-6○U♠848♠◘7♣1↨26☻:5•◘7◘7••♦615☻♣♣21♥65♣45↓♠5J♣2º525854ⁿ☻2♣4W4♣48☻42554♣B547258÷▌22☺41♦¦â™¥â˜º221♦☻§▌-▌♣C6◙1♦♣☻☻☻☺☺2L52,2p▬4•♦s5p►àⁿ╪1♦213÷æ4♣╣2♦52A4☺/52♦1♣4☺♣87♦1♣8§♦5◘77ë845◘5/◘5414745◘/•7♣8♦25♠b♣9•8;☻I42◘♣6○☻♣2A◘○8◘☻6○6♣8♠7-6○U♠848♠◘7♣1↨26☻:5•◘7◘7••♦615☻♣♣21♥65♣45↓♠5J♣2º525854ⁿ☻2♣4W4♣48☻42554♣B547258÷▌22☺41♦¦â™¥â˜º221♦☻§▌-▌♣C6◙1♦♣☻☻☻☺☺2L52,2p▬4•♦s5p►àⁿ╪1♦213÷æ4♣╣2♦52A4☺/52♦1♣4☺♣87♦1♣8§♦5◘77ë845◘5/◘5414745◘/•7♣8♦25♠b♣9•8;☻I42◘♣6○☻♣2A◘○8◘☻6○6♣8♠7-6○U♠848♠◘7♣1↨26☻:5•◘7◘7••♦615☻♣♣21♥65♣45↓♠5J♣2º525854ⁿ☻2♣4W4♣48☻42554♣B547258÷▌22☺41♦¦â™¥â˜º221♦☻§▌-▌♣C6◙1♦♣☻☻☻☺☺2L52,2p▬4•♦s5p►àⁿ╪1♦213÷æ4♣╣2♦52A4☺/52♦1♣4☺♣87♦1♣8§♦5◘77ë845◘5/◘5414745◘/•7♣8♦25♠b♣9•8;☻I42◘♣6○☻♣2A◘○8◘☻6○6♣8♠7-6○U♠848♠◘7♣1↨26☻:5•◘7◘7••♦615☻♣♣21♥65♣45↓♠5J♣2º525854ⁿ☻2♣4W4♣48☻42554♣B547258÷▌22☺41♦¦â™¥â˜º221♦☻§▌-▌♣C6◙1♦♣☻☻☻☺☺2L52,2p▬4•♦s5p►àⁿ╪1♦213÷æ4♣╣2♦52A4☺/52♦1♣4☺♣87♦1♣8§♦5◘77ë845◘5/◘5414745◘/•7♣8♦25♠b♣9•8;☻I42◘♣6○☻♣2A◘○8◘☻6○6♣8♠7-6○U♠848♠◘7♣1↨26☻:5•◘7◘7••♦615☻♣♣21♥65♣45↓♠5J♣2º525854ⁿ☻2♣4W4♣48☻42554♣B547258÷▌22☺41♦¦â™¥â˜º221♦☻§▌-▌♣C6◙1♦♣☻☻☻☺☺2L52,2p▬4•♦s5p►àⁿ╪1♦213÷æ4♣╣2♦52A4☺/52♦1♣4☺♣87♦1♣8§♦5◘77ë845◘5/◘5414745◘/•7♣8♦25♠b♣9•8;☻I42◘♣6○☻♣2A◘○8◘☻6○6♣8♠7-6○U♠848♠◘7♣1↨26☻:5•◘7◘7••♦615☻♣♣21♥65♣45↓♠5J♣2º525854ⁿ☻2♣4W4♣48☻42554♣B547258÷▌22☺41♦¦â™¥â˜º221♦☻§▌-▌♣C6◙1♦♣☻☻☻☺☺2L52,2p▬4•♦s5p►àⁿ╪1♦213÷æ4♣╣2♦52A4☺/52♦1♣4☺♣87♦1♣8§♦5◘77ë845◘5/◘5414745◘/•7♣8♦25♠b♣9•8;☻I42◘♣6○☻♣2A◘○8◘☻6○6♣8♠7-6○U♠848♠◘7♣1↨26☻:5•◘7◘7••♦615☻♣♣21♥65♣45↓♠5J♣2º525854ⁿ☻2♣4W4♣48☻42554♣B547258÷▌22☺41♦¦â™¥â˜º221♦☻§▌-▌♣C6◙1♦♣☻☻☻☺☺2L52,2p▬4•♦s5p►àⁿ╪1♦213÷æ4♣╣2♦52A4☺/52♦1♣4☺♣87♦1♣8§♦5◘77ë845◘5/◘5414745◘/•7♣8♦25♠b♣9•8;☻I42◘♣6○☻♣2A◘○8◘☻6○6♣8♠7-6○U♠848♠◘7♣1↨26☻:5•◘7◘7••♦615☻♣♣21♥65♣45↓♠5J♣2º525854ⁿ☻2♣4W4♣48☻42554♣B547258÷▌22☺41♦¦â™¥â˜º221♦☻§▌-▌♣C6◙1♦♣☻☻☻☺☺2L52,2p▬4•♦s5p►àⁿ╪1♦213÷æ4♣╣2♦52A4☺/52♦1♣4☺♣87♦1♣8§♦5◘77ë845◘5/◘5414745◘/•7♣8♦25♠b♣9•8;☻I42◘♣6○☻♣2A◘○8◘☻6○6♣8♠7-6○U♠848♠◘7♣1↨26☻:5•◘7◘7••♦615☻♣♣21♥65♣45↓♠5J♣2º525854ⁿ☻2♣4W4♣48☻42554♣B547258÷▌22☺41♦¦â™¥â˜º221♦☻§▌-▌♣C6◙1♦♣☻☻☻☺☺2L52,2p▬4•♦s5p►àⁿ╪1♦213÷æ4♣╣2♦52A4☺/52♦1♣4☺♣87♦1♣8§♦5◘77ë845◘5/◘5414745◘/•7♣8♦25♠b♣9•8;☻I42◘♣6○☻♣2A◘○8◘☻6○6♣8♠7-6○U♠848♠◘7♣1↨26☻:5•◘7◘7••♦615☻♣♣21♥65♣45↓♠5J♣2º525854ⁿ☻2♣4W4♣48☻42554♣B547258÷▌22☺41♦¦â™¥â˜º221♦☻§▌-▌♣C6◙1♦♣☻☻☻☺☺2L52,2p▬4•♦s5p►àⁿ╪1♦213÷æ4♣╣2♦52A4☺/52♦1♣4☺♣87♦1♣8§♦5◘77ë845◘5/◘5414745◘/•7♣8♦25♠b♣9•8;☻I42◘♣6○☻♣2A◘○8◘☻6○6♣8♠7-6○U♠848♠◘7♣1↨26☻:5•◘7◘7••♦615☻♣♣21♥65♣45↓♠5J♣2º525854ⁿ☻2♣4W4♣48☻42554♣B547258÷▌22☺41♦¦â™¥â˜º221♦☻§▌-▌♣C6◙1♦♣☻☻☻☺☺2L52,2p▬4•♦s5p►àⁿ╪1♦213÷æ4♣╣2♦52A4☺/52♦1♣4☺♣87♦1♣8§♦5◘77ë845◘5/◘5414745◘/•7♣8♦25♠b♣9•8;☻I42◘♣6○☻♣2A◘○8◘☻6○6♣8♠7-6○U♠848♠◘7♣1↨26☻:5•◘7◘7••♦615☻♣♣21♥65♣45↓♠5J♣2º525854ⁿ☻2♣4W4♣48☻42554♣B547258÷▌22☺41♦¦â™¥â˜º221♦☻§▌-▌♣C6◙1♦♣☻☻☻☺☺2L52,2p▬4•♦s5p►àⁿ╪1♦213÷æ4♣╣2♦52A4☺/52♦1♣4☺♣87♦1♣8§♦5◘77ë845◘5/◘5414745◘/•7♣8♦25♠b♣9•8;☻I42◘♣6○☻♣2A◘○8◘☻6○6♣8♠7-6○U♠848♠◘7♣1↨26☻:5•◘7◘7••♦615☻♣♣21♥65♣45↓♠5J♣2º525854ⁿ☻2♣4W4♣48☻42554♣B547258÷▌22☺41♦¦â™¥â˜º221♦☻§▌-▌♣C6◙1♦♣☻☻☻☺☺2L52,2p▬4•♦s5p►àⁿ╪1♦213÷æ4♣╣2♦52A4☺/52♦1♣4☺♣87♦1♣8§♦5◘77ë845◘5/◘5414745◘/•7♣8♦25♠b♣9•8;☻I42◘♣6○☻♣2A◘○8◘☻6○6♣8♠7-6○U♠848♠◘7♣1↨26☻:5•◘7◘7••♦615☻♣♣21♥65♣45↓♠5J♣2º525854ⁿ☻2♣4W4♣48☻42554♣B547258÷▌22☺41♦¦â™¥â˜º221♦☻§▌-▌♣C6◙1♦♣☻☻☻☺☺2L52,2p▬4•♦s5p►àⁿ╪1♦213÷æ4♣╣2♦52A4☺/52♦1♣4☺♣87♦1♣8§♦5◘77ë845◘5/◘5414745◘/•7♣8♦25♠b♣9•8;☻I42◘♣6○☻♣2A◘○8◘☻6○6♣8♠7-6○U♠848♠◘7♣1↨26☻:5•◘7◘7••♦615☻♣♣21♥65♣45↓♠5J♣2º525854ⁿ☻2♣4W4♣48☻42554♣B547258÷▌22☺41♦¦â™¥â˜º221♦☻§▌-▌♣C6◙1♦♣☻☻☻☺☺2L52,2p▬4•♦s5p►àⁿ╪1♦213÷æ4♣╣2♦52A4☺/52♦1♣4☺♣87♦1♣8§♦5◘77ë845◘5/◘5414745◘/•7♣8♦25♠b♣9•8;☻I42◘♣6○☻♣2A◘○8◘☻6○6♣8♠7-6○U♠848♠◘7♣1↨26☻:5•◘7◘7••♦615☻♣♣21♥65♣45↓♠5J♣2º525854ⁿ☻2♣4W4♣48☻42554♣B547258÷▌22☺41♦¦â™¥â˜º221♦☻§▌-▌♣C6◙1♦♣☻☻☻☺☺2L52,2p▬4•♦s5p►àⁿ╪1♦213÷æ4♣╣2♦52A4☺/52♦1♣4☺♣87♦1♣8§♦5◘77ë845◘5/◘5414745◘/•7♣8♦25♠b♣9•8;☻I42◘♣6○☻♣2A◘○8◘☻6○6♣8♠7-6○U♠848♠◘7♣1↨26☻:5•◘7◘7••♦615☻♣♣21♥65♣45↓♠5J♣2º525854ⁿ☻2♣4W4♣48☻42554♣B547258÷▌22☺41♦¦â™¥â˜º221♦☻§▌-▌♣C6◙1♦♣☻☻☻☺☺2L52,2p▬4•♦s5p►àⁿ╪1♦213÷æ4♣╣2♦52A4☺/52♦1♣4☺♣87♦1♣8§♦5◘77ë845◘5/◘5414745◘/•7♣8♦25♠b♣9•8;☻I42◘♣6○☻♣2A◘○8◘☻6○6♣8♠7-6○U♠848♠◘7♣1↨26☻:5•◘7◘7••♦615☻♣♣21♥65♣45↓♠5J♣2º525854ⁿ☻2♣4W4♣48☻42554♣B547258÷▌22☺41♦¦â™¥â˜º221♦☻§▌-▌♣C6◙1♦♣☻☻☻☺☺2L52,2p▬4•♦s5p►àⁿ╪1♦213÷æ4♣╣2♦52A4☺/52♦1♣4☺♣87♦1♣8§♦5◘77ë845◘5/◘5414745◘/•7♣8♦25♠b♣9•8;☻I42◘♣6○☻♣2A◘○8◘☻6○6♣8♠7-6○U♠848♠◘7♣1↨26☻:5•◘7◘7••♦615☻♣♣21♥65♣45↓♠5J♣2º525854ⁿ☻2♣4W4♣48☻42554♣B547258÷▌22☺41♦¦â™¥â˜º221♦☻§▌-▌♣C6◙1♦♣☻☻☻☺☺2L52,2p▬4•♦s5p►àⁿ╪1♦213÷æ4♣╣2♦52A4☺/52♦1♣4☺♣87♦1♣8§♦5◘77ë845◘5/◘5414745◘/•7♣8♦25♠b♣9•8;☻I42◘♣6○☻♣2A◘○8◘☻6○6♣8♠7-6○U♠848♠◘7♣1↨26☻:5•◘7◘7••♦615☻♣♣21♥65♣45↓♠5J♣2º525854ⁿ☻2♣4W4♣48☻42554♣B547258÷▌22☺41♦¦â™¥â˜º221♦☻§▌-▌♣C6◙1♦♣☻☻☻☺☺2L52,2p▬4•♦s5p►àⁿ╪1♦213÷æ4♣╣2♦52A4☺/52♦1♣4☺♣87♦1♣8§♦5◘77ë845◘5/◘5414745◘/•7♣8♦25♠b♣9•8;☻I42◘♣6○☻♣2A◘○8◘☻6○6♣8♠7-6○U♠848♠◘7♣1↨26☻:5•◘7◘7••♦615☻♣♣21♥65♣45↓♠5J♣2º525854ⁿ☻2♣4W4♣48☻42554♣B547258÷▌22☺41♦¦â™¥â˜º221♦☻§▌-▌♣C6◙1♦♣☻☻☻☺☺2L52,2p▬4•♦s5p►àⁿ╪1♦213÷æ4♣╣2♦52A4☺/52♦1♣4☺♣87♦1♣8§♦5◘77ë845◘5/◘5414745◘/•7♣8♦25♠b♣9•8;☻I42◘♣6○☻♣2A◘○8◘☻6○6♣8♠7-6○U♠848♠◘7♣1↨26☻:5•◘7◘7••♦615☻♣♣21♥65♣45↓♠5J♣2º525854ⁿ☻2♣4W4♣48☻42554♣B547258÷▌22☺41♦¦â™¥â˜º221♦☻§▌-▌♣C6◙1♦♣☻☻☻☺☺2L52,2p▬4•♦s5p►àⁿ╪1♦213÷æ4♣╣2♦52A4☺/52♦1♣4☺♣87♦1♣8§♦5◘77ë845◘5/◘5414745◘/•7♣8♦25♠b♣9•8;☻I42◘♣6○☻♣2A◘○8◘☻6○6♣8♠7-6○U♠848♠◘7♣1↨26☻:5•◘7◘7••♦615☻♣♣21♥65♣45↓♠5J♣2º525854ⁿ☻2♣4W4♣48☻42554♣B547258÷▌22☺41♦¦â™¥â˜º221♦☻§▌-▌♣C6◙1♦♣☻☻☻☺☺2L52,2p▬4•♦s5p►àⁿ╪1♦213÷æ4♣╣2♦52A4☺/52♦1♣4☺♣87♦1♣8§♦5◘77ë845◘5/◘5414745◘/•7♣8♦25♠b♣9•8;☻I42◘♣6○☻♣2A◘○8◘☻6○6♣8♠7-6○U♠848♠◘7♣1↨26☻:5•◘7◘7••♦615☻♣♣21♥65♣45↓♠5J♣2º525854ⁿ☻2♣4W4♣48☻42554♣B547258÷▌22☺41♦¦â™¥â˜º221♦☻§▌-▌♣C6◙1♦♣☻☻☻☺☺2L52,2p▬4•♦s5p►àⁿ╪1♦213÷æ4♣╣2♦52A4☺/52♦1♣4☺♣87♦1♣8§♦5◘77ë845◘5/◘5414745◘/•7♣8♦25♠b♣9•8;☻I42◘♣6○☻♣2A◘○8◘☻6○6♣8♠7-6○U♠848♠◘7♣1↨26☻:5•◘7◘7••♦615☻♣♣21♥65♣45↓♠5J♣2º525854ⁿ☻2♣4W4♣48☻42554♣B547258÷▌22☺41♦¦â™¥â˜º221♦☻§▌-▌♣C6◙1♦♣☻☻☻☺☺2L52,2p▬4•♦s5p►àⁿ╪1♦213÷æ4♣╣2♦52A4☺/52♦1♣4☺♣87♦1♣8§♦5◘77ë845◘5/◘5414745◘/•7♣8♦25♠b♣9•8;☻I42◘♣6○☻♣2A◘○8◘☻6○6♣8♠7-6○U♠848♠◘7♣1↨26☻:5•◘7◘7••♦615☻♣♣21♥65♣45↓♠5J♣2º525854ⁿ☻2♣4W4♣48☻42554♣B547258÷▌22☺41♦¦â™¥â˜º221♦☻§▌-▌♣C6◙1♦♣☻☻☻☺☺2L52,2p▬4•♦s5p►àⁿ╪1♦213÷æ4♣╣2♦52A4☺/52♦1♣4☺♣87♦1♣8§♦5◘77ë845◘5/◘5414745◘/•7♣8♦25♠b♣9•8;☻I42◘♣6○☻♣2A◘○8◘☻6○6♣8♠7-6○U♠848♠◘7♣1↨26☻:5•◘7◘7••♦615☻♣♣21♥65♣45↓♠5J♣2º525854ⁿ☻2♣4W4♣48☻42554♣B547258÷▌22☺41♦¦â™¥â˜º221♦☻§▌-▌♣C6◙1♦♣☻☻☻☺☺2L52,2p▬4•♦s5p►àⁿ╪1♦213÷æ4♣╣2♦52A4☺/52♦1♣4☺♣87♦1♣8§♦5◘77ë845◘5/◘5414745◘/•7♣8♦25♠b♣9•8;☻I42◘♣6○☻♣2A◘○8◘☻6○6♣8♠7-6○U♠848♠◘7♣1↨26☻:5•◘7◘7••♦615☻♣♣21♥65♣45↓♠5J♣2º525854ⁿ☻2♣4W4♣48☻42554♣B547258÷▌22☺41♦¦â™¥â˜º221♦☻§▌-▌♣C6◙1♦♣☻☻☻☺☺2L52,2p▬4•♦s5p►àⁿ╪1♦213÷æ4♣╣2♦52A4☺/52♦1♣4☺♣87♦1♣8§♦5◘77ë845◘5/◘5414745◘/•7♣8♦25♠b♣9•8;☻I42◘♣6○☻♣2A◘○8◘☻6○6♣8♠7-6○U♠848♠◘7♣1↨26☻:5•◘7◘7••♦615☻♣♣21♥65♣45↓♠5J♣2º525854ⁿ☻2♣4W4♣48☻42554♣B547258÷▌22☺41♦¦â™¥â˜º221♦☻§▌-▌♣C6◙1♦♣☻☻☻☺☺2L52,2p▬4•♦s5p►àⁿ╪1♦213÷æ4♣╣2♦52A4☺/52♦1♣4☺♣87♦1♣8§♦5◘77ë845◘5/◘5414745◘/•7♣8♦25♠b♣9•8;☻I42◘♣6○☻♣2A◘○8◘☻6○6♣8♠7-6○U♠848♠◘7♣1↨26☻:5•◘7◘7••♦615☻♣♣21♥65♣45↓♠5J♣2º525854ⁿ☻2♣4W4♣48☻42554♣B547258÷▌22☺41♦¦â™¥â˜º221♦☻§▌-▌♣C6◙1♦♣☻☻☻☺☺2L52,2p▬4•♦s5p►àⁿ╪1♦213÷æ4♣╣2♦52A4☺/52♦1♣4☺♣87♦1♣8§♦5◘77ë845◘5/◘5414745◘/•7♣8♦25♠b♣9•8;☻I42◘♣6○☻♣2A◘○8◘☻6○6♣8♠7-6○U♠848♠◘7♣1↨26☻:5•◘7◘7••♦615☻♣♣21♥65♣45↓♠5J♣2º525854ⁿ☻2♣4W4♣48☻42554♣B547258÷▌22☺41♦¦â™¥â˜º221♦☻§▌-▌♣C6◙1♦♣☻☻☻☺☺2L52,2p▬4•♦s5p►àⁿ╪1♦213÷æ4♣╣2♦52A4☺/52♦1♣4☺♣87♦1♣8§♦5◘77ë845◘5/◘5414745◘/•7♣8♦25♠b♣9•8;☻I42◘♣6○☻♣2A◘○8◘☻6○6♣8♠7-6○U♠848♠◘7♣1↨26☻:5•◘7◘7••♦615☻♣♣21♥65♣45↓♠5J♣2º525854ⁿ☻2♣4W4♣48☻42554♣B547258÷▌22☺41♦¦â™¥â˜º221♦☻§▌-▌♣C6◙1♦♣☻☻☻☺☺2L52,2p▬4•♦s5p►àⁿ╪1♦213÷æ4♣╣2♦52A4☺/52♦1♣4☺♣87♦1♣8§♦5◘77ë845◘5/◘5414745◘/•7♣8♦25♠b♣9•8;☻I42◘♣6○☻♣2A◘○8◘☻6○6♣8♠7-6○U♠848♠◘7♣1↨26☻:5•◘7◘7••♦615☻♣♣21♥65♣45↓♠5J♣2º525854ⁿ☻2♣4W4♣48☻42554♣B547258÷▌22☺41♦¦â™¥â˜º221♦☻§▌-▌♣C6◙1♦♣☻☻☻☺☺2L52,2p▬4•♦s5p►àⁿ╪1♦213÷æ4♣╣2♦52A4☺/52♦1♣4☺♣87♦1♣8§♦5◘77ë845◘5/◘5414745◘/•7♣8♦25♠b♣9•8;☻I42◘♣6○☻♣2A◘○8◘☻6○6♣8♠7-6○U♠848♠◘7♣1↨26☻:5•◘7◘7••♦615☻♣♣21♥65♣45↓♠5J♣2º525854ⁿ☻2♣4W4♣48☻42554♣B547258÷▌22☺41♦¦â™¥â˜º221♦☻§▌-▌♣C6◙1♦♣☻☻☻☺☺2L52,2p▬4•♦s5p►àⁿ╪1♦213÷æ4♣╣2♦52A4☺/52♦1♣4☺♣87♦1♣8§♦5◘77ë845◘5/◘5414745◘/•7♣8♦25♠b♣9•8;☻I42◘♣6○☻♣2A◘○8◘☻6○6♣8♠7-6○U♠848♠◘7♣1↨26☻:5•◘7◘7••♦615☻♣♣21♥65♣45↓♠5J♣2º525854ⁿ☻2♣4W4♣48☻42554♣B547258÷▌22☺41♦¦â™¥â˜º221♦☻§▌-▌♣C6◙1♦♣☻☻☻☺☺2L52,2p▬4•♦s5p►àⁿ╪1♦213÷æ4♣╣2♦52A4☺/52♦1♣4☺♣87♦1♣8§♦5◘77ë845◘5/◘5414745◘/•7♣8♦25♠b♣9•8;☻I42◘♣6○☻♣2A◘○8◘☻6○6♣8♠7-6○U♠848♠◘7♣1↨26☻:5•◘7◘7••♦615☻♣♣21♥65♣45↓♠5J♣2º525854ⁿ☻2♣4W4♣48☻42554♣B547258÷▌22☺41♦¦â™¥â˜º221♦☻§▌-▌♣C6◙1♦♣☻☻☻☺☺2L52,2p▬4•♦s5p►àⁿ╪1♦213÷æ4♣╣2♦52A4☺/52♦1♣4☺♣87♦1♣8§♦5◘77ë845◘5/◘5414745◘/•7♣8♦25♠b♣9•8;☻I42◘♣6○☻♣2A◘○8◘☻6○6♣8♠7-6○U♠848♠◘7♣1↨26☻:5•◘7◘7••♦615☻♣♣21♥65♣45↓♠5J♣2º525854ⁿ☻2♣4W4♣48☻42554♣B547258÷▌22☺41♦¦â™¥â˜º221♦☻§▌-▌♣C6◙1♦♣☻☻☻☺☺2L52,2p▬4•♦s5p►àⁿ╪1♦213÷æ4♣╣2♦52A4☺/52♦1♣4☺♣87♦1♣8§♦5◘77ë845◘5/◘5414745◘/•7♣8♦25♠b♣9•8;☻I42◘♣6○☻♣2A◘○8◘☻6○6♣8♠7-6○U♠848♠◘7♣1↨26☻:5•◘7◘7••♦615☻♣♣21♥65♣45↓♠5J♣2º525854ⁿ☻2♣4W4♣48☻42554♣B547258÷▌22☺41♦¦â™¥â˜º221♦☻§▌-▌♣C6◙1♦♣☻☻☻☺☺2L52,2p▬4•♦s5p►àⁿ╪1♦213÷æ4♣╣2♦52A4☺/52♦1♣4☺♣87♦1♣8§♦5◘77ë845◘5/◘5414745◘/•7♣8♦25♠b♣9•8;☻I42◘♣6○☻♣2A◘○8◘☻6○6♣8♠7-6○U♠848♠◘7♣1↨26☻:5•◘7◘7••♦615☻♣♣21♥65♣45↓♠5J♣2º525854ⁿ☻2♣4W4♣48☻42554♣B547258÷▌22☺41♦¦â™¥â˜º221♦☻§▌-▌♣C6◙1♦♣☻☻☻☺☺2L52,2p▬4•♦s5p►àⁿ╪1♦213÷æ4♣╣2♦52A4☺/52♦1♣4☺♣87♦1♣8§♦5◘77ë845◘5/◘5414745◘/•7♣8♦25♠b♣9•8;☻I42◘♣6○☻♣2A◘○8◘☻6○6♣8♠7-6○U♠848♠◘7♣1↨26☻:5•◘7◘7••♦615☻♣♣21♥65♣45↓♠5J♣2º525854ⁿ☻2♣4W4♣48☻42554♣B547258÷▌22☺41♦¦â™¥â˜º221♦☻§▌-▌♣C6◙1♦♣☻☻☻☺☺2L52,2p▬4•♦s5p►àⁿ╪1♦213÷æ4♣╣2♦52A4☺/52♦1♣4☺♣87♦1♣8§♦5◘77ë845◘5/◘5414745◘/•7♣8♦25♠b♣9•8;☻I42◘♣6○☻♣2A◘○8◘☻6○6♣8♠7-6○U♠848♠◘7♣1↨26☻:5•◘7◘7••♦615☻♣♣21♥65♣45↓♠5J♣2º525854ⁿ☻2♣4W4♣48☻42554♣B547258÷▌22☺41♦¦â™¥â˜º221♦☻§▌-▌♣C6◙1♦♣☻☻☻☺☺2L52,2p▬4•♦s5p►àⁿ╪1♦213÷æ4♣╣2♦52A4☺/52♦1♣4☺♣87♦1♣8§♦5◘77ë845◘5/◘5414745◘/•7♣8♦25♠b♣9•8;☻I42◘♣6○☻♣2A◘○8◘☻6○6♣8♠7-6○U♠848♠◘7♣1↨26☻:5•◘7◘7••♦615☻♣♣21♥65♣45↓♠5J♣2º525854ⁿ☻2♣4W4♣48☻42554♣B547258÷▌22☺41♦¦â™¥â˜º221♦☻§▌-▌♣C6◙1♦♣☻☻☻☺☺2L52,2p▬4•♦s5p►àⁿ╪1♦213÷æ4♣╣2♦52A4☺/52♦1♣4☺♣87♦1♣8§♦5◘77ë845◘5/◘5414745◘/•7♣8♦25♠b♣9•8;☻I42◘♣6○☻♣2A◘○8◘☻6○6♣8♠7-6○U♠848♠◘7♣1↨26☻:5•◘7◘7••♦615☻♣♣21♥65♣45↓♠5J♣2º525854ⁿ☻2♣4W4♣48☻42554♣B547258÷▌22☺41♦¦â™¥â˜º221♦☻§▌-▌♣C6◙1♦♣☻☻☻☺☺2L52,2p▬4•♦s5p►àⁿ╪1♦213÷æ4♣╣2♦52A4☺/52♦1♣4☺♣87♦1♣8§♦5◘77ë845◘5/◘5414745◘/•7♣8♦25♠b♣9•8;☻I42◘♣6○☻♣2A◘○8◘☻6○6♣8♠7-6○U♠848♠◘7♣1↨26☻:5•◘7◘7••♦615☻♣♣21♥65♣45↓♠5J♣2º525854ⁿ☻2♣4W4♣48☻42554♣B547258÷▌22☺41♦¦â™¥â˜º221♦☻§▌-▌♣C6◙1♦♣☻☻☻☺☺2L52,2p▬4•♦s5p►àⁿ╪1♦213÷æ4♣╣2♦52A4☺/52♦1♣4☺♣87♦1♣8§♦5◘77ë845◘5/◘5414745◘/•7♣8♦25♠b♣9•8;☻I42◘♣6○☻♣2A◘○8◘☻6○6♣8♠7-6○U♠848♠◘7♣1↨26☻:5•◘7◘7••♦615☻♣♣21♥65♣45↓♠5J♣2º525854ⁿ☻2♣4W4♣48☻42554♣B547258÷▌22☺41♦¦â™¥â˜º221♦☻§▌-▌♣C6◙1♦♣☻☻☻☺☺2L52,2p▬4•♦s5p►àⁿ╪1♦213÷æ4♣╣2♦52A4☺/52♦1♣4☺♣87♦1♣8§♦5◘77ë845◘5/◘5414745◘/•7♣8♦25♠b♣9•8;☻I42◘♣6○☻♣2A◘○8◘☻6○6♣8♠7-6○U♠848♠◘7♣1↨26☻:5•◘7◘7••♦615☻♣♣21♥65♣45↓♠5J♣2º525854ⁿ☻2♣4W4♣48☻42554♣B547258÷▌22☺41♦¦â™¥â˜º221♦☻§▌-▌♣C6◙1♦♣☻☻☻☺☺2L52,2p▬4•♦s5p►àⁿ╪1♦213÷æ4♣╣2♦52A4☺/52♦1♣4☺♣87♦1♣8§♦5◘77ë845◘5/◘5414745◘/•7♣8♦25♠b♣9•8;☻I42◘♣6○☻♣2A◘○8◘☻6○6♣8♠7-6○U♠848♠◘7♣1↨26☻:5•◘7◘7••♦615☻♣♣21♥65♣45↓♠5J♣2º525854ⁿ☻2♣4W4♣48☻42554♣B547258÷▌22☺41♦¦â™¥â˜º221♦☻§▌-▌♣C6◙1♦♣☻☻☻☺☺2L52,2p▬4•♦s5p►àⁿ╪1♦213÷æ4♣╣2♦52A4☺/52♦1♣4☺♣87♦1♣8§♦5◘77ë845◘5/◘5414745◘/•7♣8♦25♠b♣9•8;☻I42◘♣6○☻♣2A◘○8◘☻6○6♣8♠7-6○U♠848♠◘7♣1↨26☻:5•◘7◘7••♦615☻♣♣21♥65♣45↓♠5J♣2º525854ⁿ☻2♣4W4♣48☻42554♣B547258÷▌22☺41♦¦â™¥â˜º221♦☻§▌-▌♣C6◙1♦♣☻☻☻☺☺2L52,2p▬4•♦s5p►àⁿ╪1♦213÷æ4♣╣2♦52A4☺/52♦1♣4☺♣87♦1♣8§♦5◘77ë845◘5/◘5414745◘/•7♣8♦25♠b♣9•8;☻I42◘♣6○☻♣2A◘○8◘☻6○6♣8♠7-6○U♠848♠◘7♣1↨26☻:5•◘7◘7••♦615☻♣♣21♥65♣45↓♠5J♣2º525854ⁿ☻2♣4W4♣48☻42554♣B547258÷▌22☺41♦¦â™¥â˜º221♦☻§▌-▌♣C6◙1♦♣☻☻☻☺☺2L52,2p▬4•♦s5p►àⁿ╪1♦213÷æ4♣╣2♦52A4☺/52♦1♣4☺♣87♦1♣8§♦5◘77ë845◘5/◘5414745◘/•7♣8♦25♠b♣9•8;☻I42◘♣6○☻♣2A◘○8◘☻6○6♣8♠7-6○U♠848♠◘7♣1↨26☻:5•◘7◘7••♦615☻♣♣21♥65♣45↓♠5J♣2º525854ⁿ☻2♣4W4♣48☻42554♣B547258÷▌22☺41♦¦â™¥â˜º221♦☻§▌-▌♣C6◙1♦♣☻☻☻☺☺2L52,2p▬4•♦s5p►àⁿ╪1♦213÷æ4♣╣2♦52A4☺/52♦1♣4☺♣87♦1♣8§♦5◘77ë845◘5/◘5414745◘/•7♣8♦25♠b♣9•8;☻I42◘♣6○☻♣2A◘○8◘☻6○6♣8♠7-6○U♠848♠◘7♣1↨26☻:5•◘7◘7••♦615☻♣♣21♥65♣45↓♠5J♣2º525854ⁿ☻2♣4W4♣48☻42554♣B547258÷▌22☺41♦¦â™¥â˜º221♦☻§▌-▌♣C6◙1♦♣☻☻☻☺☺2L52,2p▬4•♦s5p►àⁿ╪1♦213÷æ4♣╣2♦52A4☺/52♦1♣4☺♣87♦1♣8§♦5◘77ë845◘5/◘5414745◘/•7♣8♦25♠b♣9•8;☻I42◘♣6○☻♣2A◘○8◘☻6○6♣8♠7-6○U♠848♠◘7♣1↨26☻:5•◘7◘7••♦615☻♣♣21♥65♣45↓♠5J♣2º525854ⁿ☻2♣4W4♣48☻42554♣B547258÷▌22☺41♦¦â™¥â˜º221♦☻§▌-▌♣C6◙1♦♣☻☻☻☺☺2L52,2p▬4•♦s5p►àⁿ╪1♦213÷æ4♣╣2♦52A4☺/52♦1♣4☺♣87♦1♣8§♦5◘77ë845◘5/◘5414745◘/•7♣8♦25♠b♣9•8;☻I42◘♣6○☻♣2A◘○8◘☻6○6♣8♠7-6○U♠848♠◘7♣1↨26☻:5•◘7◘7••♦615☻♣♣21♥65♣45↓♠5J♣2º525854ⁿ☻2♣4W4♣48☻42554♣B547258÷▌22☺41♦¦â™¥â˜º221♦☻§▌-▌♣C6◙1♦♣☻☻☻☺☺2L52,2p▬4•♦s5p►àⁿ╪1♦213÷æ4♣╣2♦52A4☺/52♦1♣4☺♣87♦1♣8§♦5◘77ë845◘5/◘5414745◘/•7♣8♦25♠b♣9•8;☻I42◘♣6○☻♣2A◘○8◘☻6○6♣8♠7-6○U♠848♠◘7♣1↨26☻:5•◘7◘7••♦615☻♣♣21♥65♣45↓♠5J♣2º525854ⁿ☻2♣4W4♣48☻42554♣B547258÷▌22☺41♦¦â™¥â˜º221♦☻§▌-▌♣C6◙1♦♣☻☻☻☺☺2L52,2p▬4•♦s5p►àⁿ╪1♦213÷æ4♣╣2♦52A4☺/52♦1♣4☺♣87♦1♣8§♦5◘77ë845◘5/◘5414745◘/•7♣8♦25♠b♣9•8;☻I42◘♣6○☻♣2A◘○8◘☻6○6♣8♠7-6○U♠848♠◘7♣1↨26☻:5•◘7◘7••♦615☻♣♣21♥65♣45↓♠5J♣2º525854ⁿ☻2♣4W4♣48☻42554♣B547258÷▌22☺41♦¦â™¥â˜º221♦☻§▌-▌♣C6◙1♦♣☻☻☻☺☺2L52,2p▬4•♦s5p►àⁿ╪1♦213÷æ4♣╣2♦52A4☺/52♦1♣4☺♣87♦1♣8§♦5◘77ë845◘5/◘5414745◘/•7♣8♦25♠b♣9•8;☻I42◘♣6○☻♣2A◘○8◘☻6○6♣8♠7-6○U♠848♠◘7♣1↨26☻:5•◘7◘7••♦615☻♣♣21♥65♣45↓♠5J♣2º525854ⁿ☻2♣4W4♣48☻42554♣B547258÷▌22☺41♦¦â™¥â˜º221♦☻§▌-▌♣C6◙1♦♣☻☻☻☺☺2L52,2p▬4•♦s5p►àⁿ╪1♦213÷æ4♣╣2♦52A4☺/52♦1♣4☺♣87♦1♣8§♦5◘77ë845◘5/◘5414745◘/•7♣8♦25♠b♣9•8;☻I42◘♣6○☻♣2A◘○8◘☻6○6♣8♠7-6○U♠848♠◘7♣1↨26☻:5•◘7◘7••♦615☻♣♣21♥65♣45↓♠5J♣2º525854ⁿ☻2♣4W4♣48☻42554♣B547258÷▌22☺41♦¦â™¥â˜º221♦☻§▌-▌♣C6◙1♦♣☻☻☻☺☺2L52,2p▬4•♦s5p►àⁿ╪1♦213÷æ4♣╣2♦52A4☺/52♦1♣4☺♣87♦1♣8§♦5◘77ë845◘5/◘5414745◘/•7♣8♦25♠b♣9•8;☻I42◘♣6○☻♣2A◘○8◘☻6○6♣8♠7-6○U♠848♠◘7♣1↨26☻:5•◘7◘7••♦615☻♣♣21♥65♣45↓♠5J♣2º525854ⁿ☻2♣4W4♣48☻42554♣B547258÷▌22☺41♦¦â™¥â˜º221♦☻§▌-▌♣C6◙1♦♣☻☻☻☺☺2L52,2p▬4•♦s5p►àⁿ╪1♦213÷æ4♣╣2♦52A4☺/52♦1♣4☺♣87♦1♣8§♦5◘77ë845◘5/◘5414745◘/•7♣8♦25♠b♣9•8;☻I42◘♣6○☻♣2A◘○8◘☻6○6♣8♠7-6○U♠848♠◘7♣1↨26☻:5•◘7◘7••♦615☻♣♣21♥65♣45↓♠5J♣2º525854ⁿ☻2♣4W4♣48☻42554♣B547258÷▌22☺41♦¦â™¥â˜º221♦☻§▌-▌♣C6◙1♦♣☻☻☻☺☺2L52,2p▬4•♦s5p►àⁿ╪1♦213÷æ4♣╣2♦52A4☺/52♦1♣4☺♣87♦1♣8§♦5◘77ë845◘5/◘5414745◘/•7♣8♦25♠b♣9•8;☻I42◘♣6○☻♣2A◘○8◘☻6○6♣8♠7-6○U♠848♠◘7♣1↨26☻:5•◘7◘7••♦615☻♣♣21♥65♣45↓♠5J♣2º525854ⁿ☻2♣4W4♣48☻42554♣B547258÷▌22☺41♦¦â™¥â˜º221♦☻§▌-▌♣C6◙1♦♣☻☻☻☺☺2L52,2p▬4•♦s5p►àⁿ╪1♦213÷æ4♣╣2♦52A4☺/52♦1♣4☺♣87♦1♣8§♦5◘77ë845◘5/◘5414745◘/•7♣8♦25♠b♣9•8;☻I42◘♣6○☻♣2A◘○8◘☻6○6♣8♠7-6○U♠848♠◘7♣1↨26☻:5•◘7◘7••♦615☻♣♣21♥65♣45↓♠5J♣2º525854ⁿ☻2♣4W4♣48☻42554♣B547258÷▌22☺41♦¦â™¥â˜º221♦☻§▌-▌♣C6◙1♦♣☻☻☻☺☺2L52,2p▬4•♦s5p►àⁿ╪1♦213÷æ4♣╣2♦52A4☺/52♦1♣4☺♣87♦1♣8§♦5◘77ë845◘5/◘5414745◘/•7♣8♦25♠b♣9•8;☻I42◘♣6○☻♣2A◘○8◘☻6○6♣8♠7-6○U♠848♠◘7♣1↨26☻:5•◘7◘7••♦615☻♣♣21♥65♣45↓♠5J♣2º525854ⁿ☻2♣4W4♣48☻42554♣B547258÷▌22☺41♦¦â™¥â˜º221♦☻§▌-▌♣C6◙1♦♣☻☻☻☺☺2L52,2p▬4•♦s5p►àⁿ╪1♦213÷æ4♣╣2♦52A4☺/52♦1♣4☺♣87♦1♣8§♦5◘77ë845◘5/◘5414745◘/•7♣8♦25♠b♣9•8;☻I42◘♣6○☻♣2A◘○8◘☻6○6♣8♠7-6○U♠848♠◘7♣1↨26☻:5•◘7◘7••♦615☻♣♣21♥65♣45↓♠5J♣2º525854ⁿ☻2♣4W4♣48☻42554♣B547258÷▌22☺41♦¦â™¥â˜º221♦☻§▌-▌♣C6◙1♦♣☻☻☻☺☺2L52,2p▬4•♦s5p►àⁿ╪1♦213÷æ4♣╣2♦52A4☺/52♦1♣4☺♣87♦1♣8§♦5◘77ë845◘5/◘5414745◘/•7♣8♦25♠b♣9•8;☻I42◘♣6○☻♣2A◘○8◘☻6○6♣8♠7-6○U♠848♠◘7♣1↨26☻:5•◘7◘7••♦615☻♣♣21♥65♣45↓♠5J♣2º525854ⁿ☻2♣4W4♣48☻42554♣B547258÷▌22☺41♦¦â™¥â˜º221♦☻§▌-▌♣C6◙1♦♣☻☻☻☺☺2L52,2p▬4•♦s5p►àⁿ╪1♦213÷æ4♣╣2♦52A4☺/52♦1♣4☺♣87♦1♣8§♦5◘77ë845◘5/◘5414745◘/•7♣8♦25♠b♣9•8;☻I42◘♣6○☻♣2A◘○8◘☻6○6♣8♠7-6○U♠848♠◘7♣1↨26☻:5•◘7◘7••♦615☻♣♣21♥65♣45↓♠5J♣2º525854ⁿ☻2♣4W4♣48☻42554♣B547258÷▌22☺41♦¦â™¥â˜º221♦☻§▌-▌♣C6◙1♦♣☻☻☻☺☺2L52,2p▬4•♦s5p►àⁿ╪1♦213÷æ4♣╣2♦52A4☺/52♦1♣4☺♣87♦1♣8§♦5◘77ë845◘5/◘5414745◘/•7♣8♦25♠b♣9•8;☻I42◘♣6○☻♣2A◘○8◘☻6○6♣8♠7-6○U♠848♠◘7♣1↨26☻:5•◘7◘7••♦615☻♣♣21♥65♣45↓♠5J♣2º525854ⁿ☻2♣4W4♣48☻42554♣B547258÷▌22☺41♦¦â™¥â˜º221♦☻§▌-▌♣C6◙1♦♣☻☻☻☺☺2L52,2p▬4•♦s5p►àⁿ╪1♦213÷æ4♣╣2♦52A4☺/52♦1♣4☺♣87♦1♣8§♦5◘77ë845◘5/◘5414745◘/•7♣8♦25♠b♣9•8;☻I42◘♣6○☻♣2A◘○8◘☻6○6♣8♠7-6○U♠848♠◘7♣1↨26☻:5•◘7◘7••♦615☻♣♣21♥65♣45↓♠5J♣2º525854ⁿ☻2♣4W4♣48☻42554♣B547258÷▌22☺41♦¦â™¥â˜º221♦☻§▌-▌♣C6◙1♦♣☻☻☻☺☺2L52,2p▬4•♦s5p►àⁿ╪1♦213÷æ4♣╣2♦52A4☺/52♦1♣4☺♣87♦1♣8§♦5◘77ë845◘5/◘5414745◘/•7♣8♦25♠b♣9•8;☻I42◘♣6○☻♣2A◘○8◘☻6○6♣8♠7-6○U♠848♠◘7♣1↨26☻:5•◘7◘7••♦615☻♣♣21♥65♣45↓♠5J♣2º525854ⁿ☻2♣4W4♣48☻42554♣B547258÷▌22☺41♦¦â™¥â˜º221♦☻§▌-▌♣C6◙1♦♣☻☻☻☺☺2L52,2p▬4•♦s5p►àⁿ╪1♦213÷æ4♣╣2♦52A4☺/52♦1♣4☺♣87♦1♣8§♦5◘77ë845◘5/◘5414745◘/•7♣8♦25♠b♣9•8;☻I42◘♣6○☻♣2A◘○8◘☻6○6♣8♠7-6○U♠848♠◘7♣1↨26☻:5•◘7◘7••♦615☻♣♣21♥65♣45↓♠5J♣2º525854ⁿ☻2♣4W4♣48☻42554♣B547258÷▌22☺41♦¦â™¥â˜º221♦☻§▌-▌♣C6◙1♦♣☻☻☻☺☺2L52,2p▬4•♦s5p►àⁿ╪1♦213÷æ4♣╣2♦52A4☺/52♦1♣4☺♣87♦1♣8§♦5◘77ë845◘5/◘5414745◘/•7♣8♦25♠b♣9•8;☻I42◘♣6○☻♣2A◘○8◘☻6○6♣8♠7-6○U♠848♠◘7♣1↨26☻:5•◘7◘7••♦615☻♣♣21♥65♣45↓♠5J♣2º525854ⁿ☻2♣4W4♣48☻42554♣B547258÷▌22☺41♦¦â™¥â˜º221♦☻§▌-▌♣C6◙1♦♣☻☻☻☺☺2L52,2p▬4•♦s5p►àⁿ╪1♦213÷æ4♣╣2♦52A4☺/52♦1♣4☺♣87♦1♣8§♦5◘77ë845◘5/◘5414745◘/•7♣8♦25♠b♣9•8;☻I42◘♣6○☻♣2A◘○8◘☻6○6♣8♠7-6○U♠848♠◘7♣1↨26☻:5•◘7◘7••♦615☻♣♣21♥65♣45↓♠5J♣2º525854ⁿ☻2♣4W4♣48☻42554♣B547258÷▌22☺41♦¦â™¥â˜º221♦☻§▌-▌♣C6◙1♦♣☻☻☻☺☺2L52,2p▬4•♦s5p►àⁿ╪1♦213÷æ4♣╣2♦52A4☺/52♦1♣4☺♣87♦1♣8§♦5◘77ë845◘5/◘5414745◘/•7♣8♦25♠b♣9•8;☻I42◘♣6○☻♣2A◘○8◘☻6○6♣8♠7-6○U♠848♠◘7♣1↨26☻:5•◘7◘7••♦615☻♣♣21♥65♣45↓♠5J♣2º525854ⁿ☻2♣4W4♣48☻42554♣B547258÷▌22☺41♦¦â™¥â˜º221♦☻§▌-▌♣C6◙1♦♣☻☻☻☺☺2L52,2p▬4•♦s5p►àⁿ╪1♦213÷æ4♣╣2♦52A4☺/52♦1♣4☺♣87♦1♣8§♦5◘77ë845◘5/◘5414745◘/•7♣8♦25♠b♣9•8;☻I42◘♣6○☻♣2A◘○8◘☻6○6♣8♠7-6○U♠848♠◘7♣1↨26☻:5•◘7◘7••♦615☻♣♣21♥65♣45↓♠5J♣2º525854ⁿ☻2♣4W4♣48☻42554♣B547258÷▌22☺41♦¦â™¥â˜º221♦☻§▌-▌♣C6◙1♦♣☻☻☻☺☺2L52,2p▬4•♦s5p►àⁿ╪1♦213÷æ4♣╣2♦52A4☺/52♦1♣4☺♣87♦1♣8§♦5◘77ë845◘5/◘5414745◘/•7♣8♦25♠b♣9•8;☻I42◘♣6○☻♣2A◘○8◘☻6○6♣8♠7-6○U♠848♠◘7♣1↨26☻:5•◘7◘7••♦615☻♣♣21♥65♣45↓♠5J♣2º525854ⁿ☻2♣4W4♣48☻42554♣B547258÷▌22☺41♦¦â™¥â˜º221♦☻§▌-▌♣C6◙1♦♣☻☻☻☺☺2L52,2p▬4•♦s5p►àⁿ╪1♦213÷æ4♣╣2♦52A4☺/52♦1♣4☺♣87♦1♣8§♦5◘77ë845◘5/◘5414745◘/•7♣8♦25♠b♣9•8;☻I42◘♣6○☻♣2A◘○8◘☻6○6♣8♠7-6○U♠848♠◘7♣1↨26☻:5•◘7◘7••♦615☻♣♣21♥65♣45↓♠5J♣2º525854ⁿ☻2♣4W4♣48☻42554♣B547258÷▌22☺41♦¦â™¥â˜º221♦☻§▌-▌♣C6◙1♦♣☻☻☻☺☺2L52,2p▬4•♦s5p►àⁿ╪1♦213÷æ4♣╣2♦52A4☺/52♦1♣4☺♣87♦1♣8§♦5◘77ë845◘5/◘5414745◘/•7♣8♦25♠b♣9•8;☻I42◘♣6○☻♣2A◘○8◘☻6○6♣8♠7-6○U♠848♠◘7♣1↨26☻:5•◘7◘7••♦615☻♣♣21♥65♣45↓♠5J♣2º525854ⁿ☻2♣4W4♣48☻42554♣B547258÷▌22☺41♦¦â™¥â˜º221♦☻§▌-▌♣C6◙1♦♣☻☻☻☺☺2L52,2p▬4•♦s5p►àⁿ╪1♦213÷æ4♣╣2♦52A4☺/52♦1♣4☺♣87♦1♣8§♦5◘77ë845◘5/◘5414745◘/•7♣8♦25♠b♣9•8;☻I42◘♣6○☻♣2A◘○8◘☻6○6♣8♠7-6○U♠848♠◘7♣1↨26☻:5•◘7◘7••♦615☻♣♣21♥65♣45↓♠5J♣2º525854ⁿ☻2♣4W4♣48☻42554♣B547258÷▌22☺41♦¦â™¥â˜º221♦☻§▌-▌♣C6◙1♦♣☻☻☻☺☺2L52,2p▬4•♦s5p►àⁿ╪1♦213÷æ4♣╣2♦52A4☺/52♦1♣4☺♣87♦1♣8§♦5◘77ë845◘5/◘5414745◘/•7♣8♦25♠b♣9•8;☻I42◘♣6○☻♣2A◘○8◘☻6○6♣8♠7-6○U♠848♠◘7♣1↨26☻:5•◘7◘7••♦615☻♣♣21♥65♣45↓♠5J♣2º525854ⁿ☻2♣4W4♣48☻42554♣B547258÷▌22☺41♦¦â™¥â˜º221♦☻§▌-▌♣C6◙1♦♣☻☻☻☺☺2L52,2p▬4•♦s5p►àⁿ╪1♦213÷æ4♣╣2♦52A4☺/52♦1♣4☺♣87♦1♣8§♦5◘77ë845◘5/◘5414745◘/•7♣8♦25♠b♣9•8;☻I42◘♣6○☻♣2A◘○8◘☻6○6♣8♠7-6○U♠848♠◘7♣1↨26☻:5•◘7◘7••♦615☻♣♣21♥65♣45↓♠5J♣2º525854ⁿ☻2♣4W4♣48☻42554♣B547258÷▌22☺41♦¦â™¥â˜º221♦☻§▌-▌♣C6◙1♦♣☻☻☻☺☺2L52,2p▬4•♦s5p►àⁿ╪1♦213÷æ4♣╣2♦52A4☺/52♦1♣4☺♣87♦1♣8§♦5◘77ë845◘5/◘5414745◘/•7♣8♦25♠b♣9•8;☻I42◘♣6○☻♣2A◘○8◘☻6○6♣8♠7-6○U♠848♠◘7♣1↨26☻:5•◘7◘7••♦615☻♣♣21♥65♣45↓♠5J♣2º525854ⁿ☻2♣4W4♣48☻42554♣B547258÷▌22☺41♦¦â™¥â˜º221♦☻§▌-▌♣C6◙1♦♣☻☻☻☺☺2L52,2p▬4•♦s5p►àⁿ╪1♦213÷æ4♣╣2♦52A4☺/52♦1♣4☺♣87♦1♣8§♦5◘77ë845◘5/◘5414745◘/•7♣8♦25♠b♣9•8;☻I42◘♣6○☻♣2A◘○8◘☻6○6♣8♠7-6○U♠848♠◘7♣1↨26☻:5•◘7◘7••♦615☻♣♣21♥65♣45↓♠5J♣2º525854ⁿ☻2♣4W4♣48☻42554♣B547258÷▌22☺41♦¦â™¥â˜º221♦☻§▌-▌♣C6◙1♦♣☻☻☻☺☺2L52,2p▬4•♦s5p►àⁿ╪1♦213÷æ4♣╣2♦52A4☺/52♦1♣4☺♣87♦1♣8§♦5◘77ë845◘5/◘5414745◘/•7♣8♦25♠b♣9•8;☻I42◘♣6○☻♣2A◘○8◘☻6○6♣8♠7-6○U♠848♠◘7♣1↨26☻:5•◘7◘7••♦615☻♣♣21♥65♣45↓♠5J♣2º525854ⁿ☻2♣4W4♣48☻42554♣B547258÷▌22☺41♦¦â™¥â˜º221♦☻§▌-▌♣C6◙1♦♣☻☻☻☺☺2L52,2p▬4•♦s5p►àⁿ╪1♦213÷æ4♣╣2♦52A4☺/52♦1♣4☺♣87♦1♣8§♦5◘77ë845◘5/◘5414745◘/•7♣8♦25♠b♣9•8;☻I42◘♣6○☻♣2A◘○8◘☻6○6♣8♠7-6○U♠848♠◘7♣1↨26☻:5•◘7◘7••♦615☻♣♣21♥65♣45↓♠5J♣2º525854ⁿ☻2♣4W4♣48☻42554♣B547258÷▌22☺41♦¦â™¥â˜º221♦☻§▌-▌♣C6◙1♦♣☻☻☻☺☺2L52,2p▬4•♦s5p►àⁿ╪1♦213÷æ4♣╣2♦52A4☺/52♦1♣4☺♣87♦1♣8§♦5◘77ë845◘5/◘5414745◘/•7♣8♦25♠b♣9•8;☻I42◘♣6○☻♣2A◘○8◘☻6○6♣8♠7-6○U♠848♠◘7♣1↨26☻:5•◘7◘7••♦615☻♣♣21♥65♣45↓♠5J♣2º525854ⁿ☻2♣4W4♣48☻42554♣B547258÷▌22☺41♦¦â™¥â˜º221♦☻§▌-▌♣C6◙1♦♣☻☻☻☺☺2L52,2p▬4•♦s5p►àⁿ╪1♦213÷æ4♣╣2♦52A4☺/52♦1♣4☺♣87♦1♣8§♦5◘77ë845◘5/◘5414745◘/•7♣8♦25♠b♣9•8;☻I42◘♣6○☻♣2A◘○8◘☻6○6♣8♠7-6○U♠848♠◘7♣1↨26☻:5•◘7◘7••♦615☻♣♣21♥65♣45↓♠5J♣2º525854ⁿ☻2♣4W4♣48☻42554♣B547258÷▌22☺41♦¦â™¥â˜º221♦☻§▌-▌♣C6◙1♦♣☻☻☻☺☺2L52,2p▬4•♦s5p►àⁿ╪1♦213÷æ4♣╣2♦52A4☺/52♦1♣4☺♣87♦1♣8§♦5◘77ë845◘5/◘5414745◘/•7♣8♦25♠b♣9•8;☻I42◘♣6○☻♣2A◘○8◘☻6○6♣8♠7-6○U♠848♠◘7♣1↨26☻:5•◘7◘7••♦615☻♣♣21♥65♣45↓♠5J♣2º525854ⁿ☻2♣4W4♣48☻42554♣B547258÷▌22☺41♦¦â™¥â˜º221♦☻§▌-▌♣C6◙1♦♣☻☻☻☺☺2L52,2p▬4•♦s5p►àⁿ╪1♦213÷æ4♣╣2♦52A4☺/52♦1♣4☺♣87♦1♣8§♦5◘77ë845◘5/◘5414745◘/•7♣8♦25♠b♣9•8;☻I42◘♣6○☻♣2A◘○8◘☻6○6♣8♠7-6○U♠848♠◘7♣1↨26☻:5•◘7◘7••♦615☻♣♣21♥65♣45↓♠5J♣2º525854ⁿ☻2♣4W4♣48☻42554♣B547258÷▌22☺41♦¦â™¥â˜º221♦☻§▌-▌♣C6◙1♦♣☻☻☻☺☺2L52,2p▬4•♦s5p►àⁿ╪1♦213÷æ4♣╣2♦52A4☺/52♦1♣4☺♣87♦1♣8§♦5◘77ë845◘5/◘5414745◘/•7♣8♦25♠b♣9•8;☻I42◘♣6○☻♣2A◘○8◘☻6○6♣8♠7-6○U♠848♠◘7♣1↨26☻:5•◘7◘7••♦615☻♣♣21♥65♣45↓♠5J♣2º525854ⁿ☻2♣4W4♣48☻42554♣B547258÷▌22☺41♦¦â™¥â˜º221♦☻§▌-▌♣C6◙1♦♣☻☻☻☺☺2L52,2p▬4•♦s5p►àⁿ╪1♦213÷æ4♣╣2♦52A4☺/52♦1♣4☺♣87♦1♣8§♦5◘77ë845◘5/◘5414745◘/•7♣8♦25♠b♣9•8;☻I42◘♣6○☻♣2A◘○8◘☻6○6♣8♠7-6○U♠848♠◘7♣1↨26☻:5•◘7◘7••♦615☻♣♣21♥65♣45↓♠5J♣2º525854ⁿ☻2♣4W4♣48☻42554♣B547258÷▌22☺41♦¦â™¥â˜º221♦☻§▌-▌♣C6◙1♦♣☻☻☻☺☺2L52,2p▬4•♦s5p►àⁿ╪1♦213÷æ4♣╣2♦52A4☺/52♦1♣4☺♣87♦1♣8§♦5◘77ë845◘5/◘5414745◘/•7♣8♦25♠b♣9•8;☻I42◘♣6○☻♣2A◘○8◘☻6○6♣8♠7-6○U♠848♠◘7♣1↨26☻:5•◘7◘7••♦615☻♣♣21♥65♣45↓♠5J♣2º525854ⁿ☻2♣4W4♣48☻42554♣B547258÷▌22☺41♦¦â™¥â˜º221♦☻§▌-▌♣C6◙1♦♣☻☻☻☺☺2L52,2p▬4•♦s5p►àⁿ╪1♦213÷æ4♣╣2♦52A4☺/52♦1♣4☺♣87♦1♣8§♦5◘77ë845◘5/◘5414745◘/•7♣8♦25♠b♣9•8;☻I42◘♣6○☻♣2A◘○8◘☻6○6♣8♠7-6○U♠848♠◘7♣1↨26☻:5•◘7◘7••♦615☻♣♣21♥65♣45↓♠5J♣2º525854ⁿ☻2♣4W4♣48☻42554♣B547258÷▌22☺41♦¦â™¥â˜º221♦☻§▌-▌♣C6◙1♦♣☻☻☻☺☺2L52,2p▬4•♦s5p►àⁿ╪1♦213÷æ4♣╣2♦52A4☺/52♦1♣4☺♣87♦1♣8§♦5◘77ë845◘5/◘5414745◘/•7♣8♦25♠b♣9•8;☻I42◘♣6○☻♣2A◘○8◘☻6○6♣8♠7-6○U♠848♠◘7♣1↨26☻:5•◘7◘7••♦615☻♣♣21♥65♣45↓♠5J♣2º525854ⁿ☻2♣4W4♣48☻42554♣B547258÷▌22☺41♦¦â™¥â˜º221♦☻§▌-▌♣C6◙1♦♣☻☻☻☺☺2L52,2p▬4•♦s5p►àⁿ╪1♦213÷æ4♣╣2♦52A4☺/52♦1♣4☺♣87♦1♣8§♦5◘77ë845◘5/◘5414745◘/•7♣8♦25♠b♣9•8;☻I42◘♣6○☻♣2A◘○8◘☻6○6♣8♠7-6○U♠848♠◘7♣1↨26☻:5•◘7◘7••♦615☻♣♣21♥65♣45↓♠5J♣2º525854ⁿ☻2♣4W4♣48☻42554♣B547258÷▌22☺41♦¦â™¥â˜º221♦☻§▌-▌♣C6◙1♦♣☻☻☻☺☺2L52,2p▬4•♦s5p►àⁿ╪1♦213÷æ4♣╣2♦52A4☺/52♦1♣4☺♣87♦1♣8§♦5◘77ë845◘5/◘5414745◘/•7♣8♦25♠b♣9•8;☻I42◘♣6○☻♣2A◘○8◘☻6○6♣8♠7-6○U♠848♠◘7♣1↨26☻:5•◘7◘7••♦615☻♣♣21♥65♣45↓♠5J♣2º525854ⁿ☻2♣4W4♣48☻42554♣B547258÷▌22☺41♦¦â™¥â˜º221♦☻§▌-▌♣C6◙1♦♣☻☻☻☺☺2L52,2p▬4•♦s5p►àⁿ╪1♦213÷æ4♣╣2♦52A4☺/52♦1♣4☺♣87♦1♣8§♦5◘77ë845◘5/◘5414745◘/•7♣8♦25♠b♣9•8;☻I42◘♣6○☻♣2A◘○8◘☻6○6♣8♠7-6○U♠848♠◘7♣1↨26☻:5•◘7◘7••♦615☻♣♣21♥65♣45↓♠5J♣2º525854ⁿ☻2♣4W4♣48☻42554♣B547258÷▌22☺41♦¦â™¥â˜º221♦☻§▌-▌♣C6◙1♦♣☻☻☻☺☺2L52,2p▬4•♦s5p►àⁿ╪1♦213÷æ4♣╣2♦52A4☺/52♦1♣4☺♣87♦1♣8§♦5◘77ë845◘5/◘5414745◘/•7♣8♦25♠b♣9•8;☻I42◘♣6○☻♣2A◘○8◘☻6○6♣8♠7-6○U♠848♠◘7♣1↨26☻:5•◘7◘7••♦615☻♣♣21♥65♣45↓♠5J♣2º525854ⁿ☻2♣4W4♣48☻42554♣B547258÷▌22☺41♦¦â™¥â˜º221♦☻§▌-▌♣C6◙1♦♣☻☻☻☺☺2L52,2p▬4•♦s5p►àⁿ╪1♦213÷æ4♣╣2♦52A4☺/52♦1♣4☺♣87♦1♣8§♦5◘77ë845◘5/◘5414745◘/•7♣8♦25♠b♣9•8;☻I42◘♣6○☻♣2A◘○8◘☻6○6♣8♠7-6○U♠848♠◘7♣1↨26☻:5•◘7◘7••♦615☻♣♣21♥65♣45↓♠5J♣2º525854ⁿ☻2♣4W4♣48☻42554♣B547258÷▌22☺41♦¦â™¥â˜º221♦☻§▌-▌♣C6◙1♦♣☻☻☻☺☺2L52,2p▬4•♦s5p►àⁿ╪1♦213÷æ4♣╣2♦52A4☺/52♦1♣4☺♣87♦1♣8§♦5◘77ë845◘5/◘5414745◘/•7♣8♦25♠b♣9•8;☻I42◘♣6○☻♣2A◘○8◘☻6○6♣8♠7-6○U♠848♠◘7♣1↨26☻:5•◘7◘7••♦615☻♣♣21♥65♣45↓♠5J♣2º525854ⁿ☻2♣4W4♣48☻42554♣B547258÷▌22☺41♦¦â™¥â˜º221♦☻§▌-▌♣C6◙1♦♣☻☻☻☺☺2L52,2p▬4•♦s5p►àⁿ╪1♦213÷æ4♣╣2♦52A4☺/52♦1♣4☺♣87♦1♣8§♦5◘77ë845◘5/◘5414745◘/•7♣8♦25♠b♣9•8;☻I42◘♣6○☻♣2A◘○8◘☻6○6♣8♠7-6○U♠848♠◘7♣1↨26☻:5•◘7◘7••♦615☻♣♣21♥65♣45↓♠5J♣2º525854ⁿ☻2♣4W4♣48☻42554♣B547258÷▌22☺41♦¦â™¥â˜º221♦☻§▌-▌♣C6◙1♦♣☻☻☻☺☺2L52,2p▬4•♦s5p►àⁿ╪1♦213÷æ4♣╣2♦52A4☺/52♦1♣4☺♣87♦1♣8§♦5◘77ë845◘5/◘5414745◘/•7♣8♦25♠b♣9•8;☻I42◘♣6○☻♣2A◘○8◘☻6○6♣8♠7-6○U♠848♠◘7♣1↨26☻:5•◘7◘7••♦615☻♣♣21♥65♣45↓♠5J♣2º525854ⁿ☻2♣4W4♣48☻42554♣B547258÷▌22☺41♦¦â™¥â˜º221♦☻§▌-▌♣C6◙1♦♣☻☻☻☺☺2L52,2p▬4•♦s5p►àⁿ╪1♦213÷æ4♣╣2♦52A4☺/52♦1♣4☺♣87♦1♣8§♦5◘77ë845◘5/◘5414745◘/•7♣8♦25♠b♣9•8;☻I42◘♣6○☻♣2A◘○8◘☻6○6♣8♠7-6○U♠848♠◘7♣1↨26☻:5•◘7◘7••♦615☻♣♣21♥65♣45↓♠5J♣2º525854ⁿ☻2♣4W4♣48☻42554♣B547258÷▌22☺41♦¦â™¥â˜º221♦☻§▌-▌♣C6◙1♦♣☻☻☻☺☺2L52,2p▬4•♦s5p►àⁿ╪1♦213÷æ4♣╣2♦52A4☺/52♦1♣4☺♣87♦1♣8§♦5◘77ë845◘5/◘5414745◘/•7♣8♦25♠b♣9•8;☻I42◘♣6○☻♣2A◘○8◘☻6○6♣8♠7-6○U♠848♠◘7♣1↨26☻:5•◘7◘7••♦615☻♣♣21♥65♣45↓♠5J♣2º525854ⁿ☻2♣4W4♣48☻42554♣B547258÷▌22☺41♦¦â™¥â˜º221♦☻§▌-▌♣C6◙1♦♣☻☻☻☺☺2L52,2p▬4•♦s5p►àⁿ╪1♦213÷æ4♣╣2♦52A4☺/52♦1♣4☺♣87♦1♣8§♦5◘77ë845◘5/◘5414745◘/•7♣8♦25♠b♣9•8;☻I42◘♣6○☻♣2A◘○8◘☻6○6♣8♠7-6○U♠848♠◘7♣1↨26☻:5•◘7◘7••♦615☻♣♣21♥65♣45↓♠5J♣2º525854ⁿ☻2♣4W4♣48☻42554♣B547258÷▌22☺41♦¦â™¥â˜º221♦☻§▌-▌♣C6◙1♦♣☻☻☻☺☺2L52,2p▬4•♦s5p►àⁿ╪1♦213÷æ4♣╣2♦52A4☺/52♦1♣4☺♣87♦1♣8§♦5◘77ë845◘5/◘5414745◘/•7♣8♦25♠b♣9•8;☻I42◘♣6○☻♣2A◘○8◘☻6○6♣8♠7-6○U♠848♠◘7♣1↨26☻:5•◘7◘7••♦615☻♣♣21♥65♣45↓♠5J♣2º525854ⁿ☻2♣4W4♣48☻42554♣B547258÷▌22☺41♦¦â™¥â˜º221♦☻§▌-▌♣C6◙1♦♣☻☻☻☺☺2L52,2p▬4•♦s5p►àⁿ╪1♦213÷æ4♣╣2♦52A4☺/52♦1♣4☺♣87♦1♣8§♦5◘77ë845◘5/◘5414745◘/•7♣8♦25♠b♣9•8;☻I42◘♣6○☻♣2A◘○8◘☻6○6♣8♠7-6○U♠848♠◘7♣1↨26☻:5•◘7◘7••♦615☻♣♣21♥65♣45↓♠5J♣2º525854ⁿ☻2♣4W4♣48☻42554♣B547258÷▌22☺41♦¦â™¥â˜º221♦☻§▌-▌♣C6◙1♦♣☻☻☻☺☺2L52,2p▬4•♦s5p►àⁿ╪1♦213÷æ4♣╣2♦52A4☺/52♦1♣4☺♣87♦1♣8§♦5◘77ë845◘5/◘5414745◘/•7♣8♦25♠b♣9•8;☻I42◘♣6○☻♣2A◘○8◘☻6○6♣8♠7-6○U♠848♠◘7♣1↨26☻:5•◘7◘7••♦615☻♣♣21♥65♣45↓♠5J♣2º525854ⁿ☻2♣4W4♣48☻42554♣B547258÷▌22☺41♦¦â™¥â˜º221♦☻§▌-▌♣C6◙1♦♣☻☻☻☺☺2L52,2p▬4•♦s5p►àⁿ╪1♦213÷æ4♣╣2♦52A4☺/52♦1♣4☺♣87♦1♣8§♦5◘77ë845◘5/◘5414745◘/•7♣8♦25♠b♣9•8;☻I42◘♣6○☻♣2A◘○8◘☻6○6♣8♠7-6○U♠848♠◘7♣1↨26☻:5•◘7◘7••♦615☻♣♣21♥65♣45↓♠5J♣2º525854ⁿ☻2♣4W4♣48☻42554♣B547258÷▌22☺41♦¦â™¥â˜º221♦☻§▌-▌♣C6◙1♦♣☻☻☻☺☺2L52,2p▬4•♦s5p►àⁿ╪1♦213÷æ4♣╣2♦52A4☺/52♦1♣4☺♣87♦1♣8§♦5◘77ë845◘5/◘5414745◘/•7♣8♦25♠b♣9•8;☻I42◘♣6○☻♣2A◘○8◘☻6○6♣8♠7-6○U♠848♠◘7♣1↨26☻:5•◘7◘7••♦615☻♣♣21♥65♣45↓♠5J♣2º525854ⁿ☻2♣4W4♣48☻42554♣B547258÷▌22☺41♦¦â™¥â˜º221♦☻§▌-▌♣C6◙1♦♣☻☻☻☺☺2L52,2p▬4•♦s5p►àⁿ╪1♦213÷æ4♣╣2♦52A4☺/52♦1♣4☺♣87♦1♣8§♦5◘77ë845◘5/◘5414745◘/•7♣8♦25♠b♣9•8;☻I42◘♣6○☻♣2A◘○8◘☻6○6♣8♠7-6○U♠848♠◘7♣1↨26☻:5•◘7◘7••♦615☻♣♣21♥65♣45↓♠5J♣2º525854ⁿ☻2♣4W4♣48☻42554♣B547258÷▌22☺41♦¦â™¥â˜º221♦☻§▌-▌♣C6◙1♦♣☻☻☻☺☺2L52,2p▬4•♦s5p►àⁿ╪1♦213÷æ4♣╣2♦52A4☺/52♦1♣4☺♣87♦1♣8§♦5◘77ë845◘5/◘5414745◘/•7♣8♦25♠b♣9•8;☻I42◘♣6○☻♣2A◘○8◘☻6○6♣8♠7-6○U♠848♠◘7♣1↨26☻:5•◘7◘7••♦615☻♣♣21♥65♣45↓♠5J♣2º525854ⁿ☻2♣4W4♣48☻42554♣B547258÷▌22☺41♦¦â™¥â˜º221♦☻§▌-▌♣C6◙1♦♣☻☻☻☺☺2L52,2p▬4•♦s5p►àⁿ╪1♦213÷æ4♣╣2♦52A4☺/52♦1♣4☺♣87♦1♣8§♦5◘77ë845◘5/◘5414745◘/•7♣8♦25♠b♣9•8;☻I42◘♣6○☻♣2A◘○8◘☻6○6♣8♠7-6○U♠848♠◘7♣1↨26☻:5•◘7◘7••♦615☻♣♣21♥65♣45↓♠5J♣2º525854ⁿ☻2♣4W4♣48☻42554♣B547258÷▌22☺41♦¦â™¥â˜º221♦☻§▌-▌♣C6◙1♦♣☻☻☻☺☺2L52,2p▬4•♦s5p►àⁿ╪1♦213÷æ4♣╣2♦52A4☺/52♦1♣4☺♣87♦1♣8§♦5◘77ë845◘5/◘5414745◘/•7♣8♦25♠b♣9•8;☻I42◘♣6○☻♣2A◘○8◘☻6○6♣8♠7-6○U♠848♠◘7♣1↨26☻:5•◘7◘7••♦615☻♣♣21♥65♣45↓♠5J♣2º525854ⁿ☻2♣4W4♣48☻42554♣B547258÷▌22☺41♦¦â™¥â˜º221♦☻§▌-▌♣C6◙1♦♣☻☻☻☺☺2L52,2p▬4•♦s5p►àⁿ╪1♦213÷æ4♣╣2♦52A4☺/52♦1♣4☺♣87♦1♣8§♦5◘77ë845◘5/◘5414745◘/•7♣8♦25♠b♣9•8;☻I42◘♣6○☻♣2A◘○8◘☻6○6♣8♠7-6○U♠848♠◘7♣1↨26☻:5•◘7◘7••♦615☻♣♣21♥65♣45↓♠5J♣2º525854ⁿ☻2♣4W4♣48☻42554♣B547258÷▌22☺41♦¦â™¥â˜º221♦☻§▌-▌♣C6◙1♦♣☻☻☻☺☺2L52,2p▬4•♦s5p►àⁿ╪1♦213÷æ4♣╣2♦52A4☺/52♦1♣4☺♣87♦1♣8§♦5◘77ë845◘5/◘5414745◘/•7♣8♦25♠b♣9•8;☻I42◘♣6○☻♣2A◘○8◘☻6○6♣8♠7-6○U♠848♠◘7♣1↨26☻:5•◘7◘7••♦615☻♣♣21♥65♣45↓♠5J♣2º525854ⁿ☻2♣4W4♣48☻42554♣B547258÷▌22☺41♦¦â™¥â˜º221♦☻§▌-▌♣C6◙1♦♣☻☻☻☺☺2L52,2p▬4•♦s5p►àⁿ╪1♦213÷æ4♣╣2♦52A4☺/52♦1♣4☺♣87♦1♣8§♦5◘77ë845◘5/◘5414745◘/•7♣8♦25♠b♣9•8;☻I42◘♣6○☻♣2A◘○8◘☻6○6♣8♠7-6○U♠848♠◘7♣1↨26☻:5•◘7◘7••♦615☻♣♣21♥65♣45↓♠5J♣2º525854ⁿ☻2♣4W4♣48☻42554♣B547258÷▌22☺41♦¦â™¥â˜º221♦☻§▌-▌♣C6◙1♦♣☻☻☻☺☺2L52,2p▬4•♦s5p►àⁿ╪1♦213÷æ4♣╣2♦52A4☺/52♦1♣4☺♣87♦1♣8§♦5◘77ë845◘5/◘5414745◘/•7♣8♦25♠b♣9•8;☻I42◘♣6○☻♣2A◘○8◘☻6○6♣8♠7-6○U♠848♠◘7♣1↨26☻:5•◘7◘7••♦615☻♣♣21♥65♣45↓♠5J♣2º525854ⁿ☻2♣4W4♣48☻42554♣B547258÷▌22☺41♦¦â™¥â˜º221♦☻§▌-▌♣C6◙1♦♣☻☻☻☺☺2L52,2p▬4•♦s5p►àⁿ╪1♦213÷æ4♣╣2♦52A4☺/52♦1♣4☺♣87♦1♣8§♦5◘77ë845◘5/◘5414745◘/•7♣8♦25♠b♣9•8;☻I42◘♣6○☻♣2A◘○8◘☻6○6♣8♠7-6○U♠848♠◘7♣1↨26☻:5•◘7◘7••♦615☻♣♣21♥65♣45↓♠5J♣2º525854ⁿ☻2♣4W4♣48☻42554♣B547258÷▌22☺41♦¦â™¥â˜º221♦☻§▌-▌♣C6◙1♦♣☻☻☻☺☺2L52,2p▬4•♦s5p►àⁿ╪1♦213÷æ4♣╣2♦52A4☺/52♦1♣4☺♣87♦1♣8§♦5◘77ë845◘5/◘5414745◘/•7♣8♦25♠b♣9•8;☻I42◘♣6○☻♣2A◘○8◘☻6○6♣8♠7-6○U♠848♠◘7♣1↨26☻:5•◘7◘7••♦615☻♣♣21♥65♣45↓♠5J♣2º525854ⁿ☻2♣4W4♣48☻42554♣B547258÷▌22☺41♦¦â™¥â˜º221♦☻§▌-▌♣C6◙1♦♣☻☻☻☺☺2L52,2p▬4•♦s5p►àⁿ╪1♦213÷æ4♣╣2♦52A4☺/52♦1♣4☺♣87♦1♣8§♦5◘77ë845◘5/◘5414745◘/•7♣8♦25♠b♣9•8;☻I42◘♣6○☻♣2A◘○8◘☻6○6♣8♠7-6○U♠848♠◘7♣1↨26☻:5•◘7◘7••♦615☻♣♣21♥65♣45↓♠5J♣2º525854ⁿ☻2♣4W4♣48☻42554♣B547258÷▌22☺41♦¦â™¥â˜º221♦☻§▌-▌♣C6◙1♦♣☻☻☻☺☺2L52,2p▬4•♦s5p►àⁿ╪1♦213÷æ4♣╣2♦52A4☺/52♦1♣4☺♣87♦1♣8§♦5◘77ë845◘5/◘5414745◘/•7♣8♦25♠b♣9•8;☻I42◘♣6○☻♣2A◘○8◘☻6○6♣8♠7-6○U♠848♠◘7♣1↨26☻:5•◘7◘7••♦615☻♣♣21♥65♣45↓♠5J♣2º525854ⁿ☻2♣4W4♣48☻42554♣B547258÷▌22☺41♦¦â™¥â˜º221♦☻§▌-▌♣C6◙1♦♣☻☻☻☺☺2L52,2p▬4•♦s5p►àⁿ╪1♦213÷æ4♣╣2♦52A4☺/52♦1♣4☺♣87♦1♣8§♦5◘77ë845◘5/◘5414745◘/•7♣8♦25♠b♣9•8;☻I42◘♣6○☻♣2A◘○8◘☻6○6♣8♠7-6○U♠848♠◘7♣1↨26☻:5•◘7◘7••♦615☻♣♣21♥65♣45↓♠5J♣2º525854ⁿ☻2♣4W4♣48☻42554♣B547258÷▌22☺41♦¦â™¥â˜º221♦☻§▌-▌♣C6◙1♦♣☻☻☻☺☺2L52,2p▬4•♦s5p►àⁿ╪1♦213÷æ4♣╣2♦52A4☺/52♦1♣4☺♣87♦1♣8§♦5◘77ë845◘5/◘5414745◘/•7♣8♦25♠b♣9•8;☻I42◘♣6○☻♣2A◘○8◘☻6○6♣8♠7-6○U♠848♠◘7♣1↨26☻:5•◘7◘7••♦615☻♣♣21♥65♣45↓♠5J♣2º525854ⁿ☻2♣4W4♣48☻42554♣B547258÷▌22☺41♦¦â™¥â˜º221♦☻§▌-▌♣C6◙1♦♣☻☻☻☺☺2L52,2p▬4•♦s5p►àⁿ╪1♦213÷æ4♣╣2♦52A4☺/52♦1♣4☺♣87♦1♣8§♦5◘77ë845◘5/◘5414745◘/•7♣8♦25♠b♣9•8;☻I42◘♣6○☻♣2A◘○8◘☻6○6♣8♠7-6○U♠848♠◘7♣1↨26☻:5•◘7◘7••♦615☻♣♣21♥65♣45↓♠5J♣2º525854ⁿ☻2♣4W4♣48☻42554♣B547258÷▌22☺41♦¦â™¥â˜º221♦☻§▌-▌♣C6◙1♦♣☻☻☻☺☺2L52,2p▬4•♦s5p►àⁿ╪1♦213÷æ4♣╣2♦52A4☺/52♦1♣4☺♣87♦1♣8§♦5◘77ë845◘5/◘5414745◘/•7♣8♦25♠b♣9•8;☻I42◘♣6○☻♣2A◘○8◘☻6○6♣8♠7-6○U♠848♠◘7♣1↨26☻:5•◘7◘7••♦615☻♣♣21♥65♣45↓♠5J♣2º525854ⁿ☻2♣4W4♣48☻42554♣B547258÷▌22☺41♦¦â™¥â˜º221♦☻§▌-▌♣C6◙1♦♣☻☻☻☺☺2L52,2p▬4•♦s5p►àⁿ╪1♦213÷æ4♣╣2♦52A4☺/52♦1♣4☺♣87♦1♣8§♦5◘77ë845◘5/◘5414745◘/•7♣8♦25♠b♣9•8;☻I42◘♣6○☻♣2A◘○8◘☻6○6♣8♠7-6○U♠848♠◘7♣1↨26☻:5•◘7◘7••♦615☻♣♣21♥65♣45↓♠5J♣2º525854ⁿ☻2♣4W4♣48☻42554♣B547258÷▌22☺41♦¦â™¥â˜º221♦☻§▌-▌♣C6◙1♦♣☻☻☻☺☺2L52,2p▬4•♦s5p►àⁿ╪1♦213÷æ4♣╣2♦52A4☺/52♦1♣4☺♣87♦1♣8§♦5◘77ë845◘5/◘5414745◘/•7♣8♦25♠b♣9•8;☻I42◘♣6○☻♣2A◘○8◘☻6○6♣8♠7-6○U♠848♠◘7♣1↨26☻:5•◘7◘7••♦615☻♣♣21♥65♣45↓♠5J♣2º525854ⁿ☻2♣4W4♣48☻42554♣B547258÷▌22☺41♦¦â™¥â˜º221♦☻§▌-▌♣C6◙1♦♣☻☻☻☺☺2L52,2p▬4•♦s5p►àⁿ╪1♦213÷æ4♣╣2♦52A4☺/52♦1♣4☺♣87♦1♣8§♦5◘77ë845◘5/◘5414745◘/•7♣8♦25♠b♣9•8;☻I42◘♣6○☻♣2A◘○8◘☻6○6♣8♠7-6○U♠848♠◘7♣1↨26☻:5•◘7◘7••♦615☻♣♣21♥65♣45↓♠5J♣2º525854ⁿ☻2♣4W4♣48☻42554♣B547258÷▌22☺41♦¦â™¥â˜º221♦☻§▌-▌♣C6◙1♦♣☻☻☻☺☺2L52,2p▬4•♦s5p►àⁿ╪1♦213÷æ4♣╣2♦52A4☺/52♦1♣4☺♣87♦1♣8§♦5◘77ë845◘5/◘5414745◘/•7♣8♦25♠b♣9•8;☻I42◘♣6○☻♣2A◘○8◘☻6○6♣8♠7-6○U♠848♠◘7♣1↨26☻:5•◘7◘7••♦615☻♣♣21♥65♣45↓♠5J♣2º525854ⁿ☻2♣4W4♣48☻42554♣B547258÷▌22☺41♦¦â™¥â˜º221♦☻§▌-▌♣C6◙1♦♣☻☻☻☺☺2L52,2p▬4•♦s5p►àⁿ╪1♦213÷æ4♣╣2♦52A4☺/52♦1♣4☺♣87♦1♣8§♦5◘77ë845◘5/◘5414745◘/•7♣8♦25♠b♣9•8;☻I42◘♣6○☻♣2A◘○8◘☻6○6♣8♠7-6○U♠848♠◘7♣1↨26☻:5•◘7◘7••♦615☻♣♣21♥65♣45↓♠5J♣2º525854ⁿ☻2♣4W4♣48☻42554♣B547258÷▌22☺41♦¦â™¥â˜º221♦☻§▌-▌♣C6◙1♦♣☻☻☻☺☺2L52,2p▬4•♦s5p►àⁿ╪1♦213÷æ4♣╣2♦52A4☺/52♦1♣4☺♣87♦1♣8§♦5◘77ë845◘5/◘5414745◘/•7♣8♦25♠b♣9•8;☻I42◘♣6○☻♣2A◘○8◘☻6○6♣8♠7-6○U♠848♠◘7♣1↨26☻:5•◘7◘7••♦615☻♣♣21♥65♣45↓♠5J♣2º525854ⁿ☻2♣4W4♣48☻42554♣B547258÷▌22☺41♦¦â™¥â˜º221♦
For fighter info, see Lucario (SSBB).
Lucario (ルカリオ, Rukario) is a fictional creature in the Pokémon media franchise, appearing as the main representative of the fourth generation of the Pokémon series in Super Smash Bros. Brawl.
Creature Description
Lucario is a bipedal, jackal-like Pokémon that's around four feet in height and is generally agreed to resemble the Egyptian deity Anubis. Lucario is a Fighting and Steel-type Pokémon that evolves from Riolu; in the Pokémon RPGs, Riolu evolves when it gains a level while its "Happiness" rating has achieved a high-enough point, and only during morning, daytime, and afternoon hours. Lucario are able to detect and wield an energy named Aura, a sort of force that surrounds every living thing. According to the Pokédex, by picking up on the aura emanating from others, it can read their thoughts and movements, and a well-trained individual can sense and take in the feelings of creatures over half a mile away. It understands human speech.
In Super Smash Bros. Brawl
Pre-release Confirmation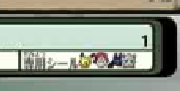 Lucario is a secret character that was leaked before the game was released.
On January 21, 2008, a promotional video for Super Smash Bros. Brawl on the official Wii website was posted that showed a Groudon sticker being highlighted and the faces of Pikachu, Pokémon Trainer, Lucario, and Jigglypuff to show that the sticker can be used to power-up these four characters in Adventure Mode. This was essentially a confirmation that Lucario would be a playable character in the game. This video can be viewed here. A link to the official websites page containing information about Lucario's moves in SSBB is here.
As a Playable Character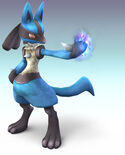 Lucario is unique in that the more damage it takes, the more damage, range, and knockback its own attacks have (based on the actual ability of most Lucario in the Pokemon series). This only applies to its Aura-powered attacks (noted by a bluish flame or aura), but there are few attacks in its arsenal that don't use Aura (its dash attack and back throw, among others). This trait makes it not particularly useful at the beginning of a life, but if it survives at a high damage level, it becomes ridiculously deadly.
Its neutral special attack is a chargeable ranged blast comparable to Samus's Charge Shot. Its side special is a short range blast, or at point blank, a throw. Its up special is a non-damaging recovery move, it will move in any direction pressed. Its down special is a counter attack, that is, it will harm a character who tries to attack it within a brief time period. It is an Aura-powered counter, and its damage caps at about 15%.
It is not particularly fast moving, but can escape many tight situations. It is slightly slower than average.
It also possess a unique ability of being able to wall jump off the same wall an almost infinite number of times effectively allowing it to climb walls; because of its "cling" ability, which lets it stick to walls. Lucario has a similar moving style to Mewtwo, from Melee. In Brawl, after it smashes the Smash Ball, press the neutral special attack button to use Aura Storm.
Trophy Description
An Aura Pokémon. It can track energy called Aura, which is given off by all living creatures. It's a unique combination of both Fighting and Steel-type Pokémon. Lucario evolves from Riolu during the day if its happiness has reached its maximum point. It specializes in attacks that use Aura energy, like Dark Pulse and a can't-miss technique, Aura Sphere.
Pokémon Diamond/Pearl
Pokémon Battle Revolution
Community content is available under
CC-BY-SA
unless otherwise noted.