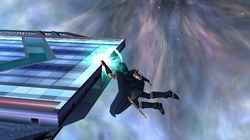 A ledge (also called an edge) is any part of a stage from which one can hang or tether, usually found at the ends of the stage's main platform. Some stages have ledges in the middle of the stage, or none at all. On most neutral stages, however, there are two ledges, one on each end of the stage. The ledge, therefore, becomes an important factor in the battle between an edge-guarder and a recovering opponent.
When a character grabs a ledge, they are invincible for about half a second. There is also a limit within the character's range to grab the edge, called edge sweet spot. On certain stages (namely Norfair), there are passable platforms with ledges. In Super Smash Bros. and Melee, the player couldn't grab the ledge if they were looking in the opposite direction, but this doesn't matter in Brawl.
In Brawl's Stage Builder, only normal blocks can be "grabbed", and only if they are at least two units above a floor surface. Ice, Drop Blocks, slopes, and other objects can not be hung from.
In Super Smash Bros. for Nintendo 3DS / Wii U, edge mechanics have been through various changes. In order to prevent the infamous edge grabbing tactics and greatly expand edge-game, a new mechanic has been introduced, where a character will be automatically "kicked" out of the edge if another character tries to grab it. This doesn't cause damage, and makes edge-hogging kills no longer possible. Additionally, air time and damage percentage of a specific character now affect how much time he/she will be invincible while holding the ledge. Also, characters no longer have two different types of ledge attacks depending on their percentage. In Stage Builder, it's possible to change whether or not the ledge can be grabbed, and there is also a range limit for the player to make a ledge that can be grabbed when building next to another platform.
Edge-Guarding
When guarding an edge, the player can perform 8 possible actions:
When hanging on the ledge, the player can perform 5 possible actions:
Climbing: The character will get up by the ledge.
Attacking: The character will do a "ledge-attack", which consists of a unique animation of the character quickly hopping back on the platform with an attack.
Rolling: The character will roll forward and gain invincibility frames.
Jumping: The character will do a normal jump and still be able to do multiple jumps. This is not possible in the original Smash Bros.
Dropping: The character will fall down and still be able to do multiple jumps.
Recovery Speed
In all Smash Bros. games up to Smash Wii U/3DS, all characters have two types of speed when recovering from a ledge. When a character's damage percentage is below 100%, he/she is considered "fresh", able to get up quickly. However, when the character is at 100% and above, he/she can be considered "tired", and climbs slower. This affects all actions safe for dropping.
See also
External Links
Community content is available under
CC-BY-SA
unless otherwise noted.