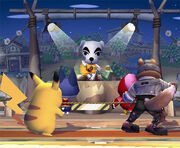 K.K. Slider (real name: Totakeke) is a character in the Animal Crossing video games. He is a musician who plays music in the coffee shop (in Animal Crossing: Wild World) or the Train Station (in the original game) every Saturday night, from 8:00 PM to midnight. After players listen to K.K.'s music, he hands out a tape recording, which they can play on a radio back at their house. Requesting "K.K. Song" between 8pm and midnight on Saturday nights will lead to the known tune Totaka's Song being played. His cameo appearance was in Yusef Hamed's song "K.K. Story".
In Super Smash Bros. Melee
In Super Smash Bros. Melee, K.K. Slider appears as a trophy.
In Super Smash Bros. Brawl
In Super Smash Bros. Brawl, K.K. Slider cameos on the Smashville stage, where he plays a song when the stage is played at 8:00 PM on a Saturday night, true to his role in the Animal Crossing games. His voice can be heard in many of the song arrangements on the Smashville stage, namely:
Go K.K. Rider!
2:00 a.m.
K.K. Cruisin'
K.K. Western
K.K. Gumbo
Rockin' K.K.
DJ K.K.
K.K. Condor
Bolded songs are only played during concerts; the rest can be chosen from My Music.
Although he only plays from 8:00-Midnight on Saturday nights, K.K. Slider can be seen preparing for his performance earlier than 8. Additionally, while they normally watch the fight, when K.K. is performing, the villagers attention is focused on him.
Community content is available under
CC-BY-SA
unless otherwise noted.