Jigglypuff (Purin プリン, Purin in Japan) is one of over 493 obtainable creatures in the Pokémon series of games.
Creature description
Jigglypuff first appeared in Pokémon Red and Pokémon Blue, and is noted for being one of the cutest Pokémon in the series. Jigglypuff is similar to Kirby in appearance, but with larger eyes, thinner limbs, and large, triangular ears, as well as a curled tuft of hair on on its head. It is most-known for its singing ability, which puts anyone that can hear its song to sleep (ironically, while Sing is one of Jigglypuff's greatest assets and signature move in the games and anime, it is relatively useless in the Super Smash Bros. series). This trait was used comically in the anime where the same Jigglypuff would show up every few episodes, attempt to sing for everyone nearby, and then, upon finding that they all fell asleep during the song, draw on the faces of the "audience" with a marker hidden in its microphone. It may have been this recurring role in the anime, coupled with its cute appearance, that made Jigglypuff a popular enough Pokémon to be playable in both Super Smash Bros. and Super Smash Bros. Melee. The Jigglypuff that appears in all three Smash Bros. is a shiny Jigglypuff, since its eyes are green, not the normal blue color. In the Pokémon games, shiny Pokémon are incredibly rare; the chances for finding one in the wild is 1/8192, since many different statistics must line up for a shiny Pokémon to be born.
In Super Smash Bros.
As a playable character

Jigglypuff is one of the four secret characters in
Super Smash Bros.
and is considered to be the easiest one to unlock. Its
Rest
attack is considered to be one of the powerful moves in the game. Some of its moves are the same as
Kirby
's and has the same jump as Kirby. Jigglypuff is in the middle of the tier list, directly above Mario.
In Super Smash Bros. Melee
As a playable character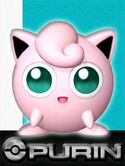 Jigglypuff returns in
Super Smash Bros. Melee
as one of the 11 secret characters. It is unlockable after clearing
Classic
or
Adventure
with any character, except Mario unless Dr. Mario is unlocked already. Jigglypuff remains in the middle of the tier list, once again directly above Mario, and like a few other characters, has a new
Neutral B
move,
Rollout
, which replaces its previous standard special move,
Pound
, which has become its
Forward B
move.
In Single-player
Jigglypuff appears on Classic on any Pokémon stage and sometimes appears in a Doubles, Giant or a Team Match. In All-Star Jigglypuff's stage is Poké Floats.
Trophies
Jigglypuff has three trophies in its name, just like all the other playable characters; the original trophy, the Smash Red trophy, and the Smash Blue trophy.
In Super Smash Bros. Brawl
Jigglypuff appears once again in SSBB. Jigglypuff appears to be the same as before, but it appears to be more difficult to unlock than average considering it was the 32nd character discovered. Final Smash-Jigglypuff inflates and gets larger. It has the potential to knock out an opponent,and Jigglypuff is invulnerable during this form.
How to Unlock
1. Play 350 VS matches, then beat it in a match.
2. Complete the Subspace Emissary, then beat 20 events in Event Mode. Afterwards, beat it in a match.
3. Complete the Subspace Emissary, then return to Stage 18. On the last part of the level where the player is shooting himself through barrels, stop on the platform below the new door. Go in and beat Jigglypuff, then finish the stage.