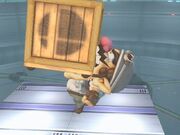 Item Swallowing is a technique in Super Smash Bros Brawl, Super Smash Bros. for 3DS/Wii U, and Super Smash Bros. Ultimate. It can be performed by Kirby, King Dedede, and Wario. These characters can use their Neutral Special Moves to eat most items. Kirby and King Dedede use Inhale, while Wario uses Chomp. When an item is swallowed, it takes some time for the character to swallow it. Small items like food are immediately swallowed, but large items like barrels have the characters briefly remain bloated with the item in their stomach, before they eventually swallow it. Some items such as Warp Stars take immediate effect upon being eaten, but most simply disappear. Explosive items that are eaten will cause about 6% damage and cause damage to nearby opponents for about 15% of damage.
Trivia
Community content is available under
CC-BY-SA
unless otherwise noted.