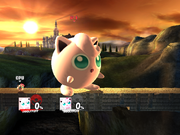 The Interrupted Final Smash glitch or Regenerating terrain glitch is a glitch in Super Smash Bros. Brawl that causes certain Final Smashes to stay in their activated state if the character is inside a piece of terrain that has just regenerated.
Stages the glitch is possible on
Common versions of the glitch
Gallery
Trivia
When performing the Puff Up variation of the glitch, any battering, shooting or status item picked up by Jigglypuff will also become giant. The effect wears off when the item is thrown, however Wario's Bike, Snake's Hand Grenades and Cardboard Box, and Link's Bombs will retain their altered size.
Jigglypuff's optimal moment of activation of Puff Up (for largest size increase) on the Bridge of Eldin is almost the exact moment that the bridge begins to repair itself--that is, the moment the black portal "static" forms the framework of the middle section. As Jigglypuff's size can also be affected by Super Mushrooms, Giant Brawls and Egg Lay, combining all methods properly makes it possible for a Jigglypuff character model to become so large that perhaps only a quarter of it can be seen at one time in normal matches (except when crouching, which slightly squishes its model and brings more of it into view). In fact, ducking will cause its face to take up nearly all of, if not the entire screen.
Community content is available under
CC-BY-SA
unless otherwise noted.