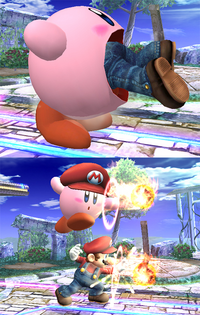 Inhale is Kirby's neutral B attack in all three of his incarnations in the Super Smash Bros. series, though it was previously called Swallow in Super Smash Bros. and Super Smash Bros. Melee. When B is pressed, Kirby opens his mouth and begins to inhale, creating a vortex of wind. Kirby will never stop inhaling until B is released. If a character comes near the vortex , they will automatically be sucked inside Kirby, who will bloat up with the person inside of him. The goal of the attack is to swallow the victim (by pressing down or B), which will make Kirby able to preform that character's neutral B move (the character pops out after being swallowed, and can still preform their neutral B attack). If Kirby traps the wrong character in his mouth, or simply doesn't want the character's move, Kirby can spit the character out by pressing A.
Kirby dons a unique hat depending on who he's inhaled, such as wearing Mario's hat if he swallows Mario. The copied special attack will sometimes be lost when Kirby is attacked enough, and can also be discarded by taunting. Inhaling another Kirby and copying will do nothing unless the other Kirby has already copied an attack and is wearing a hat. In the original and Melee, if a Kirby is wearing a hat, another Kirby is able to steal it for themselves.
Swallowing Items
Main Article: Item Swallowing
Just like King Dedede's Inhale and Wario's Chomp, Kirby can swallow items using the attack. Any item meant to be eaten will have the same effect (such as Food). However, Kirby can eat any item on the screen. Kirby will automatically swallow the item when it is in his mouth, meaning he can keep other characters from using it. Poké Balls and Mr. Saturn ("live" items) cannot be swallowed.
Kirby Hats
Main Articles: Kirby Hats (SSBM), Kirby Hats (SSBB)
"Kirbycide" Applications
Main article: Kirbycide
In Super Smash Bros. Melee and Super Smash Bros. Brawl, Kirby is capable of slowly walking around the stage while carrying opponents in his mouth or swallowing a foe off stage, but not too far off. This allows for some forms of Kirbycide, wherein Kirby jumps off the edge with someone in his mouth and releases them at a distance or position from which they are unable to recover, forcing a KO.One may Swallow at the last second for a K.O. (usually during Time Mode for an extra point), and may survive due to Kirby's tall recovery.
Kirby can also jump off the stage and Inhale the opponent who is conviently standing by. This is the only way to Kirbycide in Super Smash Bros. Original.
Origin
Inhaling and spitting has been a trademark attack of Kirby since Kirby's Dream Land, but it was not until Kirby's Adventure was he able to swallow an enemy to copy their attack. It wasn't until Kirby Super Star that Kirby also had different hats that indicated the power he copied. A single attack was usually enough to make Kirby lose his copied power. Kirby then had to quickly re-absorb the ability that turned into energy or else it would be destroyed.
Trivia
Because Olimar's netral B move is useless by itself, Kirby does not exactly copy the move. Rather, he will use Pikmin Pluck followed immediately by Pikmin Throw, although the Pikmin will not latch on after being thrown, instead, they will turn into spirits when they come into contact with anything.
When Kirby uses Inhale on enemies in the Subspace Emissary, it will take small constant amounts of damage because Kirby can't copy NPC enemies' abilities.
External Links
All SSBB Kirby Hats (except Dedede's)