Hydro Pump (ハイドロポンプ Hydro Pump), Hydro Pump?) is Greninja's Up Special Move. Greninja uses a jet of water to propel itself upward, then uses another to propel itself upward in an alternate direction.
Custom Variations
The move can be customized to High-Capacity Pump or Single-Shot Pump.
High-Capacity Pump
High-Capacity Pump move will send Greninja directly upwards by firing a burst of water. This is a very fast move, and covers a great distance. If an opponent hits the water of the move, they will receive damage.
Single-Shot Pump
Single-Shot Pump works similarly to Hydro Pump, but it deals no damage. Greninja will only propel himself with one jet of water.
Origin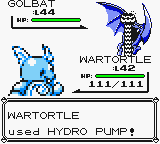 Hydro Pump is a Water-type move that has existed since Pokémon Red and Green. It has 110 power and is 70% accurate.
Trivia
Community content is available under
CC-BY-SA
unless otherwise noted.