For a list of all articles on glitches, see Category:Glitches. For a list of glitches by each game, see Category:Glitches (SSB), Category:Glitches (SSBM), Category:Glitches (SSBB), and Category:Glitches (SSBWU/3DS).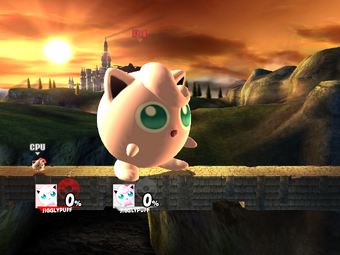 A glitch is an error in the programming of a video game. They alter gameplay by causing things to happen that were not intended by the game's designers. The main reason for a glitch occurring is that the sequence of events required to trigger it are statistically very unlikely to occur in normal gameplay. Programming is very time consuming, so no measures will be taken to prevent the glitch from happening, as the programmers presume that the required sequence of events will never happen. For instance, it is very unlikely that a Lip's Stick will be picked up the frame before it disappears, but if it is, then the SLAPASTICK glitch occurs. It is believed that this glitch corrupted the memory card of the people who discovered it, but that isn't the case for all glitches. Glitches can be harmful, with such side effects as freezing the game, causing a level to be unplayable, or killing a player for no apparent reason. Not all glitches have negative side effects - in fact, many can be utilized to improve gameplay and can even be worked into strategies. Glitches have many useful applications, such as allowing item use when it is normally not possible, allowing entry into unfinished level zones, or even cheating to finish games better or faster.
Some glitches in Super Smash Bros. Melee have become very well known, such as the Black hole glitch and the Yoyo/Jacket glitch.
Super Smash Bros. Brawl has a huge number of glitches, very few of which are harmful to the game. One of the best known glitches is the Puff Up glitch, which makes the player stay giant after using Jigglypuff's Final Smash.
Many glitches have been discovered after creating custom stages. Some of these glitches are the Teleport glitch and the Jump Through Walls Glitch.
Arguably, the most famous glitch out of all of the Smash Bros. games has to be the Master Hand glitch in Super Smash Bros. Melee. This allows the player to play as Master Hand.