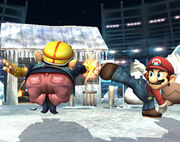 A glancing blow, originally known as a phantom hit, is a "technique" originating from Super Smash Bros. Melee and returning in Super Smash Bros. Brawl.
Glancing blows are done (mostly by accident) when an attack hits a target, but just barely. In terms of the game's physics, the edges of the attack's collision bubble and the target's collision bubble are barely touching (tangential), as opposed to a normal hit where they would be overlapping. Almost any attack has the potential to be a glancing blow, with the exceptions of attacks that cannot barely nick the target (such as homing attacks).
In Melee, glancing blows were not known by an official name and therefore named phantom hits. Such hits would do half damage and seemingly less than half knockback. There is no indication a glancing blow was made.
In Brawl, glancing blows make a very quiet "chik" sound and produce small orange sparks, the attack doesn't stun, damage or knock-back the opponent.
Glancing blows are extremely rare and difficult to intentionally achieve simply because the required circumstances - tangential collision bubbles - are correspondingly rare. They are generally seen as an unlucky accident.