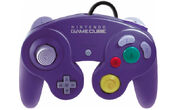 The Nintendo GameCube controller is the controller for the GameCube. It is similar to the Nintendo 64 controller, but without the middle grip. The Wii is able to utilize this for GameCube games, Virtual Console games, and select Wii games (including Super Smash Bros. Brawl) and an adapter for the Wii U to play Super Smash Bros.. It is possible to play all five Super Smash Bros. games with the GameCube controller.
Certain third-party GameCube controllers (ones not designed or made by Nintendo, usually) are not recognized by Brawl.
The Gamecube Controller is largely the Melee veteran's favorite for Brawl, and has the advantage of C-stick smashes (shares this with the classic controller's R-stick)
This controller is used a lot by pro players throughout the Smash community.
Community content is available under
CC-BY-SA
unless otherwise noted.