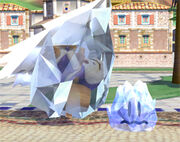 Frozen is a state which characters enter under varying circumstances, most commonly being hit by a Freezie. In this state, characters are unable to do anything. Characters thaw out naturally over time, although button mashing helps break out faster. Being hit with a fire attack or an explosion will immediately undo the freezing. How long a character stays frozen depends on both current damage and what caused the freezing.
Frozen characters cannot be affected by other status effects (such as being asleep, buried, or stunned), take very low knockback, and cannot be grabbed. The ice also reduces the damage of all attacks to about half. Fire/explosion attacks do not get any benefit or penalty other than removing the ice.
Typically, the hit that causes freeing will send a character upwards. This has the effect of making it difficult to push a frozen character off an edge, as well as making most freeze-based KOs occur off the top.
Causes of Freezing
Generally, all ice attacks have a remote chance of freezing the enemy. More specifically:
Trivia